Navy Boot Camp Book 1952 Company 244 The Keel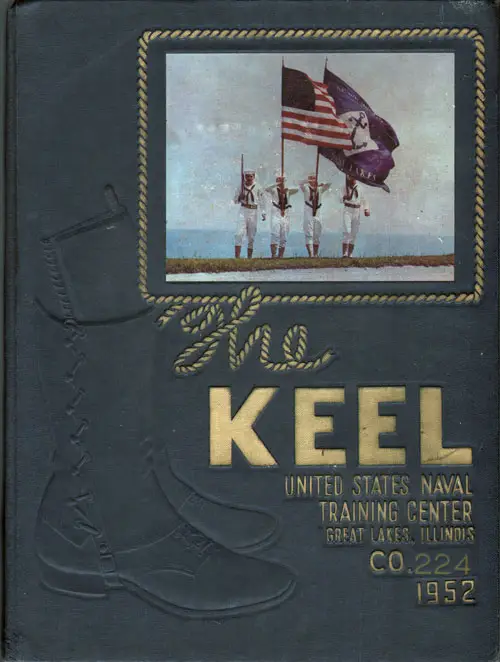 Front Cover, USNTC Great Lakes "The Keel" 1952 Company 244. GGA Image ID # 1b0bb2defe
Roster and Photos for Recruit Company 244 for 1952, United States Naval Training Center, Great Lakes, Illinois. Company Commander: B. Verboucouer, QMC, USN, 64 Men Graduated. Training dates not provided.
Company 52-244 Leadership
10th Reg. Commander : LCDR James I. Orr, USN
Asst. Regimental Commander: LT. G. S. Bisgrove, USN.
103rd Batt. Commander: LT. J. T. Dizer, USN
Company Commander: B. Verboucouer, QMC, USN
WINNERS OF TWO STAR FLAGS
Company 52-244 Recruit Roster
N. R. TOUMIE
RPOC
Minneapolis, Minn.
N. R. TOUMIE
Honor Man
Minneapolis, Minn.
J. A. LYND, JR.
MAA
Schwenkville, Pa.
H. M. TURNER
Bos'n of Watch & Squad Ldr.
Zanesville, Ohio
J. K. SMITH
Gunner's Mate & Squad Ldr. Lore City, Ohio
L. L. WARE
APO & Squad Leader
St. Louis, Mo.
V. R. LACKORE
EPO
Little Falls, Minn.
J. C. NELSON
Platoon Leader
Chippewa Falls, Wis.
R. R. BLUBAUGH
Platoon Leader
Danville, Ohio
D. K. MILLER
Clerk
Zanesville, Ohio
D. L. BEARDMOORE
Mail Clerk
Cambridge, Ohio
R. A. McFERREN
Squad Leader
Waverly, Ohio
W. A. PARSHALL
Squad Leader
Zanesville, Ohio
D. L. LEE
Squad Leader
Dawson, Minn. V. J.
LARSON
Guide
Dawson, Minn.
D. E. LANG
Guide
Merrill, Wis.
BANCROFT, RICHARD
Watertown, N. Y.
CLARK, WILLIAM
New Lexington, Ohio
CUNNINGHAM, ROLAND
Groveport, Ohio
ECKARD, CARL
Lancaster, Ohio
ENGLISH, ROBERT
Derwent, Ohio
HANS, DALE
Loudonville, Ohio
HILLMAN, THOMAS
Brimfield, Ohio
KOENIC, RICHARD
Caledonia, Minn.
KOHNKE, DOUGLAS
Eau Claire, Wis.
KREIDER, WAYNE
Wadsworth, Ohio
KRINGS, DWANE
Winona, Minn.
KRUICHAK, CASIMIR
Tunnel City, Wis.
LARSON, LARRY
Washburn, Wis.
LA TOUR, HENRY
St. Paul, Minn.
LENSER, CHARLES
La Crosse, Wis.
MILLER, CHARLES
Buckland, Ohio
NELSON, ALBERT
Buffalo, N. Y.
NORTHRUP, ROBERT
Star Lake, N. Y.
OLINGER, JOHN
Eau Claire, Wis.
PAGE, JOHN
Chillicothe, Ohio
PEARSE, DAVID
Grand Rapids, Mich.
PEARSON, FRED
Cumberland, Wis.
PRITCHARD, GEORGE
Akron, Ohio
RAUSCH, VICTOR
Columbus, Ohio
REYNOLDS, DENNIS
Seymour, Wis.
SCHAUER, JOSEPH
Sturgeon Bay, Wis.
SCHWERZLER, JAMES
Marinette, Wis.
SIEGENTHALER, CLARENCE
Prairie Du Chien, Wis.
SKARVAN, KENNETH
Kewaunee, Wis.
SMITH, ALVIN
Kewaunee, Wis.
SMITH, RICHARD E.
Coshocton, Ohio
STANGELAND, VERDEAN
Dawson, Minn.
STEINBERG, WALTER
Kellogg, Minn.
STENKE, ROBERT
Bingham Lake, Minn.
STRAUB, WALLACE
Henning, Minn.
SWAGEL, RONALD
Kewaunee, Wis.
SWANSON, LEONARD
Washburn, Wis.
SWIM, DARRELL
Lena, Wis.
THOMASON, CLYDE
West Lafayette, Ohio
TORGERSON, EARL
Cumberland, Wis.
TOWNS, LAVERN
Holcombe, Wis.
TRIBBY, RICHARD
Linton, Ind.
TRUDELL, GERALD
Oconto Falls, Wis.
VANDER ZANDER, GEORGE
Oneida, Wis.
VANE, CHARLES
Dawson, Minn.
WALKER, WALLACE
Sturgeon Bay, Wis.
WIGGINS, DAVID
Columbus, Ohio
WILLIAMS, HUGH
Sparta, Wis.
Navy Boot Camp Recruit Photos - Company 52-244
Company 52-244 Recruits, Page 1. GGA Image ID # 1b0bd7300f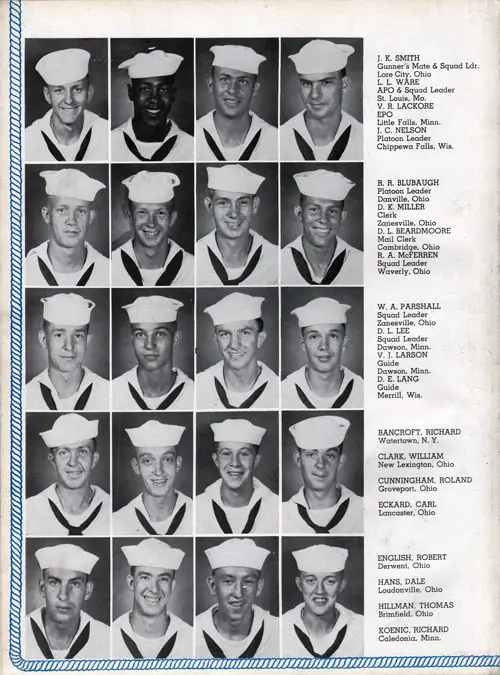 Company 52-244 Recruits, Page 2. GGA Image ID # 1b0c117e2b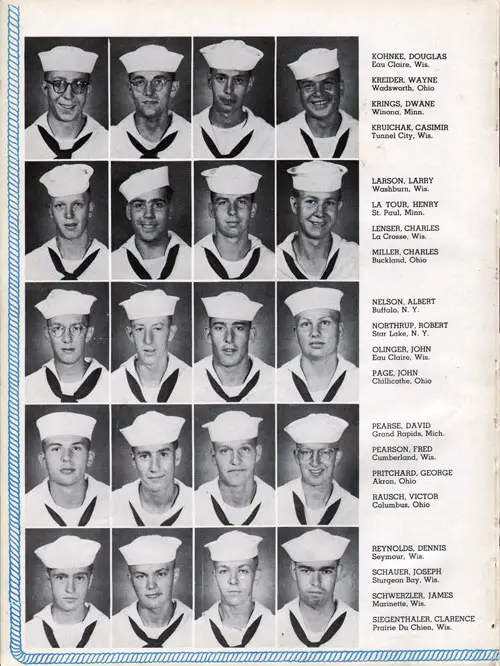 Company 52-244 Recruits, Page 3. GGA Image ID # 1b0c197c35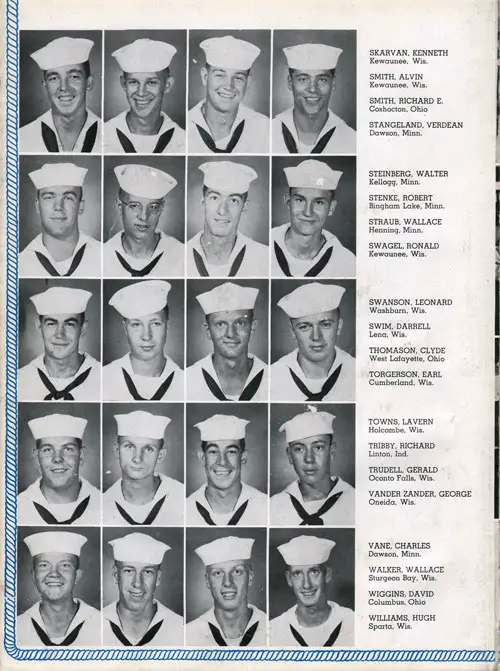 Company 52-244 Recruits, Page 4. GGA Image ID # 1b0c39ecb0