Navy Boot Camp Book 1974 Company 264 The Keel
Front Cover, Great Lakes USNTC "The Keel" 1974 Company 264
Roster and Photos for Recruit Company 264 for 1974, United States Naval Training Center, Great Lakes, Illinois. Company Commander: EO1 B. F. Hamman USN. Training commenced 30 August 1974 and concluded 25 October 1974. 71 Men Graduated.
Company 74-264 Honors
Company 74-264 Organization and Schedule
ORGANIZATION: 1st Regiment | 23rd Battalion
COMMENCED TRAINING: 30 August 1974
COMPLETED TRAINING: 25 October 1974
Company 74-264 Leadership
REGIMENTAL COMMANDER: LCDR J. F. Smuda USN
BATTALION COMMANDER: FTCM W. E. Spell USN
BATTALION ADJUTANT: MMCS J. A. Pietrowski USN
BATTALION MAINTENANCE SUPERVISOR: ADR1 G. F. Allen USN
COMPANY COMMANDER: EO1 B. F. Hamman USN
Company 74-264 Recruit Roster
Agostini, Luis A., Jr.
Allaire, Christopher J.
Allen, Garry R.
Aubin, Robert M.
Basso, Joseph P., Jr.
Bates, Steven M.
Blankenship, Darrell D.
Bradley, Randy B.
Cash, William H.
Clark, Keith T., Jr.
Crosby, Eugene
Dalessandro, Stephen P.
Digiacomo, Martin A.
Doering, Robert D.
Dolbin, Richard E., Jr.
Driscol, Bryan T.
Erlach. Scott R.
Evans. Michael W.
Freeze. Gordon F.
Galasso. Brlon A.
Gariepy, Fredrick J.
Gile, Ear. R.
Girimonte, Daniel
Gomez, Jose F.
Green, Peter R., Jr.
Guilmette, Don M.
Hall, Mark V.
Hill. James P.
Hineline, Russell L.
Humphrey, Rancolph E.
Jones, Nathaniel, Jr.
Juvinall, Bruce W.
Kenney, Alan R.
Kenlston, John S.
Kimmins, Marshall R.
King, Curtis M., Jr.
Koch, Henry W., Jr.
Ladlsa, John R., Jr.
Llchty, Kenneth R.
Lundy, William A.
Manley, steve V.
McKenna, Eamon F.
Meagher, Thomas M.
Miller, Darrell D. S.
Morety, Steven J.
Moore, David F.
Morrow, Rodney W.
Motley, Michael
Parente, Louis A.
Parker, Randall L.
Peters, Michael F.
Phillips, William J.
Pollett, Keith D.
Raymer, Gary W.
Sclaldone, Salvatore
Scott, Leo D.
Shepperson, George T.
Shultz, Brian K.
Simanton, John P.
Smith, Darrell H.
Stark, Jeffrey R.
Szady, Steven C.
Taddeo, Douglas
Thorpe, Steven A.
Timosevich, Jack J.
Tough, Lyle S.
Vonderesch, Gary R.
Whisenhunt, Richard M.
Williams, Earl T., Jr.
Winfrey, Lonnie R.
Zarate, Trinidad
Company 74-264 Yearbook Credits
Individuals Photographed By A. Inman
Activities Photographed By B. Rogers
Layouts By M. Shapiro
Navy Boot Camp Recruit Photos - Company 74-264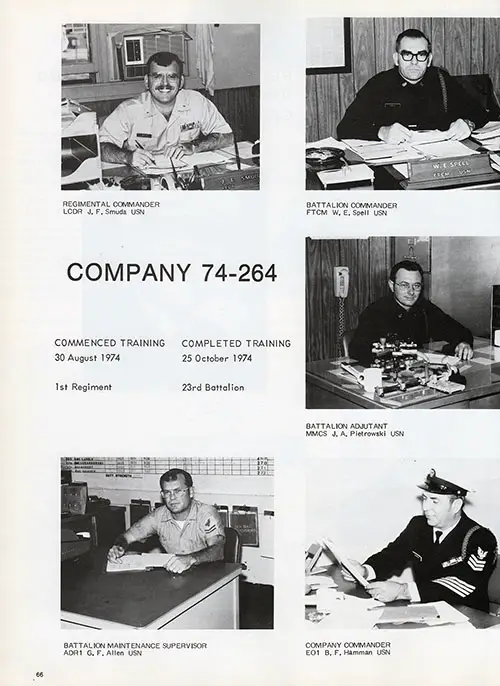 Company 74-264 Leadership, Page 1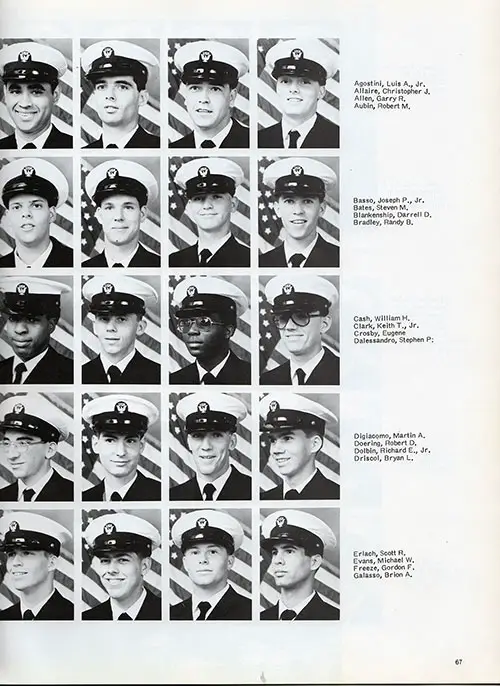 Company 74-264 Recruits, Page 2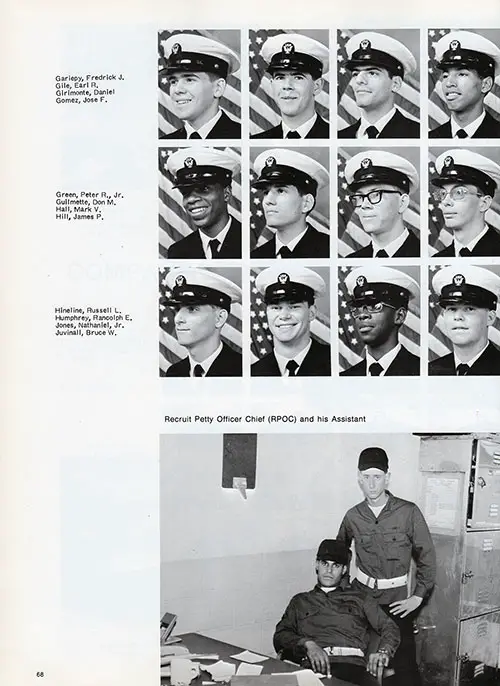 Company 74-264 Recruits, Page 3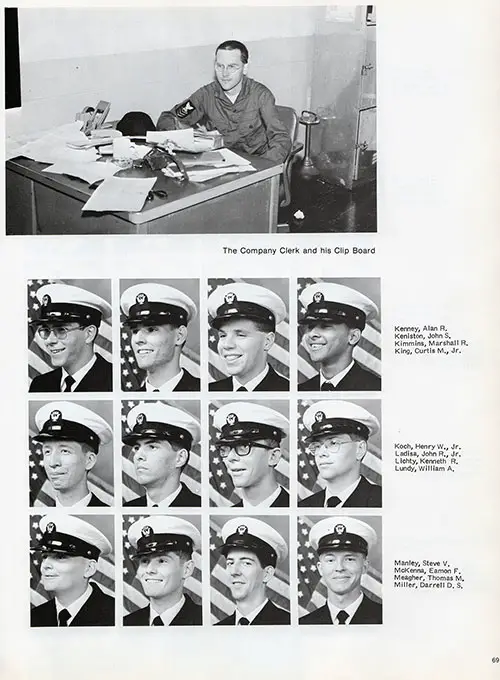 Company 74-264 Recruits, Page 4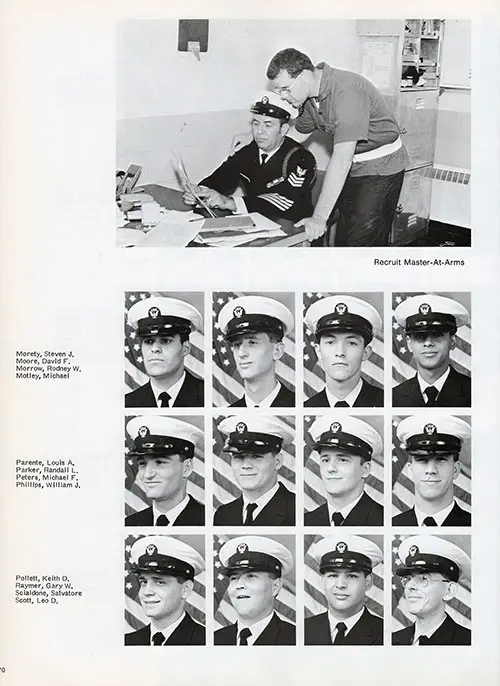 Company 74-264 Recruits, Page 5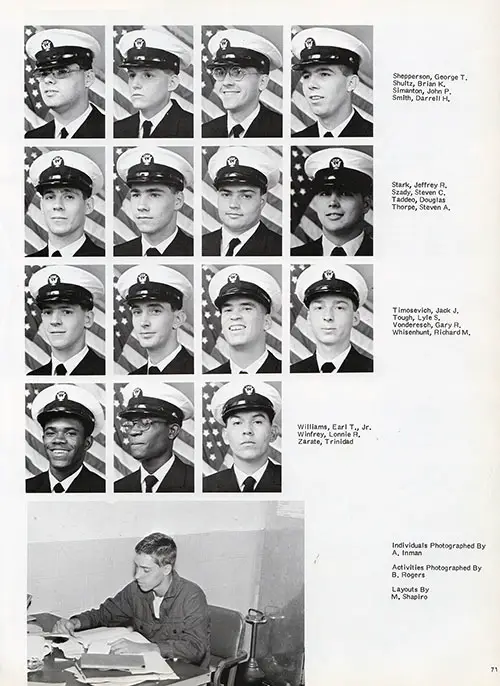 Company 74-264 Recruits, Page 6
Company 74-264 Graduation, Page 7
The graduation review is the climax of training tor the recruits, Under the leadership of fellow recruits, the graduates display their newly learned abilities in military drill and military bearing in the Navy's traditional pomp and ceremony, not only to the reviewing officials but also to relatives and trends who are able to attend.
The special recruit units-the States' Flags Company, the Drum and Bugle Corps, the Drill Team, and the Blue-jackets Choir, composed of and commanded by only recruits in training-help to create a vivid and exciting picture that will last in the recruit's memory for the rest of his life.
Yearbook Images Courtesy of Wally Jarratt