Navy Boot Camp Book 1951 Company 877 The Keel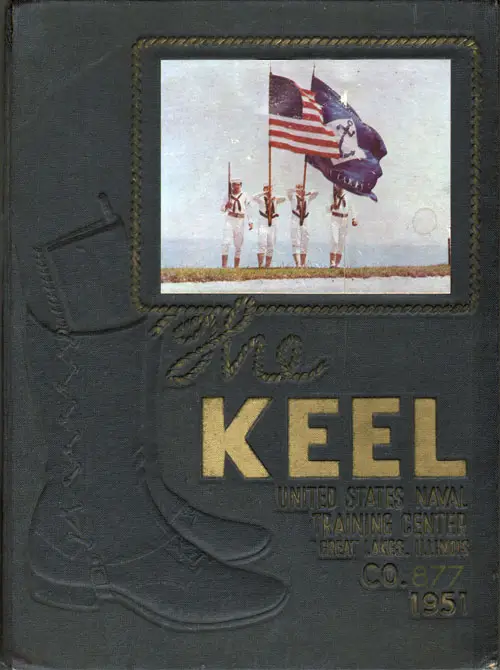 Front Cover, USNTC Great Lakes "The Keel" 1951 Company 877. GGA Image ID # 1b0a8ae8c3
Roster and Photos for Recruit Company 877 for 1951, United States Naval Training Center, Great Lakes, Illinois. Company Commander: A. S. Sanders, QM1, USN. 76 Men graduated. Training dates not provided.
Company 51-877 Leadership
14TH REGIMENTAL COMMANDER: J. P. BURNETT, LT., USN
ASST. REGIMENTAL COMMANDER: L. G. HERRICK, LT., USN
141ST BATT. COMMANDER: J. C. STRINGER, LT., USN
Company Commander: A. S. SANDERS, QM1, USN
WINNERS OF ONE ATHLETIC FLAG

Company 51-877 Recruit Roster
JESS W. BENSON
RPOC
Cody, Wyoming
WAYNE L. KELLEY
Honor Man
Leavenworth, Kan.
RONALD N. MOSSMAN
MAA
Atlantic City, N. J.
CHARLES M. TODD
Bos'n of Watch
Greenwood, Del.
WAYNE L. KELLEY
Gunner's Mate
Leavenworth, Kan.
JESSE N. DAVIS
APO & Squad Leader
Washington, D. C.
CLYDE L. BERGER
EPO
Milwaukee, Wis.
HAROLD D. BOWDEN
Platoon Leader
Hampton, Va.
JAMES R. WATERS
Platoon Leader
University City, Mo.
GILBERT W. TROSPER, JR.
Clerk
Oklahoma City, Okla.
V. L. HERMAN
Mail Clerk
Towner, N. Dak.
ALLAN R. CROLL
Squad Leader
Rock Glen, Pa.
THOMAS R. HICKS
Squad Leader
Fairfax, Va.
HAROLD REDELL
Squad Leader
St. Charles, Mo.
LEWIS D. VON BEHREN
Squad Leader
Detroit, Mich.
GERHARDT W. WOLKENHAVER
Squad Leader
Flaxton, N. Dak.
A. C. MALARET
Guide
Bronx, N. Y.
JAMES ALEXANDER
Shreveport, La.
RONALD ANDERSON
Drill Team
Minneapolis, Minn.
EDWARD BABE
Choir
Calumet City, Ill.
JOHN BINDO
Beaver Meadows, Pa.
THOMAS BRAMANTE
Bellmawr, N. J.
WILLIAM BRENSINGER
Auburn, Pa.
CLARENCE BROWNING
Greenview, W. Va.
LYLE BROWNING
Greenview, W. Va.
JAMES CALLAWAY
Highlands, N. J.
DONALD CALLIER
Texas City, Texas
PHILIP CALVARESI
Reading, Pa.
JOHN CARRINGTON
Drill Team
Egg Harbor City, N. J.
PHILIP CICERO
Port Carbon, Pa.
GLENN COX
Abilene, Texas
JACK CURLESS
Table Grove, Ill.
RAYMOND DAY
Rhinelander, Wis.
NATHANIEL DOVE
Rockville, Md.
RONALD FANGER
St. Louis, Mo.
JOHN FEGGANS
Washington, D. C.
FLOYD FOUST
Choir
Anderson, Ind.
THEODORE FREDERICK
Wilmington, Del.
ROGER FROELICH
Chisago City, Minn.
JOHN GHOSTLEY
Anoka, Minn.
JAMES GREENLUND
Minneapolis, Minn.
EUGENE GURCZENSKI
Wilmington, Del.
LEWIS HAGY
Abingdon, Va.
CHARLIE HERMAN, JR.
Towner, N. Dak.
RICHARD HINDS
Flaxton, N. Dak.
ROBERT HINKLE
Hazleton, Pa.
JAMES JOHNS
Drill Team
Port Carbon, Pa.
LLOYD JOHNSTON
Flaxton, N. Dak.
MARCO JOHNSON
Washington, D. C.
GARNER JONES
Elizabethton, Tenn.
RICHARD KOZLOWSKI
Choir
Pittsburgh, Pa.
BILLIE LARGENT
Morgantown, N. C.
ANTHONY LIENE
Haze1ton, Pa.
RAYMOND MACE
Wilmington, Del.
CHARLES MANNING
Choir
Washington, D. C.
CHARLES MORRIS
Wilmington, Del.
JAMES MORRISON
Huntington, W. Va.
JOHN MORTON
Hazleton, Pa.
RAYMOND MULLINS
Princewick, W. Va.
RAYMOND MURRAY
Wisconsin Rapids, Wis.
THOMAS NASH
Drill Team
Maplewood, Mo.
ORVILLE NEILAN
Wecota, S. Dak.
DON PHELPS
Scott Depot, W. Va.
ANDREWS POLLACK
Detroit, Mich.
WALTER REMBIALKOWSKI
Pittsburgh, Pa.
ANTON ROLES
Towner, N. Dak.
CLAIR ROTHERMEL
Choir
Valley View, Pa.
JOHN SHOLTIS
Hazleto, Pa.
JAMES SMITH
Kenmare, N. Dak.
CHARLES TALBERT
Washington, D. C.
ANDREW THIER
Wilkes-Barre, Twp. Pa.
JAMES VANCE
Bluff City, Tenn.
THOMAS VIEW
Choir
Washington, D. C.
MARION WIEMANN
Choir
Chesterton, Ind.
FREDERICK WILLIAMS
Nitro, W. Va.
JODIE WRIGHT
Drill Team
Morganton, N. C.
Navy Boot Camp Recruit Photos - Company 51-877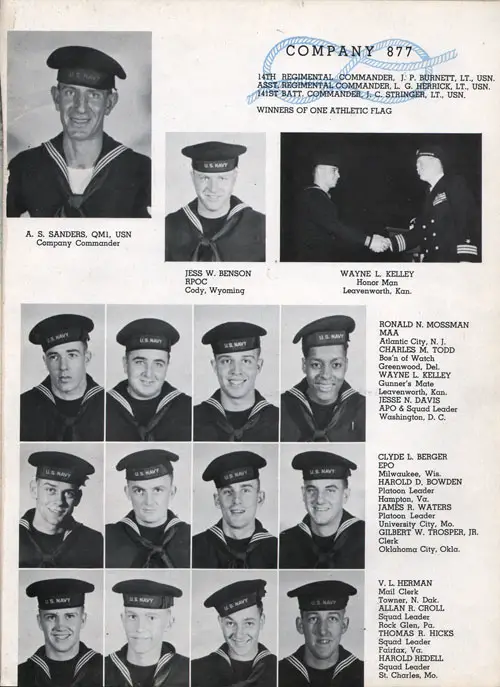 Company 51-877 Recruits, Page 1. GGA Image ID # 1b0aad410d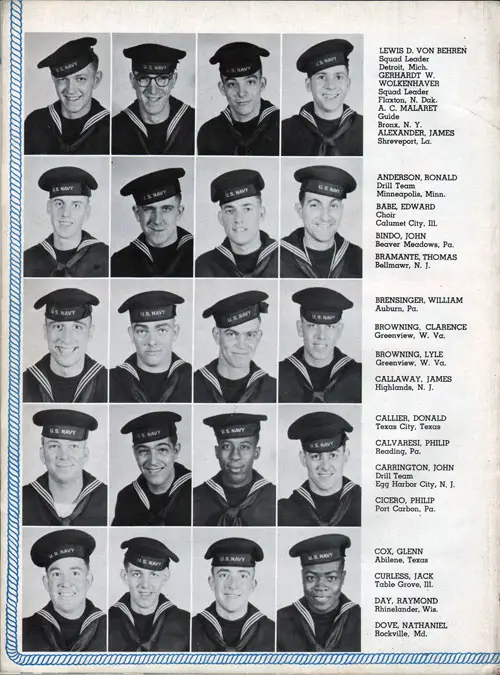 Company 51-877 Recruits, Page 2. GGA Image ID # 1b0ac356fb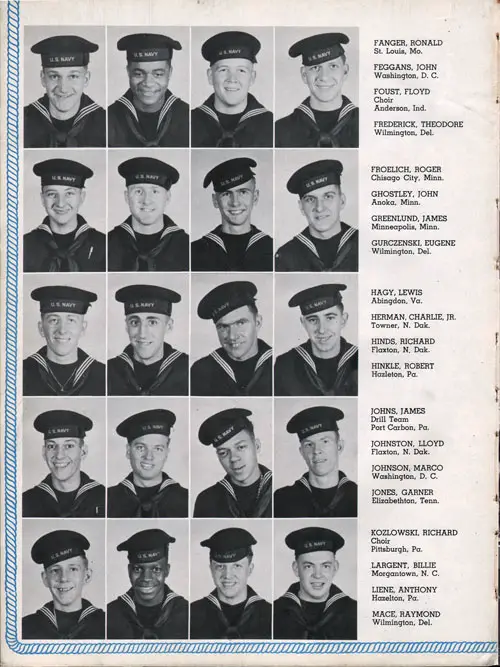 Company 51-877 Recruits, Page 3. GGA Image ID # 1b0adc5fb5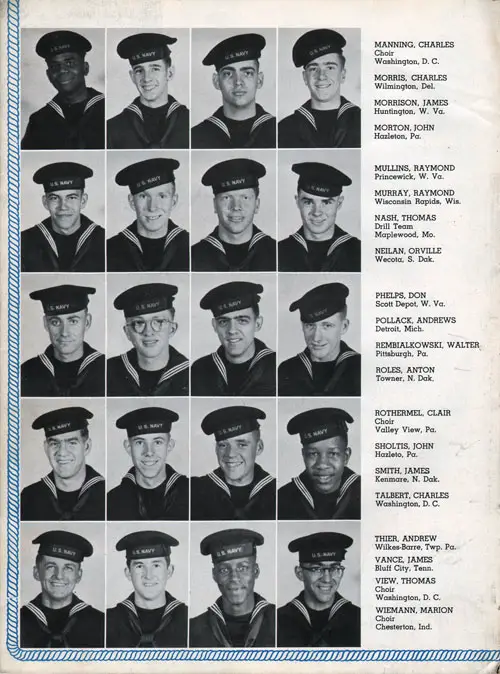 Company 51-877 Recruits, Page 4. GGA Image ID # 1b0af9b15d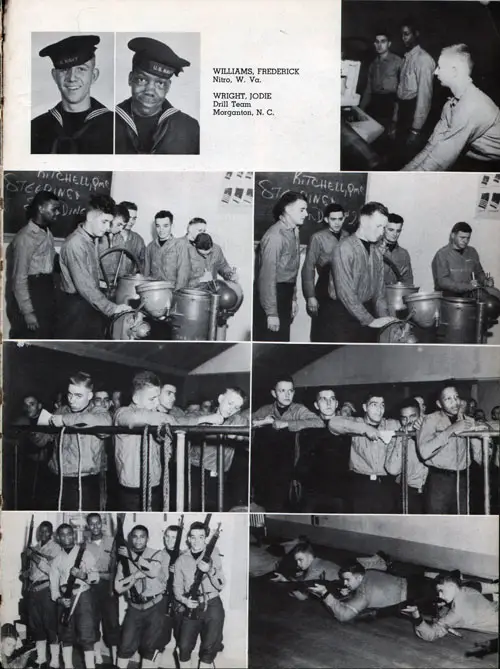 Company 51-877 Recruits, Page 5. GGA Image ID # 1b0b196d14