Navy Boot Camp Book 1947 Company 161 The Keel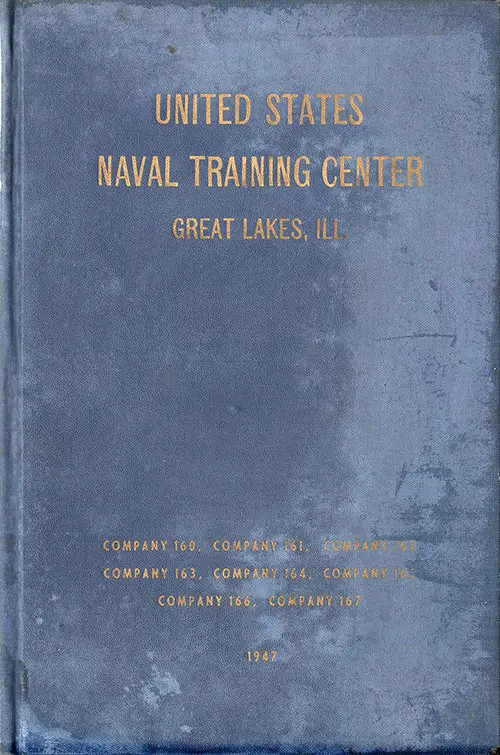 Front Cover, USNTC Great Lakes "The Keel" 1947 Company 161. GGA Image ID # 1af1bbe156
Roster and Photos for Recruit Company 161 for 1947, United States Naval Training Center, Great Lakes, Illinois. Company Commander: R. H. Trent. 108 Men Graduated. Training Dates Not Reported.
On 28 March 1944, the Training Station was established by Secretary Forrestal as a group command and redisgnated as the U. S. Naval Training Center, Great Lakes, Illinois.
COMPANY 161
Company Commander : R. H. Trent
Assistant Company Commander : C. A. BARNETT, C.Q.M.
Company 47-161 Roster
Page 1, Reading from left to right
Top Row:
Richard Barry
Donald L. Belcher
Eugene A. Bertoni
Carl J. Bickle, Jr.
Peter Bodick
William L. Bowen
Richard W. Brink
Charles H. Butler
Second Row:
Richard E. Casto,
John D. Chandler,
W. E. Christensen,
Louis M. Collins,
Edward J. Conway, Jr.,
John J. Conner,
William L. Conner,
William R. Coventry;
Third Row:
Robert A. Cox
Harold H. Crandall
Wayne F. Dailey
Henry W. Daley
Harry L. Dauberger
Arthur C. Dietz
T. B. Druding
Edward J. Duffey
Fourth Row:
Harry S. Eckenrode
George R. Engelhardt
Carl W. Farewell
Thomas E. Feely
Robert L. Fleck
Lewis G. Gauthier
Robert H. Hand
Phillip S. Hartung
Fifth Row:
Alfred E. Havelka
Richard L. Heine
Sheldon Heifetz
William Henninger
Ronald J. Hill
John W. Hill
Frank J. Hopkins
James E. Horton
Sixth Row:
George A. Hunlock
James V. Kahn
Donald F. Kelleher
Arthur P. Knight III
James E. Lane
R. J. Liddell
Richard H. Lohmann
O. H. Lumbardini
Page 2, Reading from left to right
Top Row:
John S. Marshall, Jr.
Walter F. Maynard, Jr.
Edward H. Miettinen
J. C. Millard
David V. S. Milburn
Robert M. Morrison
Jack P. Morris
Robert P. Moyer
Second Row:
James J. Murphy
Fredrick W. Nagel
Charles W. Nehf
Thaddius J. Niemiec
John H. Overstreet
Howard Pacell
Joseph W. Pancamo
Manuel A. Parvis, Jr.
Third Row:
Wilbur J. Parsons
Paul N. Paon
Richard C. Pattee
Richard E. Patterson
Frank R. Perry, Jr.
William V. Peters
Donald A. Peters
Richard S. Petralba
Fourth Row:
E. J. Potempa
James V. Price, Jr.
A. Prudente, Jr.
Raymond A. Pyle
William G. Reed
Paul D. Reed
Jackie A. Riberio
Howard R. Riley
Fifth Row:
Peter J. Rizzo
Howard R. Round
John Sabataz
Ramson L. Samson
William R. Sass
Daniel D. Savage
C. J. Schaeffer, Jr.
Robert Schonhut
Sixth Row:
Milton Sorokowsky
Richard C. Stewart
Paul Stewart
Charles R. Stokes
R. P. Swathwood
Joseph R. Thornell
R. J. Vandermeiden
Eugene R. Verwiebe
Bottom Row:
Leslie H. West
James S. White
Gerald F. Wilson, Jr.
Walter A.Wright, Jr.
W. C. Young, Jr.
Kenneth W. Arnold
W. Bristol
W. Davis
Page 3
Top Row:
Robert J. Hanlon
John E. Hanlon
Edward J. Hurley
Richard P. Meredith
Navy Boot Camp Recruit Photos - Company 47-161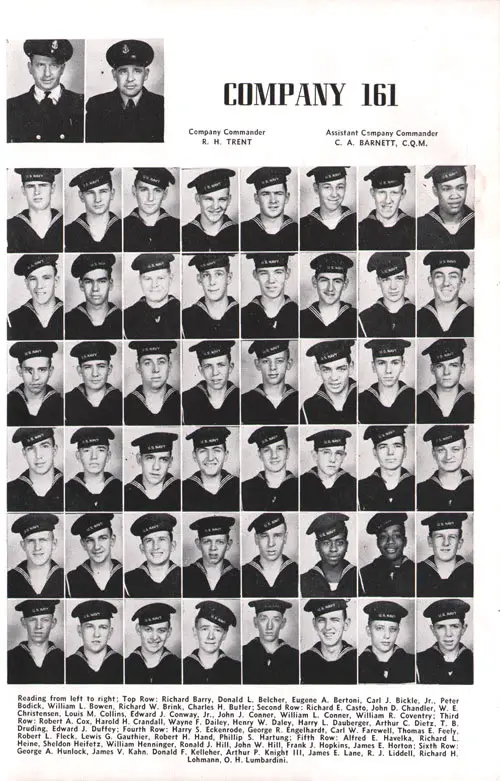 Company 47-161 Recruits, Page 1. GGA Image ID # 1af1ce2e22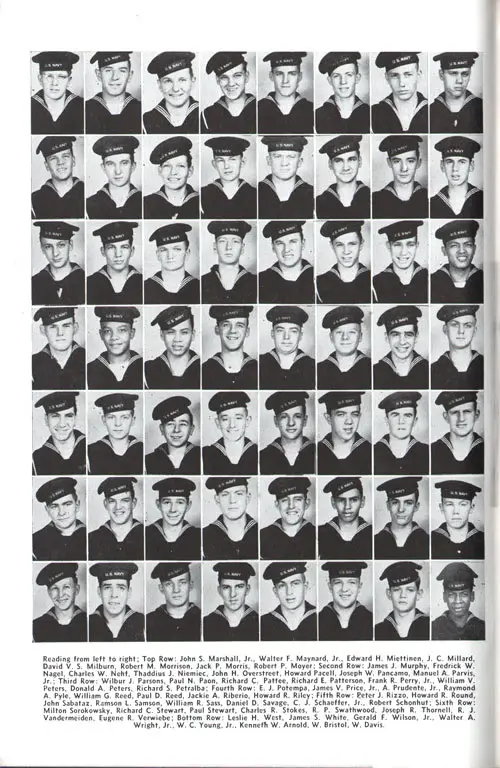 Company 47-161 Recruits, Page 2. GGA Image ID # 1af1d379fe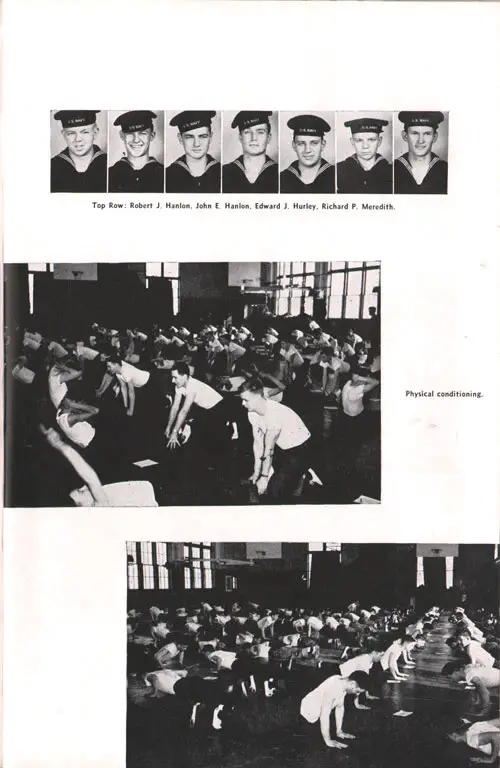 Company 47-161 Recruits, Page 3. GGA Image ID # 1af1e1df9a