Navy Boot Camp Book 1962 Company 057 The Keel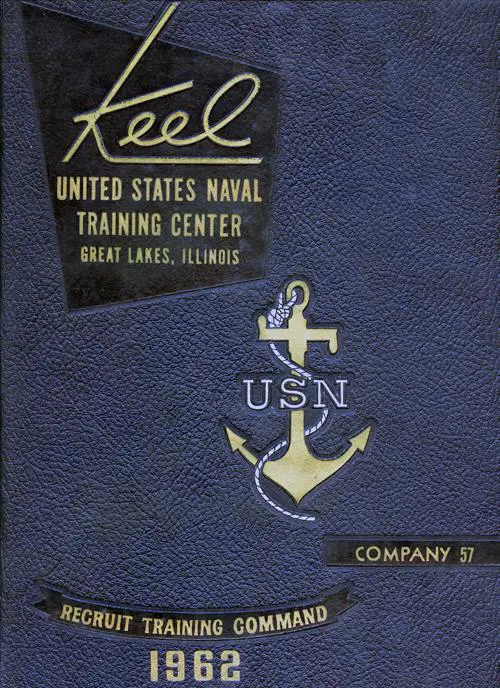 Front Cover, USNTC Great Lakes "The Keel" 1962 Company 057. GGA Image ID # 1b24f3f62c
Roster and Photos for Recruit Company 057 for 1962, United States Naval Training Center, Great Lakes, Illinois. Company Commander: G. F. Gillespie, QM1. Training commenced 8 February 1962 and concluded on 18 April 1962. 76 Men Graduated.
Company 62-057 Leadership
Brigade Commander: LCDR D. Kraushaar, USN
Regimental Commander: LT W. A. Cockell, Jr., USNR
Battalion Commander: LTJG J. 0. Walstad, USN
Company Commander: G. F. Gillespie, QM1
Company 62-057 Organization and Schedule
Organization: 1ST REGIMENT, 14TH BATTALION
Commenced Training: 8 February, 1962
Completed Training: 18 April 1962
Company 62-057 Recruit Roster
Ronald J. Laboda
RPOC
T. H. Richards Lewis
EPO
M. Metts
1st Platoon Leader
Alden J. Lawson
MAA
T. C. Nicholas
Company Clerk
Jerry G. Baggs
Michael R. Balogh
Jackie J. Beall
Frons M. Beere
L. R. Carlson
Robert F. Bisbee
James J. Coskey
G. E. Cottle
K. B. Cottrell
K. R. Crabtree
Edward J. Dudek
Frank T. Dunn
Neil N. English
James L. Falconio
Norman L. Fields
Paul S. Foresta
T. A. Fugunt
T. F. Gregory
Wilbur Haftmann
J. P. Halloran, Jr.
Frank A. Hartsell
H. E. Herme, Jr.
Julian A. Hoffman
James L. Hutches
Gary B. Ivory
C. E. Johnson
John T. Kaskevic
K. J. Kessler
B. G. Lahay, Jr.
James L. Lenhart
Henry C. Loedding
Fredrick R. Long
D. T. McLaughlin
David J . Melville
Dennis L. Mohring
F. B. Neuwirth
Roger L. Nixon
James L. Parson
Gary L. Partlow
J. A. Patterson
Lewis S. Perry
John Puz, Jr.
William W. Reed
James P. Roberts
E. Rodriguez
J. C. Rogers
R. G. Ruettgers
Edmund J. Secor
T. J. Siminak
Earl R. Sparrow
G. E. Stockdill
Leroy E. Thompson
Ronald L. Tommie
Robert S. Wargo
Dale H. Williams
L. T. Wisniewski
G. N. Macleod
L. B. Fowler
R. D. Brown
M. P. Smith
J. E. Stump
W. M. Straitt
L. E. Anzalone
A. B. Keathley
C. W. Lampkins
D. E. Miller
R. A. Brunner
Navy Boot Camp Recruit Photos - Company 62-057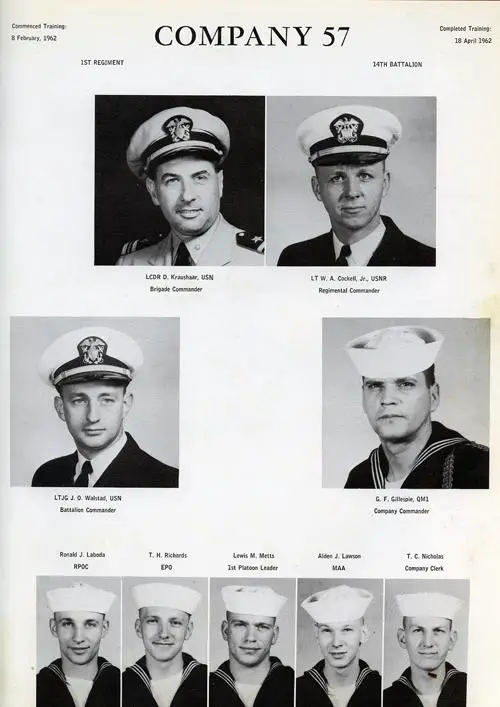 Company 62-057 Recruits, Page 1. GGA Image ID # 1b2547de1a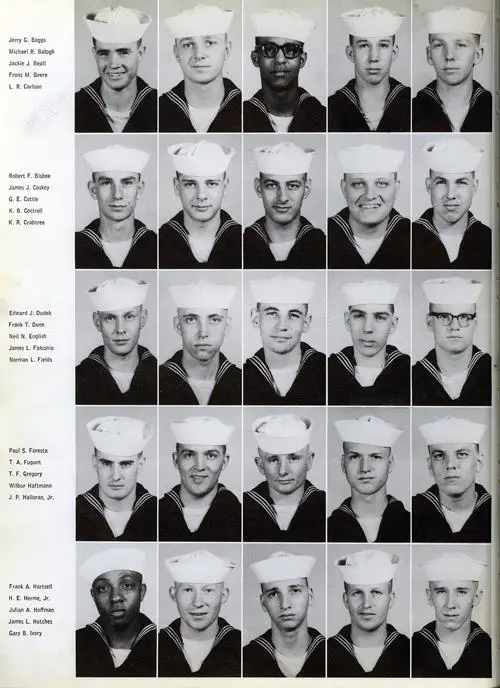 Company 62-057 Recruits, Page 2. GGA Image ID # 1b25528798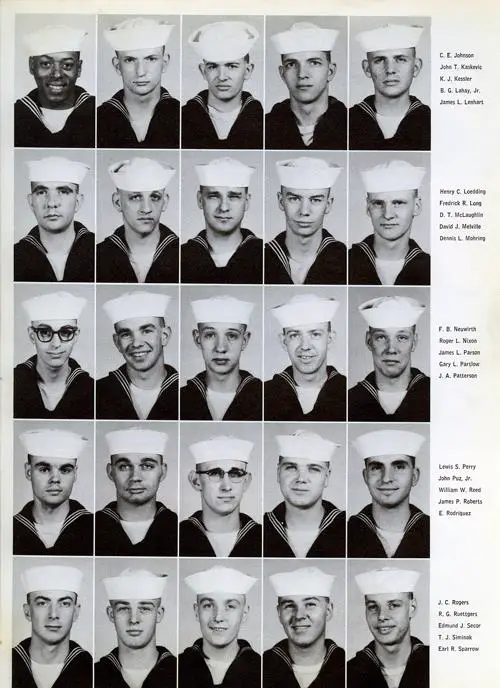 Company 62-057 Recruits, Page 3. GGA Image ID # 1b2606140a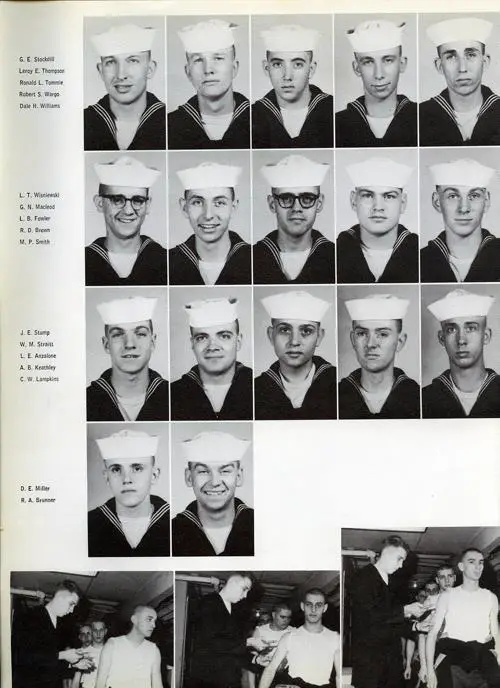 Company 62-057 Recruits, Page 4. GGA Image ID # 1b26302ee4
Images Contributed by Lisa M. Paulin.