Navy Boot Camp Book 1951 Company 356 The Keel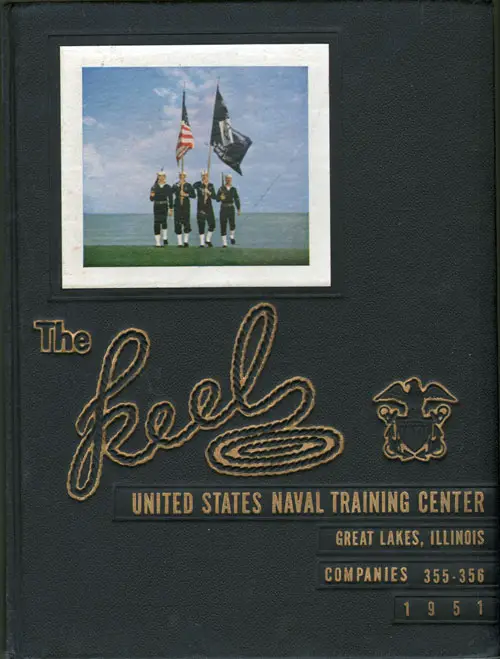 Front Cover, USNTC Great Lakes "The Keel" 1951 Company 356. GGA Image ID # 1b0960e3b4
Roster and Photos for Recruit Company 356 for 1951, United States Naval Training Center, Great Lakes, Illinois. Company Commander: J. J. HRAZDIL, QMSC. 76 Men Graduated. Training dates not provided.
Company 51-356 Leadership
Company Commander: J. J. Hrazdil, QMSC
Company 51-356 Recruit Roster
R. J. Alechnowicz
Louis Amato
Douglas Anson, Jr.
James A. Benson
Edward A. Boylan
Myron A. Bredeson
Edward W. Britt
Robert J. Caesar
Frank J. Carroll
Joseph L. Coudriet
Norris H. Crystal
Thomas F. Dannunzio
Charles Dibenedetto
Bradley Ershowsky
John E. Feeley
Manuel Figueroa
Edgar J. Fischer
Carl W. Fisher, Jr.
Thomas J. Fitzgerald
Arthur W. Fletcher
William D. Freeman
Francis J. Gallagher
C. E. Gardner, Jr.
James P. Gibbons
Donald J. Going
Raymond A. Graham
Joseph L. Gray
Joseph Grogan
Peter J. Guglielmo
Daniel J. Harrington
John A. Healey
J. W. Henderson, Jr.
Arthur I. Horne
Robert J. Johnson
Peter T. Judge
Frederick I. Kalgren
Robert F. Kelly
John J. Kelly, Jr.
Charles R. Lamonte
Richard 0. Lamsfuss
George S. Larimer
Thomas F. Lasusa
Marvin Levine
George B. Lewis
D. C. Ludarelli
John R. Maclay,
Pasquale F. Marino,
Thomas J. McDonald,
Joseph T. McGuirk,
John A. Moran,
Edward J. Murphy,
John J. Noone
Albert G. Pastor
Levin J. Reynolds
C. L. Rothhaus, Jr.
Enoch T. Rowley
Frederick J. Schwarz
Frank B. Schultz
David B. Seal
John J. Shimko
Joseph P. Slocum
Keith I. Smart
Jerome D. Smith
George L. Streit, Jr.
Alfred G. Tonnessen
Eugene J. Torres
Stephen F. Vento
Joseph P. Vesey
Leon J. Warnock
William J. Watson, Jr.
James F. Wesling
David E. Whalen
Lowell R. Wilson
Richard A. Zuniga
G. Press
Andrew Coppola
Navy Boot Camp Recruit Photos - Company 51-356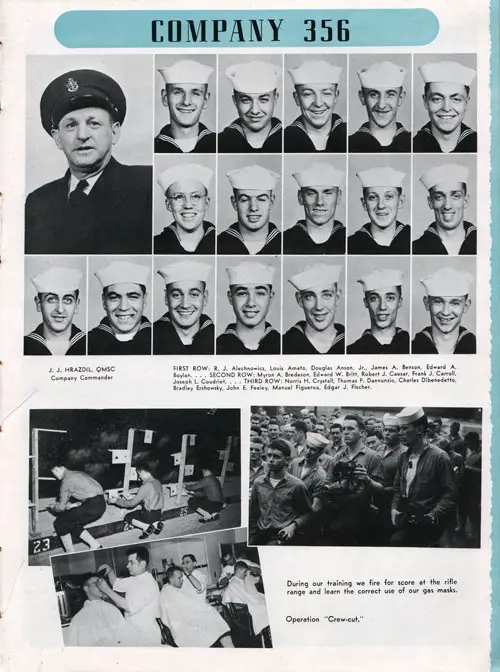 Company 51-356 Recruits, Page 1. GGA Image ID # 1b09616db8
Captions:
During our training we fire for score at the rifle range and learn the correct use of our gas masks.
Operation "Crew-cut."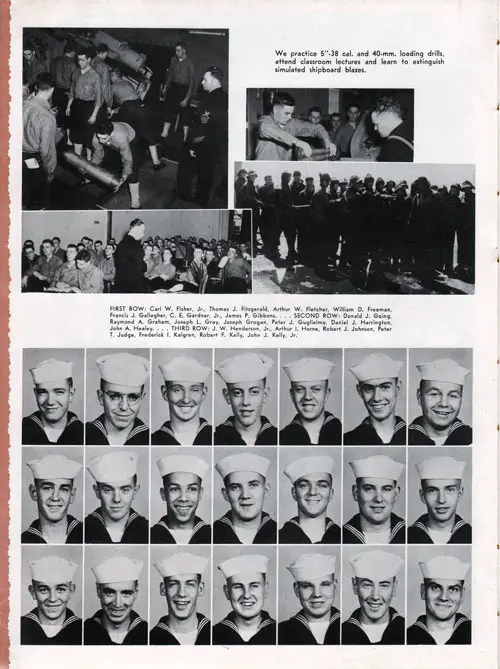 Company 51-356 Recruits, Page 2. GGA Image ID # 1b09bf9b39
Caption:
We practice 5"-38 cal. and 40-mm. loading drills, attend classroom lectures and learn to extinguish simulated shipboard blazes.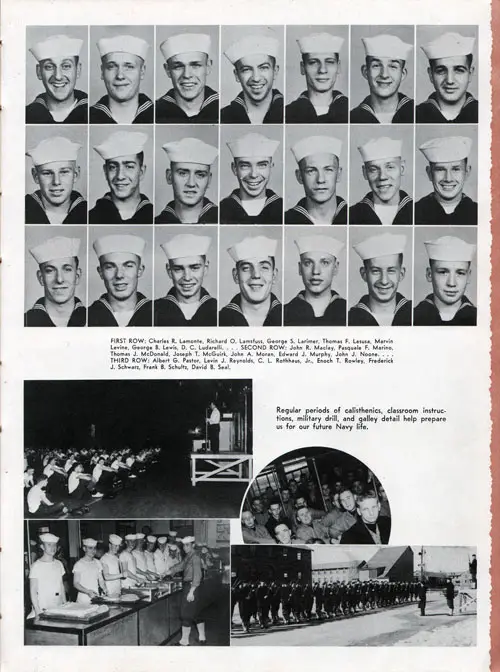 Company 51-356 Recruits, Page 3. GGA Image ID # 1b09c39abb
Caption: Regular periods of calisthenics, classroom instructions, military drill, and galley detail help prepare us for our future Navy life.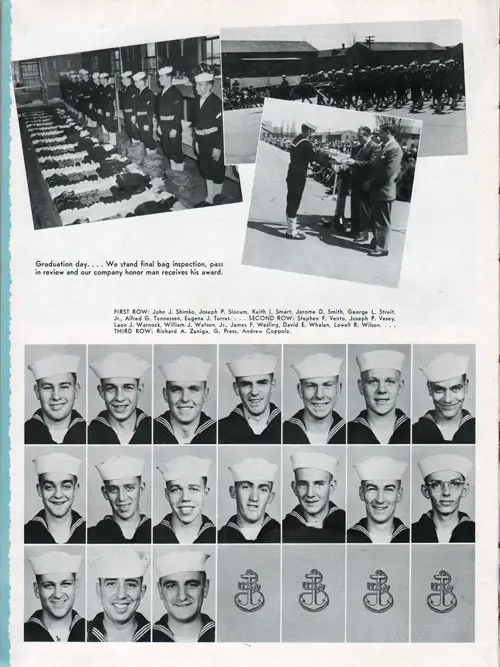 Company 51-356 Recruits, Page 4. GGA Image ID # 1b0a04fc75
Caption: Graduation day.... We stand final bag inspection, pass in review and our company honor man receives his award.