Navy Boot Camp Book 1951 Company 285 The Keel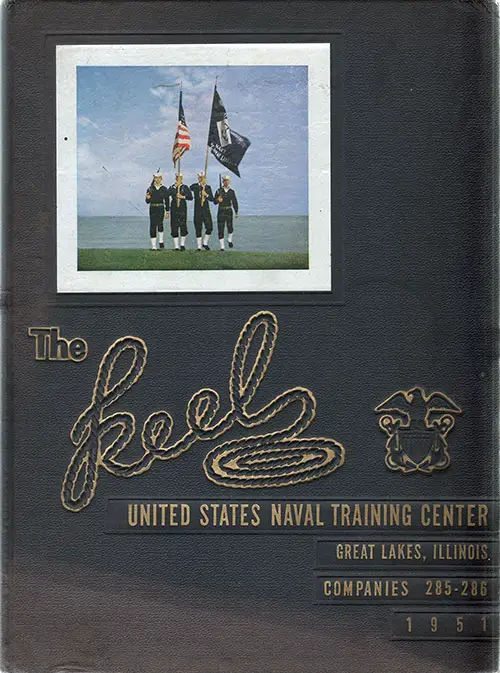 Front Cover, Great Lakes USNTC "The Keel" 1951 Company 285
GGA Image ID # 10027c8326
Roster and Photos for Recruit Company 285 for 1951, United States Naval Training Center, Great Lakes, Illinois. Company Commander: R. G. Liberty, BT1. 72 Men Graduated. Training Dates Not Reported.
Company 51-285 Leadership
Company Commander: R. G. Liberty, BT1
Company 51-285 Recruit Roster
Vincent T. Agan,
George R. Algeo,
O. L. Boatman,
Samuel E. Anger,
William L. Artman
Virgil W. Bales, Jr.,
John J. Banach,
Charles A. Basil,
Donald L. Baughman,
Donald E. Beavis
R. C. Blankenmeyer,
Stanley J. Bogart,
George B. Burklin,
George W. Cheney,
Steve P. Christ,
Robert J. Clancy,
Arthur L. Cooke.
Donald E. Curren,
Philip DeCapito,
Frank F. DeStefano,
William A. Dirkman,
Homer W. Dray,
DeWayne E. Elgin,
Lawrence E. Everett
Dale F. Fisher,
J. E. Frederickson, Jr.,
James A. Gagnier,
Peter P. Georgulas,
Jay J. Gurisko,
Lawrence H. Harmon,
Robert A. Hays
Jay W. Herr,
Norman P. Holton,
James W. Holland,
George F. Holt,
Lloyd C. Kaufmann,
George C. Lamar,
Louis Lukes, Jr.
Donald G. Maxwell,
William H. McMahon,
Frank P. McNeil,
Robert C. McNeil,
John A. Miklos,
William H. Morris,
Joseph F. Nardo
George D. Nielsen,
William F. Papke,
John A. Peacock,
John N. Perito,
James W. Pillon,
John C. Platt,
Dominic J. Potts
Joseph G. Rettig,
Jack A. Rifenberg,
Frederick K. Sadler,
Gerald L. Schulmeyer,
Donald W. Scott,
Lavelle C. Seilers,
Donald J. Shackel
Bernard T. Shaw,
Carl J. Smith,
Edward Soifer.
Kenneth R. Stevens,
Merle A. Thompson,
Jack R. Turner,
Norman E. Voyles
Robert W. Willett, Jr.,
Michael Yarabinec,
Marvin Young, Jr.,
R. E. Davies,
K. E. Lawrence,
T. L. Armstrong.
Navy Boot Camp Recruit Photos - Company 51-285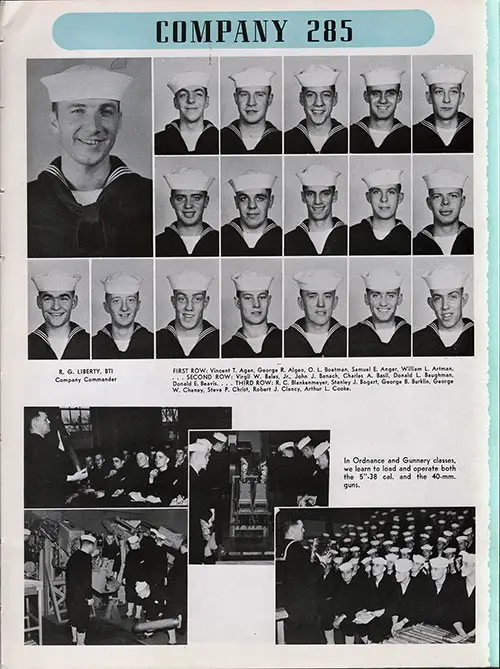 Company 51-285 Recruits, Page 1 | GGA Image ID # 100282b4a6
In Ordnance and Gunnery classes, we learn to load and operate both the 5"-38 cal. and the 40-mm. guns.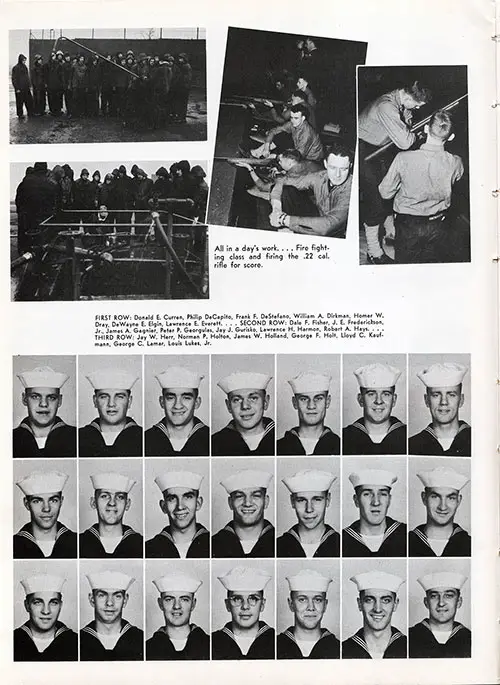 Company 51-285 Recruits, Page 2 | GGA Image ID # 1002d68611
All in a day's work. . . . Firefighting class and firing the .22 cal. rifle for score.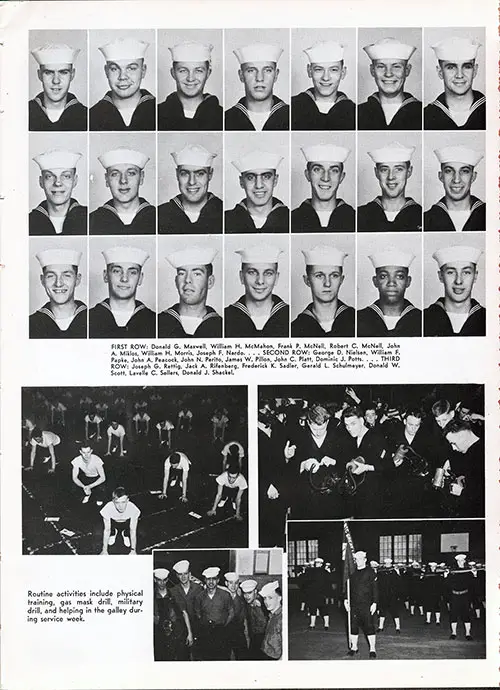 Company 51-285 Recruits, Page 3 | GGA Image ID # 1003af07b6
Routine activities include physical training, gas mask drill, military drill, and helping in the galley during service week.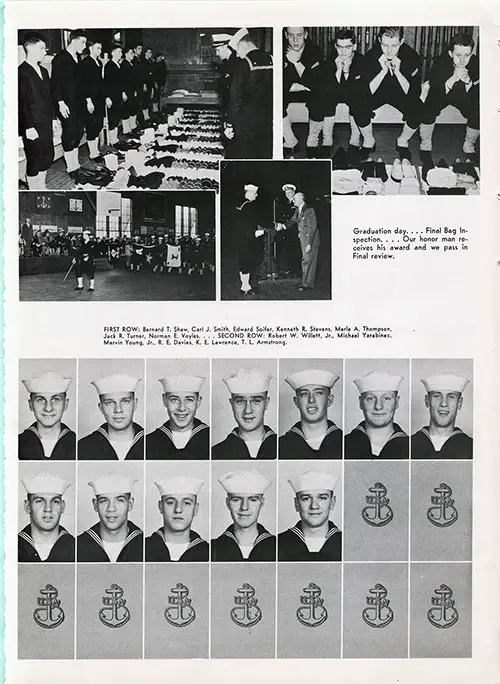 Company 51-285 Recruits, Page 4 | GGA Image ID # 1003cc333c
Graduation day
Final Bag Inspection
Our honor man receives his award and we pass in Final review.