Navy Boot Camp Book 1954 Company 230 The Keel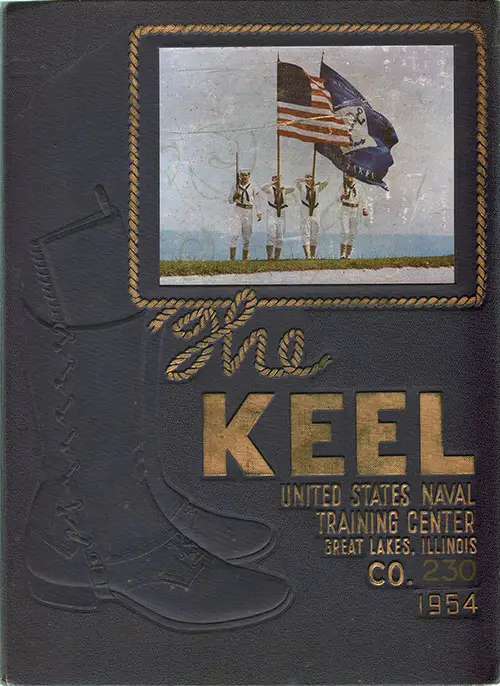 Front Cover, Great Lakes USNTC "The Keel" 1954 Company 230
Roster and Photos for Recruit Company 230 for 1954, United States Naval Training Center, Great Lakes, Illinois. Company Commander: V. W. Cox, BMI, USN. 72 Men Graduated. Training Dates Not Reported.
Company 54-230 Honors
Richard A. Wilson, Honorman, Uniontown, Kansas
Winners of One Battalion Drill Flag
Company 54-230 Organization and Schedule
Organization: 8th Regiment, 83rd Battalion
Company 54-230 Leadership
Regimental Commander: Lt. R. J. Hicks, USN
Assistant Regimental Commander: LTJG A. B. Robinson, USNR
Battalion Commander: LTJG F. C. Thompson, USNR
Company Commander: V. W. Cox, BMI, USN
Company 54-230 Recruit Roster
BILLY PEACE
MAA
Anniston, Ala.
EUGENE GUTIERREZ
Bos'n of Watch
Chicago, III.
JERRY INGLE
Gunner's Mate
Cowan, Tenn.
RONALD DUNWOODIE
APO
Madison, Ind.
RICHARD HILL
EPO
Dodge City, Kans.
JOSEPH ROGERS
Platoon Leader
Knoxville, Tenn.
RICHARD WILCOX
Platoon Leader
Ellinwood, Kans.
RICHARD WILSON
Clerk
Uniontown, Kans.
JOHN SWITZER, JR.
Mail Clerk
Denver, Colo.
HAROLD JOHNSON
Squad Leader
Anniston, Ala.
THOMAS GOLDEN
Squad Leader
Louisville, Ky.
JAMES GEORGE
Squad Leader
Knoxville, Tenn.
JOHN CRISPE
Squad Leader
Lakewood, Colo.
FREDERIC O'DAFFER
Squad Leader
lola, Kans.
RUSSEL FISHER
Squad Leader
Titonka, Iowa
BERNARD STEELE
Guide
Knoxville, Tenn.
ROBERT HALL
Guide
Omaha, Neb.
ACKERMAN, FILEX
Pollock, S. Dak.
ALLEN, RAYMOND
Louisville, Ky.
BLAKE, GEORGE
Burlington, Iowa
BROCK, DONALD
Louisville, Ky.
BROOKS, ELEY, JR.
Crestview, Fla.
BRYANT, ROBERT
Gary, Ind.
BURNETT, TEDDY
Garden City, Kans.
BUSH, DONALD
Steele, Ala.
CARNES, CHARLES
lola, Kans.
CATES, JOHNNY
Logan, Okla.
COOPER, STEPHEN
Louisville, Ky.
DARDEN, RAYMOND
Drum & Bugle Corps
Gary, Ind.
DAVIS, THOMAS
Crestview, Fla.
DAWSON, DAVE
Kansas City, Kans.
DU MOULIN, JAMES
Republic, Mich.
FRANKS, WALTER
Montgomery, Ala.
FUSCHINO, RICHARD
Denver, Colo.
GIESICK, BOBBY
Leoti, Kans.
GOUGH, JOHNNY
Mayfield, Ky.
GRIDER, JOHN
Battalion Clerk
Bowling Green, Ky.
GRIFFIN, GEORGE
Louisville, Ky.
HARDIMAN, RONALD
Durham, N. C.
HENDRICKS, RICHARD
Antigo, Wis.
HIGH, VERNON
Band
Raleigh, N. C.
HOOPS, GEORGE
Drum & Bugle Corps
Maryville, Tenn.
HOOVER, HOWARD
Neosho, Mo.
HUNT, DONALD
Knoxville, Tenn.
JOHNSON, WILLIAM
Louisville, Ky.
KEMPF, AUBREY
Louisville, Ky.
KIGER, RICHARD
Omaha, Neb.
KIMBROUGH, BUFORD
Nashville, Tenn.
KNIGHT, GEORGE
Louisville, Ky.
LAWSON, DAVID
Rockford, III.
LEE, ARTHUR
Charlotte, N. C.
LINDSAY, JOHN
Knoxville, Tenn.
McBRYAR, HODY
Birmingham, Ala.
McCULLEY, DONNIE
Denver, Colo.
McKELLAR, BILLY
Durham, N. C.
McLEOD, RICHARD
Anniston, Ala.
MOORE, VERNON
Tampa, Fla.
MUNN, JOHN
Ozark, Ala.
POSTON, MAXIE
Jamestown, Tenn.
REED, HERBERT
Kansas City, Mo.
SCHMITZ, JAMES
Papillion, Neb.
SEADER, JACK
Louisville, Colo.
SHAW, ALBERT
De Funiak Springs, Fla.
SHIPMAN, JACK
Ellinwood, Kans.
SHULL, PHILLIP
Uniontown, Kans.
STAMPER, MARSHALL
Salisbury, N. C.
SVOBODA, DUANE
Elkhorn, Neb.
TENNEY, JERRY
Mason City, Iowa
TODAHL, ROGER
Fergus Falls, Minn.
WARNER, DARYL
Drum & Bugle Corps
Frankfort, Kans.
WOOD, CHARLES
Ozark, Ala.
WOOD, EUGENE
Augusta, Ga.

Navy Boot Camp Recruit Photos - Company 54-230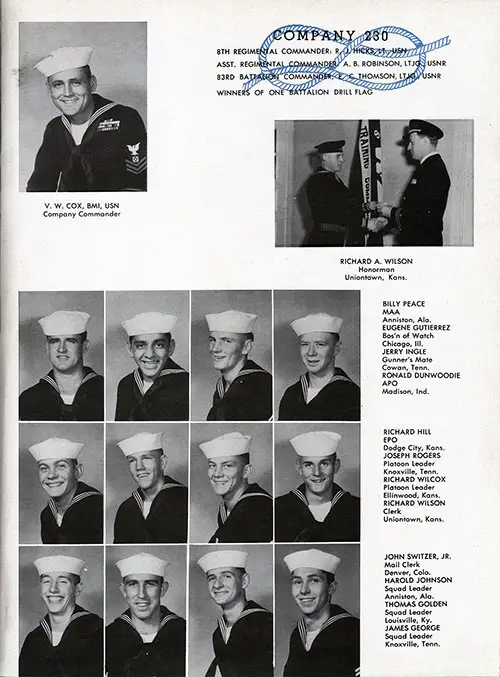 Company 54-230 Recruits, Page 1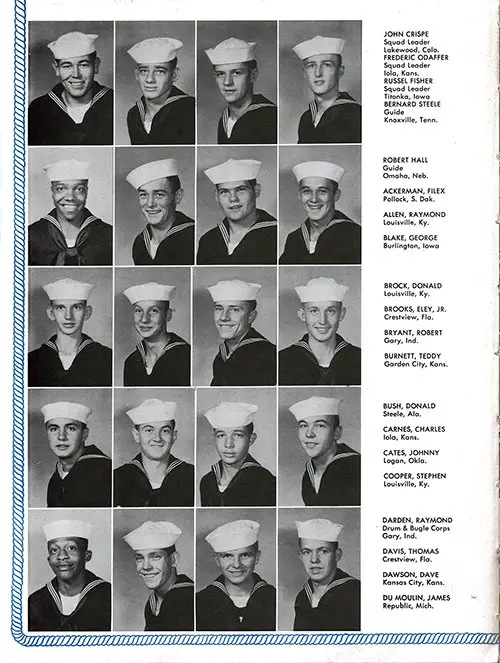 Company 54-230 Recruits, Page 2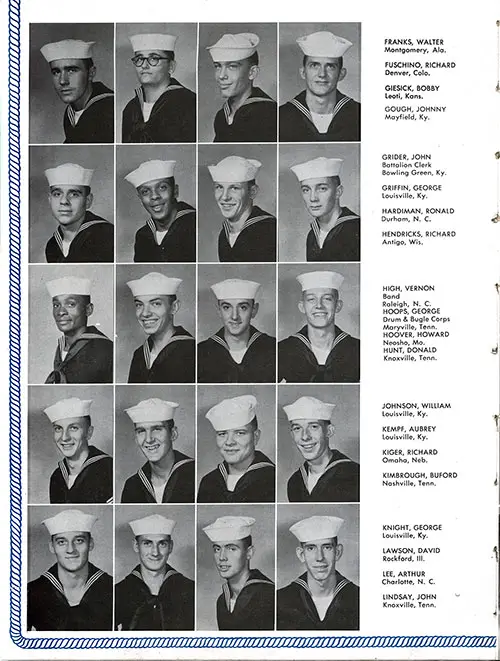 Company 54-230 Recruits, Page 3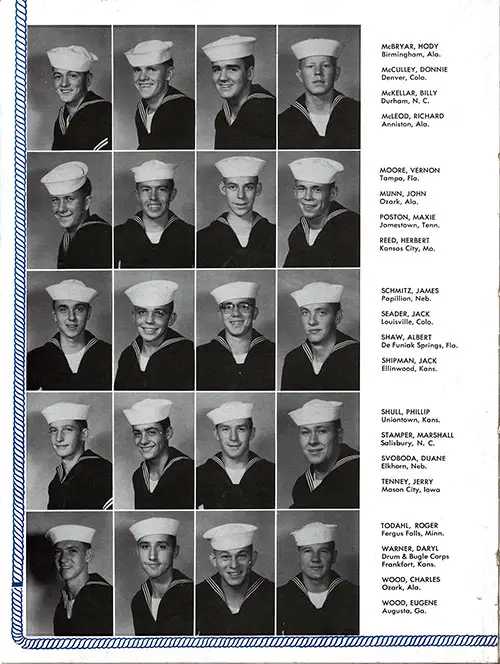 Company 54-230 Recruits, Page 4