Navy Boot Camp Book 1947 Company 160 The Keel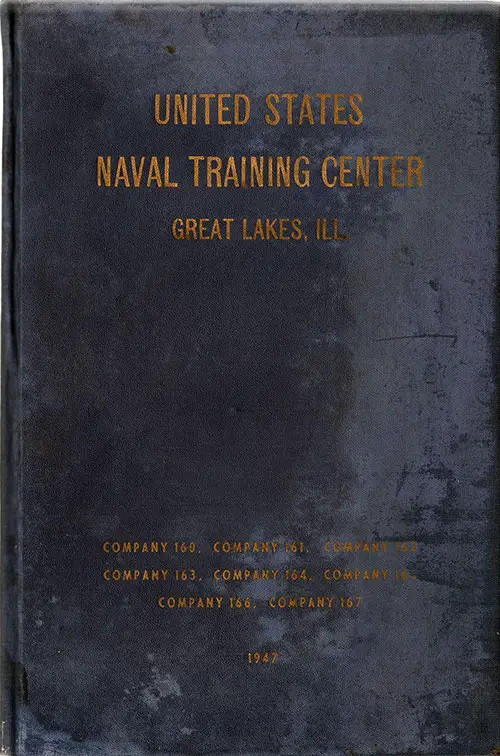 Front Cover, USNTC Great Lakes "The Keel" 1947 Company 160. GGA Image ID # 1af156ac32
Roster and Photos for Recruit Company 160 for 1947, United States Naval Training Center, Great Lakes, Illinois. Company Commander: D. Starling, C.B.M. 98 Men Graduated. Training Dates Not Reported.
On 28 March 1944, the Training Station was established by Secretary Forrestal as a group command and redisgnated as the U. S. Naval Training Center, Great Lakes, Illinois.
Company Commander : D. Starling, C.B.M.
Company 47-160 Roster
Page 1: Reading from left to right
Top Row:
Robert C. Anderson
Jerrold J. Andrews
William E. Austin
Jimmie W. Beauchamp
James A. Bean
Eugene T. Beadle
Rene R. Bellenoit
Frederick H. Blanken
Second Row:
William G. Boyd, Jr.
Gordon Braaksma
Harold R. Brummet
Phillip M. Burke
Donald E. Burnet
Joseph R. Cadrain
Zane C. Caskey
William J. Chamberlain
Third Row:
James R. Chaffin
James E. Coburn
Thomas E. Collins
Robert M. Crum
Richard M. Daviau
Maurice Deprest
William J. Drew, Jr.
Richard S. Duncan
Fourth Row:
Samuel P. Earnst
Ronald Eglinton
Elmer L.Evans, Jr.
John W. Frost
Louis D. Gaetano
Louis E. Gamer, Jr.
W. P. Gingras, Jr.
Duane P. Griffith
Fifth Row:
Excel C. Harrison
Henry C. Hardt
Howard W. Heffley
Wendell K. Henderson
H. N. Heuschkel, Jr.
Harold D. Holden
Jesse A. Howe
Andrew E. Hubbard
Bottom Row:
Paul H. Imlay
Frank M. Jacquinet
Richard A. Jacobs
Robert E. Jacobs
John E. Jeffrey
Donald E. Kenseth
Merlin E. Keifer
Francis E. Knowl
Page 2: Reading from left to right
Top Row:
Charles R. Kreiser, Jr.
Edward S. Lawhon
Oliver F. Mahannah
Edward P. Malysko
Warren E. Manning
Douglas E. Martin
Lee E. Mason
John J. Mcphee
Second Row:
Donald L. Meyers
Finley Miller, Jr.
David S. Moore
William D. Mowery
Harry E. Muirhead
Eugene L. Nelson
Norman R. Nowak
Arthur J. Oakley
Third Row:
Albert T. Olson
N. Palmerone, Jr.
Charles A. Passwater
Jack E. Peaslee
James C. Peck
Lyle E. Person
Nolan R. Pickering
Arnold P. Ray
Fourth Row:
Beryle D. Redding
William G. Reidy
Eugene J. Richards
Lawrence W. Roberts
Jay W. Rummell
Charles D. Saunders
Robert R. Schultz
H. L. Schuster, Jr.
Fifth Row:
Walter G. Seleb
Edwin J. Siersma
William E. Sigafoos
Norman Siler
Elmer R. Smith
John B. Stober
John Sukunda, Jr.
Fred P. Tarkon
Sixth Row:
Ardell H. Tietz, Jr.
Harold E. Vandervort
William J. Westby
Donald H. Wiesjohn
Melvin Woodard
Blanc L. Wood
Melvin R. Wynkoop
David C. Zimmerman
Bottom Row:
James H. Zirkle
Chester J. Zisk
Navy Boot Camp Recruit Photos - Company 47-160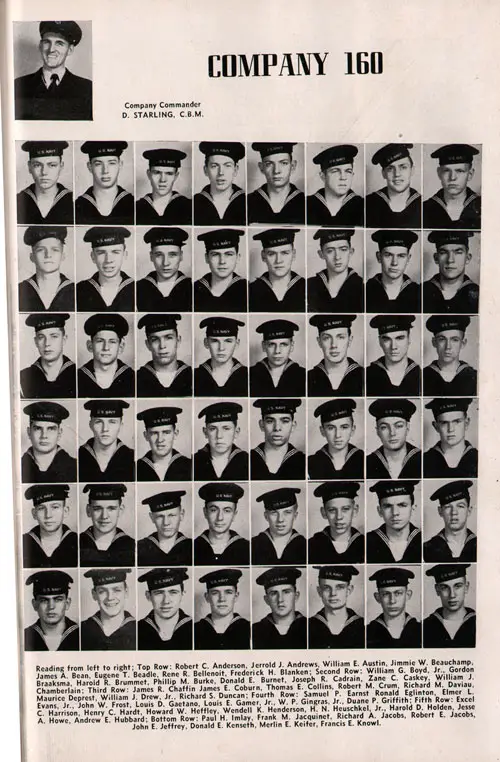 Company 47-160 Recruits, Page 1. GGA Image ID # 1af17a050a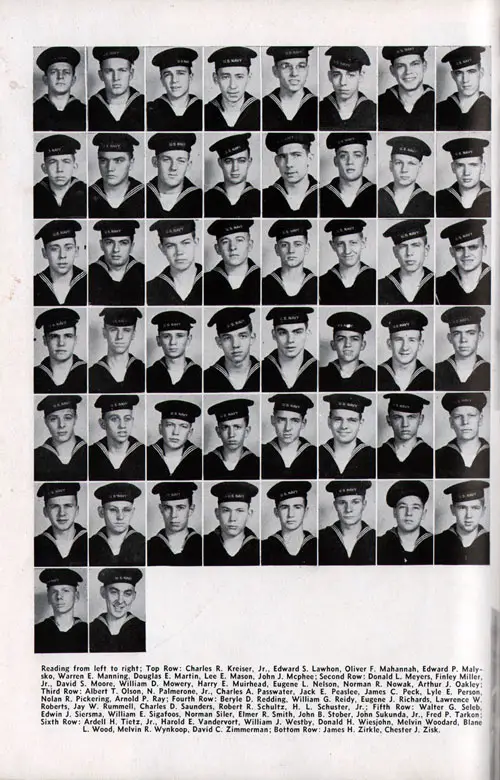 Company 47-160 Recruits, Page 2. GGA Image ID # 1af1996ff7