Navy Boot Camp Book 1951 Company 980 The Keel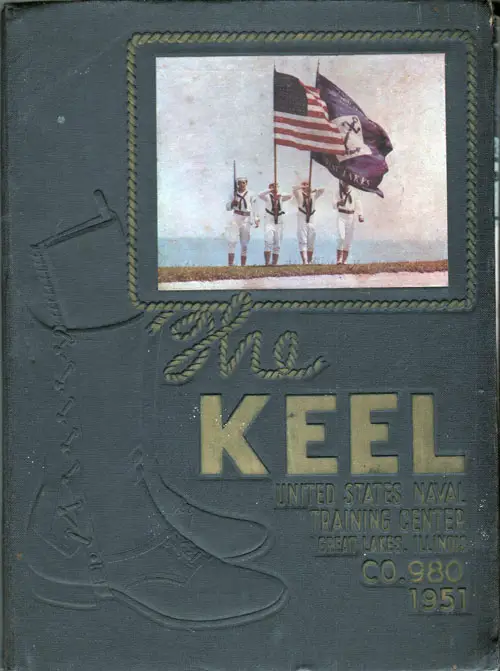 Front Cover, USNTC Great Lakes "The Keel" 1951 Company 980. GGA Image ID # 1b0b27e241
Roster and Photos for Recruit Company 980 for 1951, United States Naval Training Center, Great Lakes, Illinois. Company Commander: R. W. Diffenderfer, ENC, USN. 66 Men Graduated. Training Dates Not Reported.
Company 51-980 Honors
Winners of the Rooster Flag, Star Flag, Three "C" Flags, Four Battalion Drill Flags, and One Regimental Drill Flag.
Company 980, 10th Regiment, 103rd Battalion
Company 51-980 Leadership
Regimental Commander: LCDR J. I. Orr, USN
Asst. Regimental Commander: LT G. S. Bisgrove, USN
Battalion Commander: LT H. C. Overgaard, USNR
Company Commander R. W. Diffenderfer, ENC, USN
Company 51-980 Recruit Roster
James Caldwell, St. Louis, MO – RPOC
Marvin Reynolds, St. James, MO - Honor Man
James T. Duffey, Burnettsville, IN - MAA & Squad Leader
Ray F. Knight, Doniphan, MO - Bos'n of Watch
Elsworth W. Kent, Clarksville, MO - Gunner's Mate
Bobbie E. Barker, Anna, IL - APO
Ronald R. Humerickhouse, Elnora, IN - EPO
Billy Joe Comer, Metropolis, IL - Platoon Leader
Fred W. Mertens, Antigo, WI - Platoon Leader
Donald J. Wilson, Springfield, MO - Clerk
Don F. Allen, Dixon, MO - Mail Clerk
Billy Miinch, Marquand, MO - Squad Leader
Donald L. Knupp, Charleston, MO - Squad Leader  
James F. D. Styler, Ridgeville, IN - Squad Leader  
Theodore Wilson, Atlantic City, NJ - Guide
Joe Johnston Abba, City, IL
Harvey Athens Andreski, WI
Gerald Bottensek, Wisconsin Rapids, WI
Franklin Boze, Doster, MI.
Harold Brinkman, Mt. Vernon, MO
Tommy Campbell, Rolla, MO
Earl Clifford, Pine Village, IN
Sherman L. Comer, Metropolis, IL
Jerry Crabtree, Libby, MT
Kenneth Crooker, Effingham, IL
Richard Donohue, Granite City, IL
Bill Elms, Rolla, MO
Donald Fahnestock, Lemay, MO
Charles Felz, Galesburg, IL
Ralph Fisher, Arlington, MO
Jerry Fuzzell, Springfield, MO
William Garlinger, Bryant, IN
Ralph Gilbert, Fort Wayne, IN
Kenneth Glass, Reading, Pa.
Ron Glover, Kokomo, IN
Robert Graham, Vincennes, IN
Ted Graves, Kokomo, IN
Howard Hager, Harviell, MO
Bobby Hamilton, Alton, IL
Kenneth Henning, St. Louis, MO
James Hessel, Green Bay, WI
Roy Himes, Ridgeville, IN
Joseph Hunter, Dunnegan, MO
Randall Kirchhoff, Berwyn, IL
Jerry Knotts, New Castle, IN
Harry Kuper, Greenville, IL
Odell Lamarr, Metropolis, IL
William Land, New Castle, IN
Charles Long, Annapolis, MO
Robert Mckee, Marquon, IL
Felton Mahr, St. Louis, MO
Donald Managan, Appleton, WI
Gene Maurer, Highland, IL
Don Miller, Moline, IL
Donald Petrick, Kewaunee, WI
Philip Poling, Bryant, IN
Albert Rickey, Effingham, IL
Darell Rohr, Kewaunee, WI
Joseph Stotltr, Monticello, IN
Bruno Tydryszewski, Trenton, NJ
Girard Van Hise, Trenton, NJ
Norman Viss, Raymond, MN
Vernon Walker, Berlin, NJ
Ronald Woods, Springfield, MO
Donald Yarberry, Willard, MO
Bobby Yount, Marquand, MO
Navy Boot Camp Recruit Photos - Company 51-980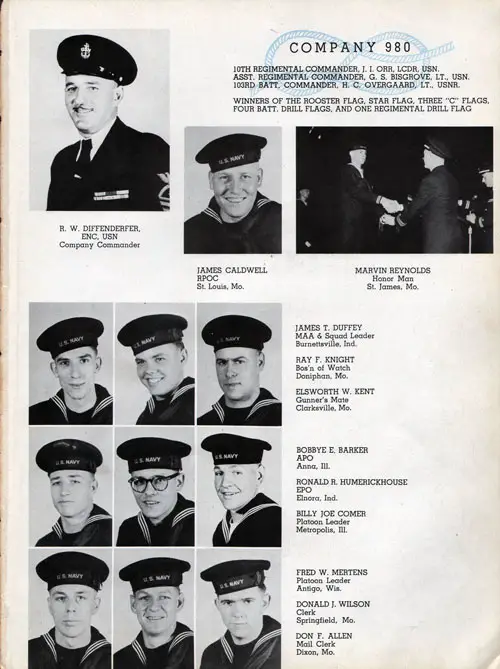 Company 51-980 Recruits, Page 1. GGA Image ID # 1b0b4be456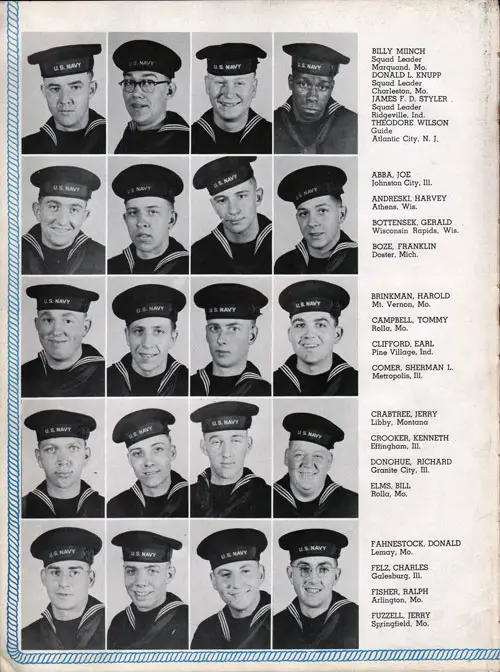 Company 51-980 Recruits, Page 2. GGA Image ID # 1b0b5bb86e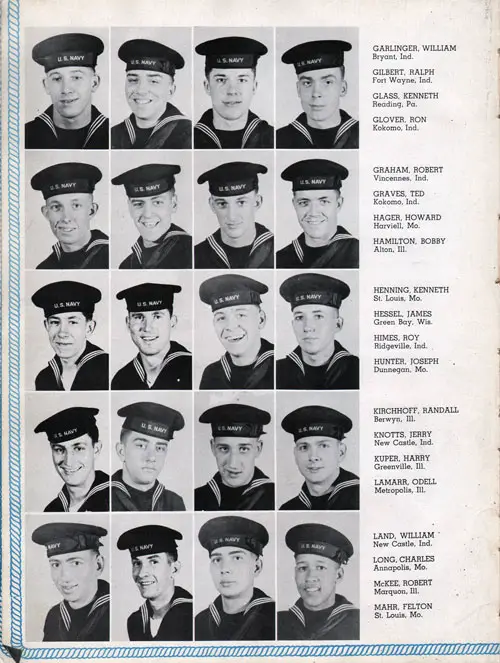 Company 51-980 Recruits, Page 3. GGA Image ID # 1b0b5dfe88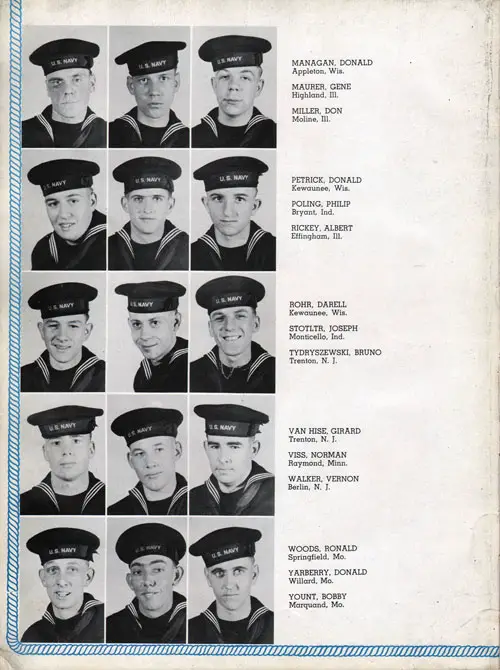 Company 51-980 Recruits, Page 4. GGA Image ID # 1b0b698e4a