Navy Boot Camp Book 1973 Company 225 The Keel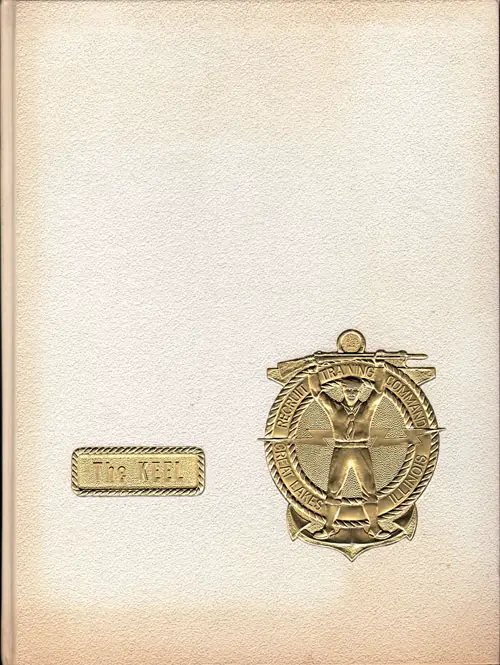 Roster and Photos for Recruit Company 225 for 1973, United States Naval Training Center, Great Lakes, Illinois. Company Commander: QM1 G. L. Stone USN. Training commenced 10 July 1973 and concluded on 17 August 1973. 72 Men Graduated.
Company 73-225 Organization and Schedule
ORGANIZATION: 1st Regiment 13th Battalion
COMMENCED TRAINING: 10 July 1973
COMPLETED TRAINING: 17 August 1973
Company 73-225 Leadership
REGIMENTAL COMMANDER: LTJG R. Kehoe USN
BATTALION COMMANDER: CWO W. S. McGehee USN
BATTALION ADJUTANT: AMSC C. A. Herron USN
BATTALION MAINTENANCE SUPERVISOR: BT1 C. L. Chrisman USN
COMPANY COMMANDER: QM1 G. L. Stone USN
Company 73-225 Recruit Roster
Anderson, Michael L.
Austin, Steven R.
Barge, Russell E.
Bercik, David P.
Browning, Samuel G.
Burress, Roy L. Jr.
Burke, Donald J.
Carlson, John E.
Clemens, Albert J.
Cochran, Robert H.
Cornwell, Larry A.
Dauge, Frederick W.
Davis, Harry E.
Dougherty, Vincen
Dunn, Timothy B.
Ekey, Charles J.
Farkas, David M.
Frost, James L.
Gnegy, Stephen R.
Gotshall, Paul E.
Gray, Daniel L.
Gregory, William S.
Gross, Paul D.
Henson, William R.
Holmes, David H.
Hooker, Michael L.
Howard, Daniel A.
Irwin, Danny C.
Knell, Gary L.
Knisley, Rex M.
Leslie, William K.
Levasseor, John H.
Liszewski, Joseph A.
Liva, John H.
Lubstorf, Kim M.
Mahoney, Kevin G.
Maines, Walter G.
Martin, Ronald Dean
McCoy, Lawrence W.
McGarvey, Michael A.
McIntyre, James V.
Micjan, Gregory
Mironoff, Michael G.
Motyl, Ronald J.
Mutschler, David M.
Pastor, Edward A.
Rattine, Frederic
Reed, Everett E.
Sargalis, Lawrenc
Scudder, Harold S.
Smith, Joseph F.
Smith, Leonard A.
Spevak, Ronald A.
Swickard, Larry W.
Thompson, Brett M.
Thompson, Wesley J.
Tingue, Gary L.
Troutman, Alfred D.
Valencia, Paul R.
Valzile, Vernon I.
Vititoe, James S.
Woodall, Kenneth R.
Woodall, Dale W.
Yerian, William E.
Young, Robert K.
Young, Ronald G.
Young, Michael W.
Dupiton, Fred M.
Kreidler, John J. Sr.
Wade, Johnnie L.
Bruneau, Robert
Wheeler, Stephen L.
Navy Boot Camp Recruit Photos - Company 73-225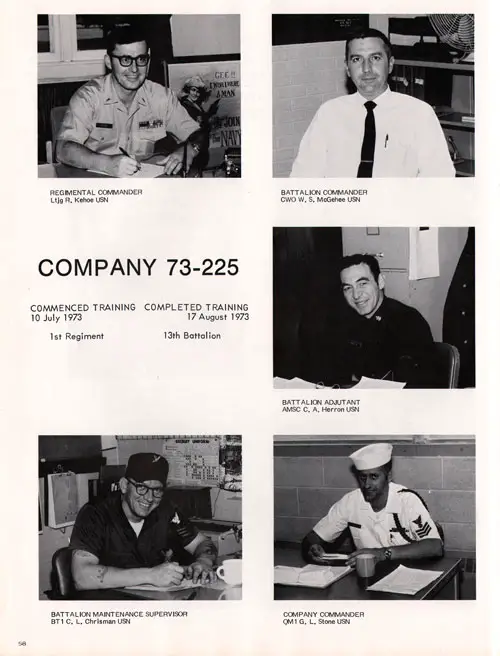 Company 73-225 Recruits, Page 1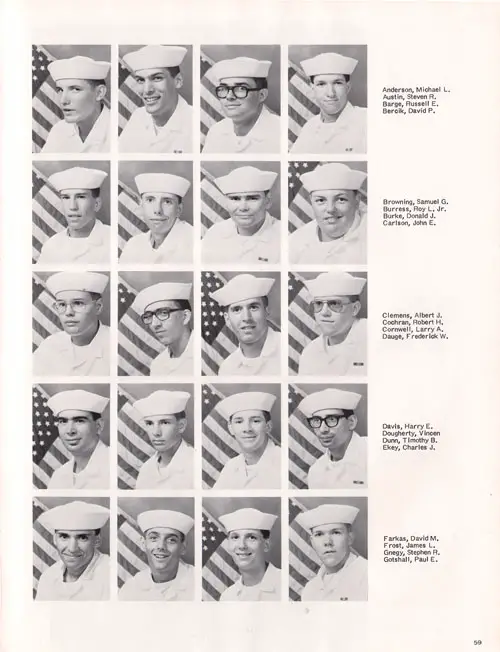 Company 73-225 Recruits, Page 2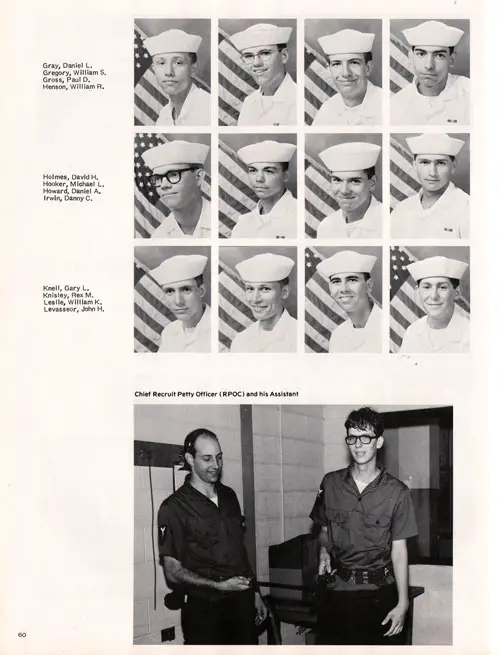 Company 73-225 Recruits, Page 3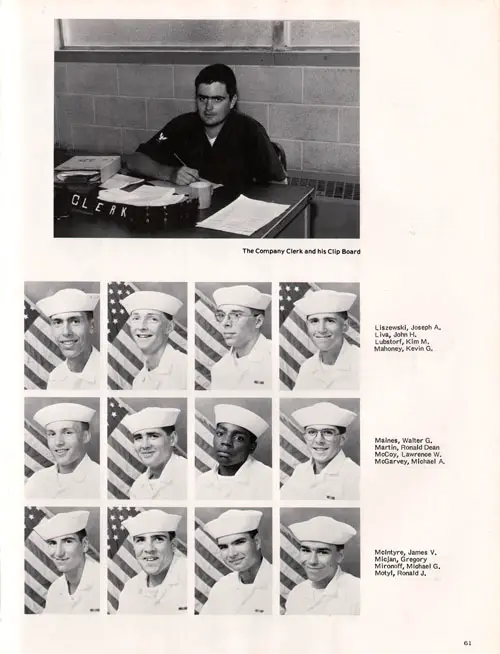 Company 73-225 Recruits, Page 4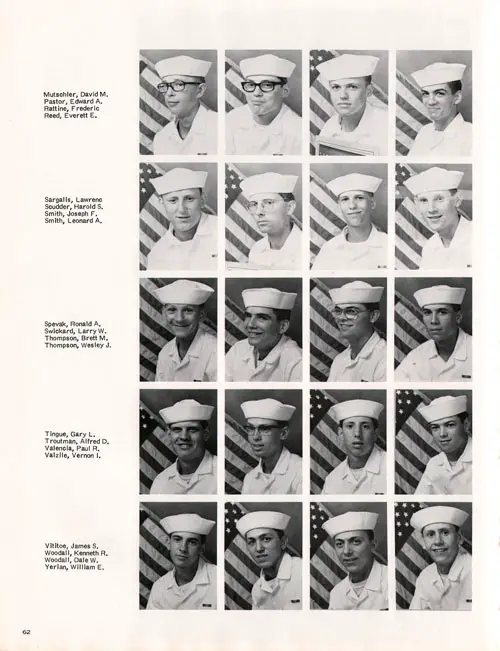 Company 73-225 Recruits, Page 5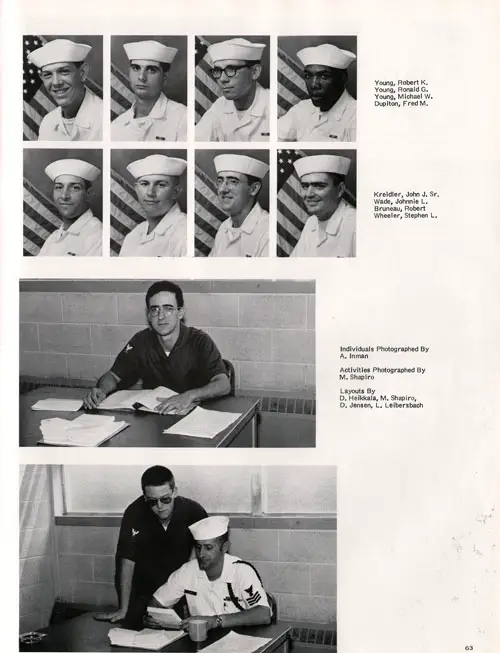 Company 73-225 Recruits, Page 6