Navy Boot Camp Book 1952 Company 352 The Keel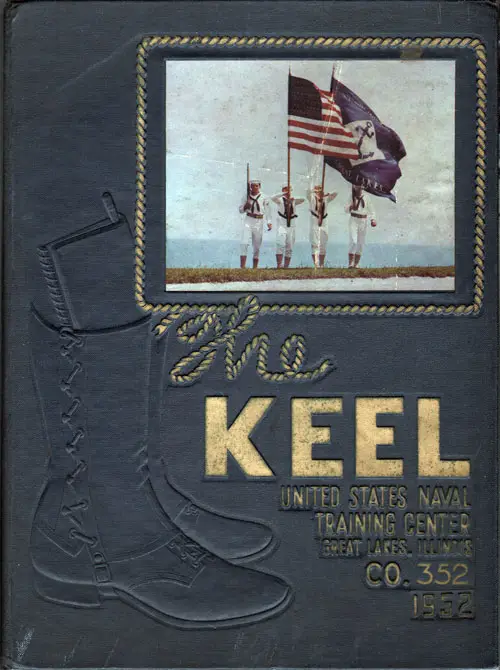 Front Cover, USNTC Great Lakes "The Keel" 1952 Company 352. GGA Image ID # 1b0c41cc56
Roster and Photos for Recruit Company 352 for 1952, United States Naval Training Center, Great Lakes, Illinois. Company Commander: F. X. Seck, QMC, USN, 65 Men Graduated. Training dates not provided.
Company 52-352 Leadership
10th Reg. Commander: LCDR James I. Orr, USN
102ND BATT. COMMANDER: LT. C. R. Robinson, USN
ASST. REGIMENTAL COMMANDER: LT. J. H. Haymaker, USN
Company Commander: F. X. Seck, QMC, USN
Company 52-352 Honors
WINNERS OF FIVE STAR FLAGS, "A" FLAG, ROOSTER FLAG, AND "C" FLAG
Company 52-352 Recruit Roster
LANE B. HENDERSON
RPOC
Shelbina, Mo.
T. M. BRESNAHAN
MAA
Chicago, Ill.
H. M. BUSH
Bos'n of Watch
Kalamazoo, Mich.
T. L. FOSTER
Gunner's Mate
Tulsa, Okla.
JAMES H. BRANDENBURG
Honor Man
Detroit, Mich.
JAMES A. BERTA
APO
South Bend, Ind.
J. H. BRANDENBURG
EPO
Detroit, Mich.
DAYTON D. FOSTER
Platoon Leader
Decatur, Ill.
ROBERT L. COIN
Platoon Leader
Pontiac, Mich.
JOHN M. CREEDON
Clerk
Wellston, Ohio
ROBERT H. CRISPIN
Mail Clerk
Forest Park, Ill.
CHARLES B. PRCHAL
Squad Leader
Chicago, Ill.
JAMES J. SULLA
Squad Leader
Detroit, Mich.
RICHARD T. LENGACHER
Squad Leader
Waukesha, Wis.
JOHN B. BAUMAN
Squad Leader
Denver, Colo.
JERRY A. MUNSON
Squad Leader
St. Paul, Minn.
THOMAS M. TAYLOR
Squad Leader
New Boston, Mich.
LIONEL G. ROBERTSON
Guide
Ramah, Colo.
LAURENCE N. BRUSS
Guide
Detroit, Mich.
ALOIA, BEN E.
Detroit, Mich.
ANDERSON, NEWTON O.
Hector, Minn.
ARMSTRONG, HENRY L.
Newton Upper Falls, Mass.
BETHKE, GEORGE M.
Brookfield, Ill.
BOOKOUT, CHARLES F.
Oklahoma City, Okla.
BUHL, FORREST E.
Ashland, Ill.
BUSLER, FRED E.
Watertown, Wis.
CARUFEL, ALTON J.
Minneapolis, Minn.
DAVIS, BILL E.
c Jackson, Mich.
DeLUCA, RICHARD C.
Racine, Wis.
DIMMER, ROBERT J.
Detroit, Mich.
ECKES, ROLAND N.
Wahpeton, N. Dak.
EITEL, RICHARD L.
Kirksville, Mo.
ELLIS, ROBERT A.
Wilton Junction, Iowa
FARMER, JUSTIN H.
Joliet, Ill.
GAGLIANO, ROGER L.
Cudahy, Wis.
GREENE, GEORGE A.
Kalamazoo, Mich.
HALL, B. "TEX"
Irving, Tex.
HELMS, BERTRAM H.
Neenah, Wis.
HENNON, DAVID K.
Bloomington, Ind.
HOOVER, EUGENE B.
Ypsilanti, Mich.
HORNE, DAVID C.
Detroit, Mich.
HUSEN, KAY DON
Burt, Mich.
HUSK, FLOYD C.
East Prairie, Mo.
KINNER, LLOYD A.
Milwaukee, Wis.
KOEPKE, CHARLES W.
Neenah, Wis.
KOLEHMAINEN, DONALD A.
South Range, Mich.
KRIEG, WILLIAM J.
Neenah, Wis.
LEHAN, WARREN G.
Sioux City, Iowa
MacGEORGE, JAMES E.
Lincoln Park, Mich.
McCARTNEY, ROBERT F.
Cleveland, Ohio
McCOY, FREDERICK N.
Pinson Fork, Ky.
MALINOWSKI, FRED J.
Pontiac, Mich.
MEDDAUGH, ROBERT C.
Plainfield, Wis.
MELTON, JERRY R.
Oklahoma City, Okla.
MILLER, DAVID L.
Ypsilanti, Mich.
PETERSON, KENNETH W.
Zion, Ill.
RAMSEY, EDWIN F.
Lincoln Park, Mich.
ROBERTS, LELAND F.
Detroit, Mich.
SAUER, WALTER E.
Utica, Mich.
SAWYER, JIM T.
Cape Girardeau, Mo.
STODDARD, CAROL W.
Allen Park, Mich.
SULLIVAN, RICHARD T.
Melvindale, .Mich.
TRIPLETT, FRED L.
Flint, Mich.
WOLD, GERALD K.
Wahpeton, N. Dak.
WOOD, SAMUEL A.
Upper Montclair, N. J.
Navy Boot Camp Recruit Photos - Company 52-352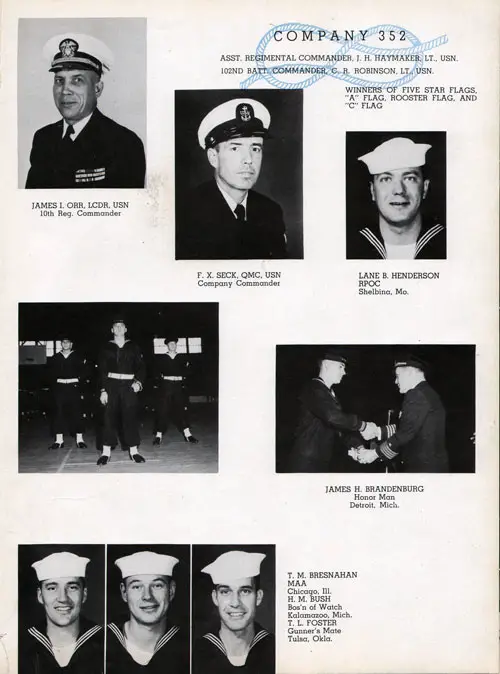 Company 52-352 Recruits, Page 1. GGA Image ID # 1b0c556d26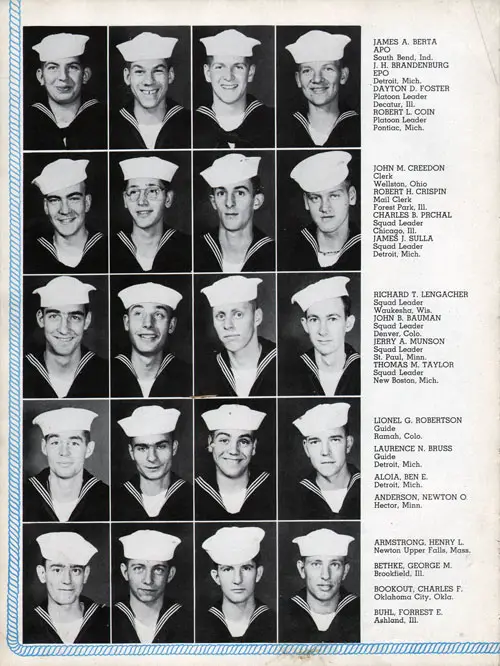 Company 52-352 Recruits, Page 2. GGA Image ID # 1b0c5afd8e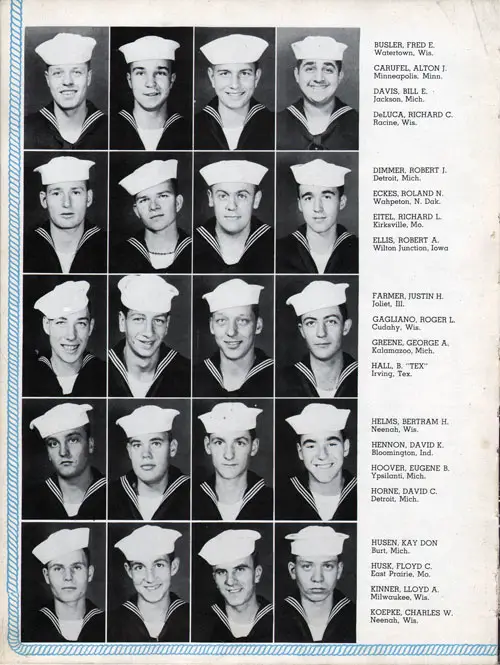 Company 52-352 Recruits, Page 3. GGA Image ID # 1b0cb075c3
Company 52-352 Recruits, Page 4. GGA Image ID # 1b0cdc1672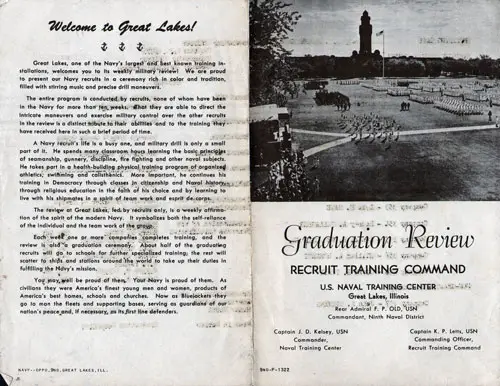 Company 52-352 Graduation Review, Plate 1. GGA Image ID # 1b0d532b87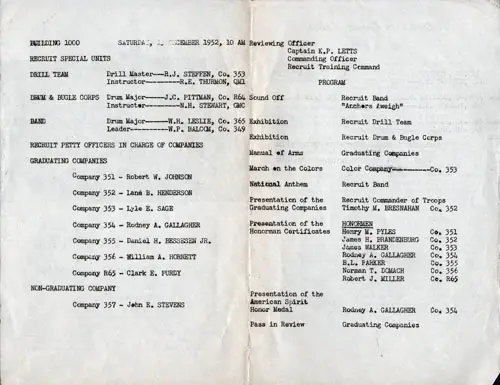 Company 52-352 Graduation Review, Plate 2. GGA Image ID # 1b0dee2670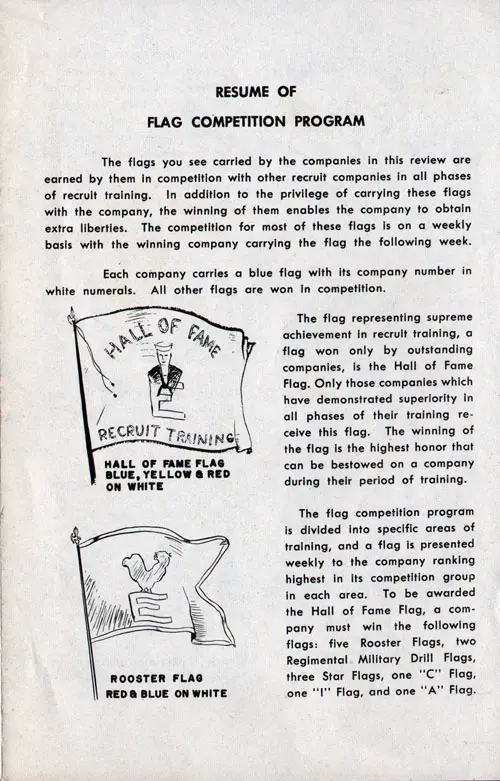 Company 52-352 Resume Of Flag Competition Program, Page 1. GGA Image ID # 1b0e196258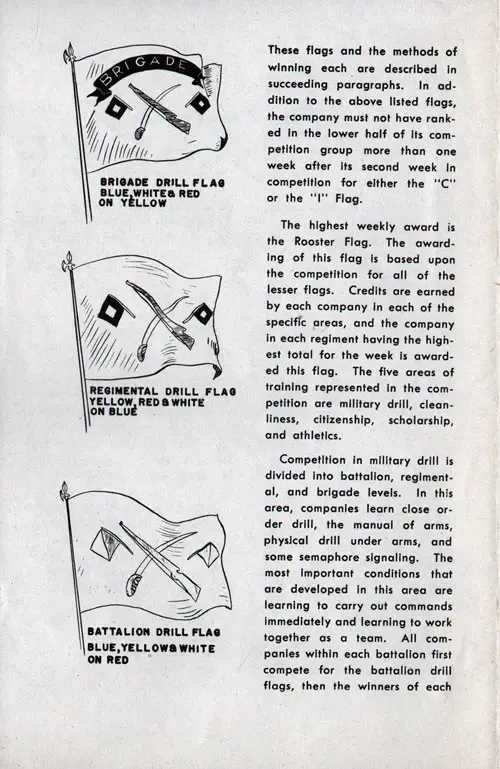 Company 52-352 Resume Of Flag Competition Program, Page 2. GGA Image ID # 1b0e390772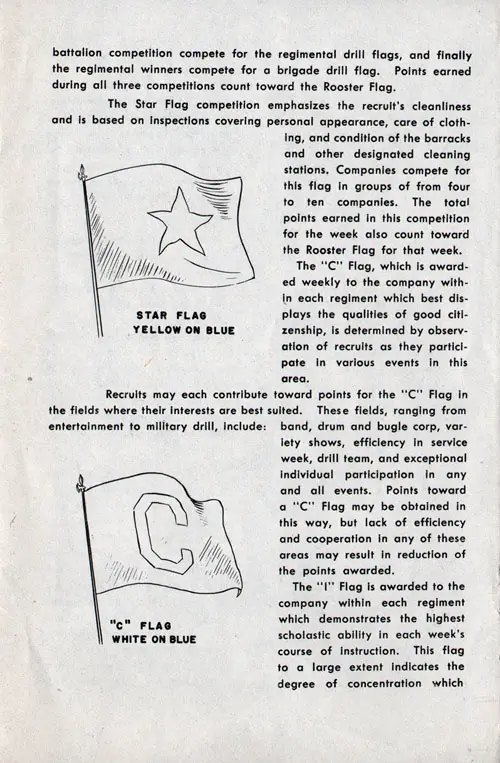 Company 52-352 Resume Of Flag Competition Program, Page 3. GGA Image ID # 1b0e52a4e1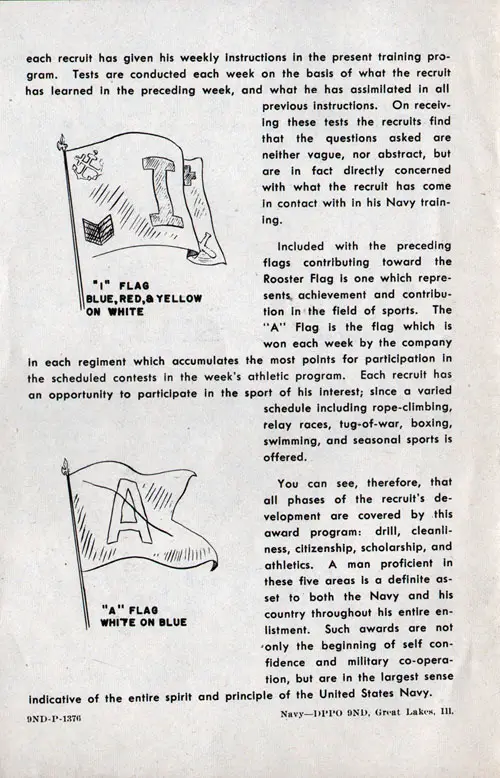 Company 52-352 Resume Of Flag Competition Program, Page 4. GGA Image ID # 1b0e5c56a2
RESUME OF FLAG COMPETITION PROGRAM
The flags you see carried by the companies in this review are earned by them in competition with other recruit companies in all phases of recruit training. In addition to the privilege of carrying these flags with the company, the winning of them enables the company to obtain extra liberties. The competition for most of these flags is on a weekly basis with the winning company carrying the flag the following week.
Each company carries a blue flag with its company number in white numerals. All other flags are won in competition.
The flag representing supreme achievement in recruit training, a flag won only by outstanding companies, is the Hall of Fame Flag. Only those companies which have demonstrated superiority in all phases of their training receive this flag. The winning of the flag is the highest honor that can be bestowed on a company during their period of training.
The flag competition program is divided into specific areas of training, and a flag is presented weekly to the company ranking highest in its competition group in each area. To be awarded the Hall of Fame Flag, a company must win the following flags: five Rooster Flags, two Regimental Military Drill Flags, three Star Flags, one "C" Flag, one "I" Flag, and one "A" Flag.
These flags and the methods of winning each are described in succeeding paragraphs. in addition to the above listed flags, the company must not have ranked in the lower half of its competition group more than one week after its second week in competition for either the "C" or the "I" Flag.
The highest weekly award is the Rooster Flag. The awarding of this flag is based upon the competition for all of the lesser flags. Credits are earned by each company in each of the specific areas, and the company in each regiment having the highest total for the week is awarded this flag. The five areas of training represented in the competition are military drill, cleanliness, citizenship, scholarship, and athletics.
Competition in military drill is divided into battalion, regimental, and brigade levels. In this area, companies learn close order drill, the manual of arms, physical drill under arms, and some semaphore signaling. The most important conditions that are developed in this area are learning to carry out commands immediately and learning to work together as a team. All companies within each battalion first compete for the battalion drill flags, then the winners of each battalion competition compete for the regimental drill flags, and finally the regimental winners compete for a brigade drill flag. Points earned during all three competitions count toward the Rooster Flag.
The Star Flag competition emphasizes the recruit's cleanliness and is based on inspections covering personal appearance, care of clothing, and condition of the barracks and other designated cleaning stations. Companies compete for this flag in groups of from four to ten companies. The total points earned in this competition for the week also count toward the Rooster Flag for that week.
The "C" Flag, which is awarded weekly to the company with-in each regiment which best displays the qualities of good citizenship, is determined by observation of recruits as they participate in various events in this area.
Recruits may each contribute toward points for the "C" Flag in the fields where their interests are best suited. These fields, ranging from entertainment to military drill, include: band, drum and bugle corp, variety shows, efficiency in service week, drill team, and exceptional individual participation in any and all events. Points toward a "C" Flag may be obtained in this way, but lack of efficiency and cooperation in any of these areas may result in reduction of the points awarded.
The "I" Flag is awarded to the company within each regiment which demonstrates the highest scholastic ability in each week's course of instruction. This flag to a large extent Indicates the degree of concentration which each recruit has given his weekly Instructions in the present training program. Tests are conducted each week on the basis of what the recruit has learned in the preceding week, and what he has assimilated in all previous instructions. On receiving these tests the recruits find that the questions asked are neither vague, nor abstract, but are in fact directly concerned with what the recruit has come in contact with in his Navy training. Included with the preceding flags contributing toward the Rooster Flag is one which represents achievement and contribution in the field of sports.
The "A" Flag is the flag which is won each week by the company in each regiment which accumulates the most points for participation in the scheduled contests in the week's athletic program. Each recruit has an opportunity to participate in the sport of his interest; since a varied schedule including rope-climbing, relay races, tug-of-war, boxing, swimming, and seasonal sports is offered.
You can see, therefore, that all phases of the recruit's development are covered by this award program: drill, cleanliness, citizenship, scholarship, and athletics. A man proficient in these five areas is a definite asset to both the Navy and his country throughout his entire enlistment. Such awards are not only the beginning of self confidence and military co-operation, but are in the largest sense indicative of the entire spirit and principle of the United States Navy.
9ND-P-1376 Navy—DITO 9ND, Great Lake., ID.