Navy Boot Camp Book 1947 Company 162 The Keel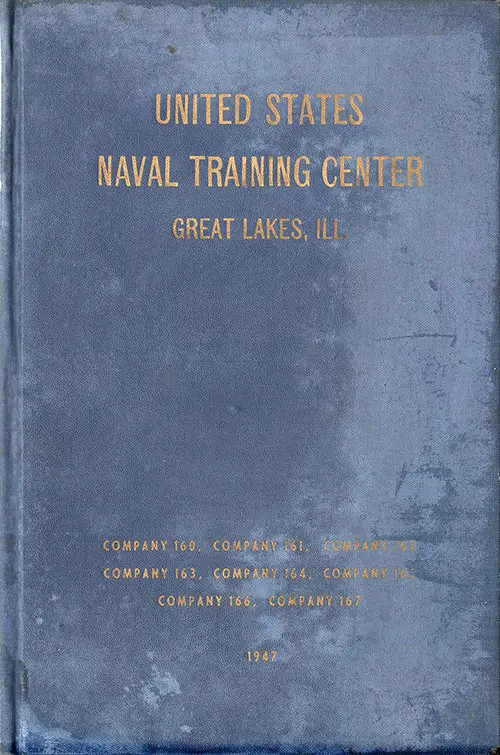 Front Cover, USNTC Great Lakes "The Keel" 1947 Company 162. GGA Image ID # 1af2630e5b
Roster and Photos for Recruit Company 162 for 1947, United States Naval Training Center, Great Lakes, Illinois. Company Commander: CMDR. Ernest Wells, C.B.M. 110 Men Graduated. Training Dates Not Reported.
Hall of Fame! To the average person, that phrase brings to mind Cooperstown, N. Y., Babe Ruth and Joe Dimaggio, but at Great Lakes one thinks of a top-flight Recruit Company.
During their training all recruits aim for that coveted honor. To enter the Naval Training Center Hall of Fame, a company must win 10 of the major competitive flags offered.
Five "Rooster" flags, two of which are awarded each week to companies whose barracks present the best appearance during battalion inspections, must be among the flags won.
As an indication of the difficulty connected with entering the Hall of Fame, only six of the many recruit companies which underwent training at the Naval Training Center in 1947 were admitted to the Great Lakes Hall of Fame.
HALL OF FAME COMPANY 47-162
Company Commander: Ernest Wells, C.B.M.
Company 47-162 Roster
Page One (Reading from left to right)
Top Row:
Angelo J. Altieri
Robert Angus
Joe D. Bare
Francis E. Beauge
Russell C. Bolkoom
Robert K. Bringer
John M. Brower
Wayne A. Cochran
Second Row:
Jack D. Connor
Wesley W. Cook, Jr.
Albert R. Cook, Jr.
Robert E. Delisle
Vern J. Dezess
Charles R. Dickerson
George F. Dickerson
Richard L. Didyoung
Third Row:
S. M. Dombroskie
Clyde B. Firestone
Elias T. Flores
James W. Fogle, Jr.
George L. Fournier
Richard G. Goar
Kenneth E. Gray
James L. Grabher
Fourth Row:
Roger J. Grandow
Leonard Nagy
Richard H. Hagan
Samuel Hamlette III
Thomas H. Hammond
Dana T. Hammond
Herman H. Hanson
George P. Harris
Fifth Row:
Fred H. Hardy
Donald L. Hayes
Albert R. Hesson
Richard Hill
James E. Hodge, Jr.
Dean E. Huling
Bernard M. Hunter
Norman R. Jackvony
Bottom Row:
Harry Jenkins, Jr.
William G. Kipp
Rudolph P. Kocka
Cyril W. Langager
Joseph Lariviere, Jr.
J. A. Leoncavallo
Charles P. Leonard
Ralph M. Lewis
Page Two, (Reading from left to right)
Top Row:
Ray A. Loder
Roman R. Lubinski
David Martinez
George E. Mason
John K. McCloskey
Paul J. McGeeney
Harold J. McGarry
Paul F. McGuire, Jr.
Second Row:
Merle L. McWilliams
F. W. Mehrtens
W. C. Melcher, Jr.
Arthur J. Melwing
William C. Murphy
Irving C. Myers
John R. Nardone
George E. Pahl
Third Row:
Norman A. Paul
Arthur W. Perretta
Floyd W. Phillips
Willard A. Prahl
Bernard G. Probst
Robert S. Ritter
Philip L. Rosenbrook
L. V. J. G. Saponaro
Fourth Row:
Donald A. Schimeroth
J. M. Schofield, Jr.
Salvatore J. Scurto
Richard G. Shepard
John W. Shick
A. J. Sikorski, Jr.
Donald M. Skiles
Robert F. Smith
Fifth Row:
William R. Smith
Mervin K. Snyder
Donald L. Stacy
William P. Steele
Thomas S. H. Stien
Emil Stoyakovich
John H. Stroh!, Jr.
Raymond G. Tesmer
Sixth Row:
Marion L. Tharp
Edmund G. Valasek
Fredrick D. Vanette
John L. Villano
J. A. Vyskucil, Jr.
Leslie H. Wade
Robert J. Waldron
Lowell E. Walker
Bottom Row:
Kenneth Weaver
Alan Weiner
Robert F. Williams
Roy G. Wilcox
Robert L. Wilson
Charles H. Willis
William J. Winters
Frederick C. Witte
Page Three, Recruit Company 162 (Reading from left to right)
Top Row:
Lawrence F. Zeiner
Joseph P. O'Shea
Roland Rhodes
Alfred Miller
Peter Connors
Barry Salton
Navy Boot Camp Recruit Photos - Company 47-162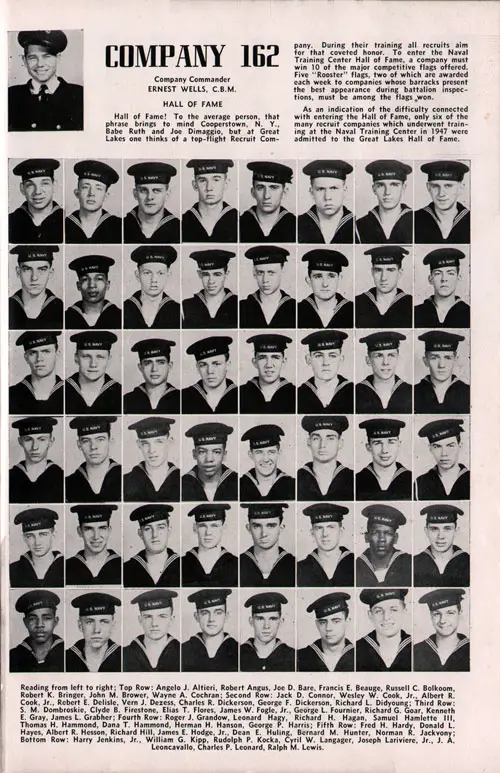 Company 47-162 Recruits, Page 1. GGA Image ID # 1af27226ca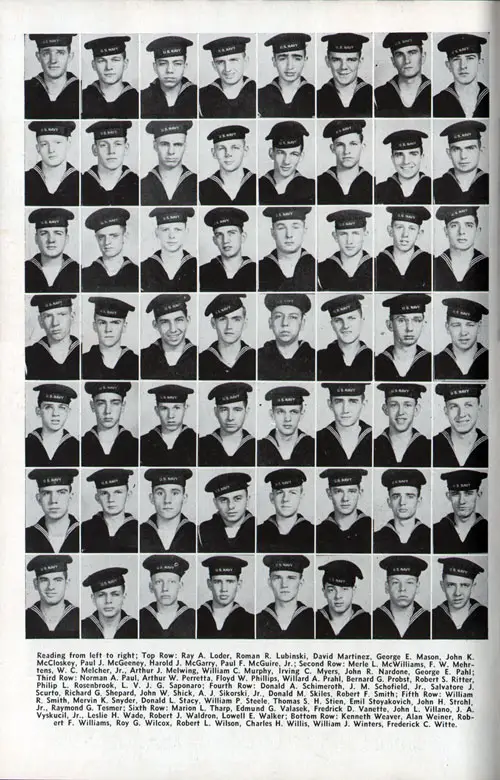 Company 47-162 Recruits, Page 2. GGA Image ID # 1af2826efc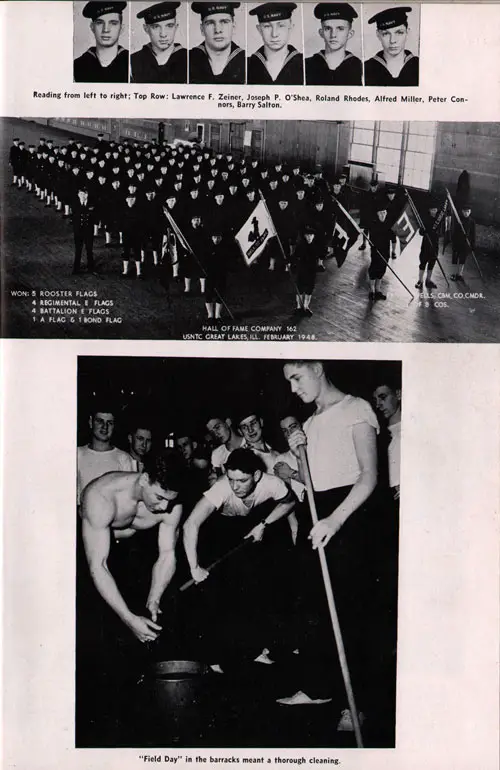 Company 47-162 Recruits, Page 3. GGA Image ID # 1af2975b2c
Middle Photograph
WON:
5 ROOSTER FLAGS;
4 REGIMENTAL E FLAGS;
4 BATTALION E FLAGS;
1 A FLAG G 1 BOND FLAG
HALL OF FAME COMPANY 162
USNTC GREAT LAKES, ILL. FEBRUARY 1948.
Bottom Photograph
"Field Day" in the barracks means a thorough cleaning.