Navy Boot Camp Book 1950 Company 381 The Keel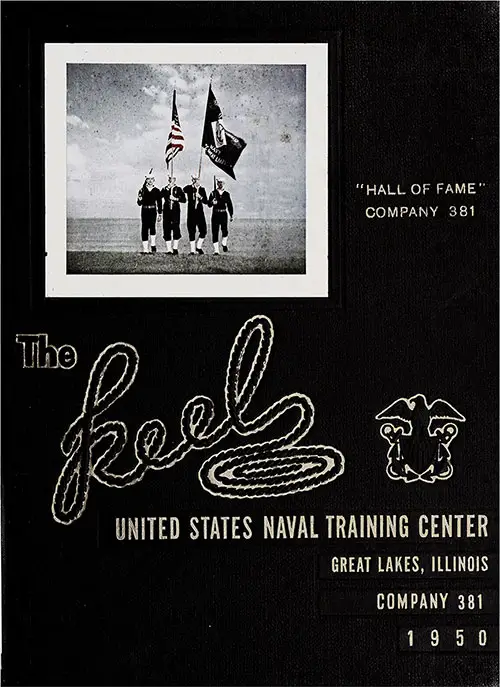 Front Cover, Great Lakes USNTC "The Keel" 1950 Hall of Fame Company 381. GGA Image ID # 139573ce1d
Roster for Recruit Hall of Fame Company 381 for 1950, United States Naval Training Center, Great Lakes, Illinois. Company Commander: C. J. Kremsner, BMC. 122 Men Graduated. Training Dates Not Reported.
Company 50-381 Honors
Hall of Fame Company
To win the Hall of Fame flag, the company has to earn a total of twelve flags, including six rooster flags for personnel and barracks inspection.
Company 50-381 Leadership
Company Commander: C. J. Kremsner, BMC
Company 50-381 Recruit Roster
Alfred A. Alexander
John W. Almquist
James W. Beaudin
Robert L. Belîn
Everett D. Berg
Carl E. Beutel
Davey L. Bledsoe
Robert N. Brown
Franklin D. Brown
James W. Brown
Howard J. Burks
H. G. Butterbaugh, Jr.
Barney E. Carlsen
Charles F. Caya
Frank S. Cherry
Jack S. Chittick
Robert Chontos
W. L. Christenson
Albert L. Clark
Samuel Coatney
Joseph S. Coel
David E. Conder
Jack H. Crittenden
Norman L. Criswell
Billy D. Dearstone
Ernest M. East, Jr.
Stuart O. Erlandson
Robert Farînelli
Gilbert F. Ford
John R. Francis
John R. Gamsky
Arlin B. Garrison
Billy J. Gaus
Charles A. Gee
Rodney J. Guye
Robert E. Hall
James R. Hamilton
Rolf I. K. Hartmann
Leander F. Harren
Aldon M. Henrickson
William M. Henry, Jr.
Engman E. D. Herman
Russell E. Herman
Dale D. Heuberger
H. L. Hochstetler
Ernest H. Johnson
Charles M. Kaetzel
Thomas E. Knight
Herbert R. Hunter
Roland E. Jones
Timothy J. Kelsh
Donald D. Knudsen
John F. Kramer
John Ligars, Jr.
Kenneth E. Livernois
Robert L. Lockard
Edward J. Ludlam
William J. Luebcke.
Lawrence H. Madsen
Marvin W. Manweiler
Fred H. Manning
James W. McGinnis
Robert O. McWorter
Guthrie Mills, Jr.
Thomas E. Miller
Clifford E. Myers
Stanley R. Neisius
Donald E. Newberry
Frank V. Nikolay, Jr.
Theodore W. Nuss
Leo A. O'Connell
Jeremiah J. O'Connor
Reuben G. Olson
Gaylord L. Olson
Richard J. Packard
Lyle J. Paulin
Dewayne D. Petsel
Kenneth Phillips
Jerome F. Reed
Edward E. Rice
Elmer F. Rokatz
James T. Rozga
Kenneth H. Rutlin
Vincent J. Salerno
Robert W. Sapp
Samuel Saula
John A. Schwab
Jerry A. Schick
Donald L. Schmidt
Richard M. Scheuer
Allen H. Sly
William C. Smart
John D. Smith
Mariden D. Smith
Harvey A. Spendlove
Clifford Steeber,
James N. St. Marie
Lorin E. Stolte
Robert L. Tague
Francis M. Teeple, Jr.
Joseph A. Thirdway
Rollins D. Tillett
William Venson, Jr.
Harold Waller
Charles L. Watson
Charles E. Watson
Julian Wilson
Robert O. Williams
W. R. Williams, Jr.
Charles L. Wîtzell
R. R. VanHousen
J. C. Italiano
L. R. Ashcraft
M. L. Charles
J. O. Morgan
C. I. Doty
E. T. Smith
R. C. Merchant
W. A. Dicken
L. M. Anderson
W. A. Anthony
A. D. Atwell
Navy Boot Camp Recruit Photos - Hall of Fame Company 50-381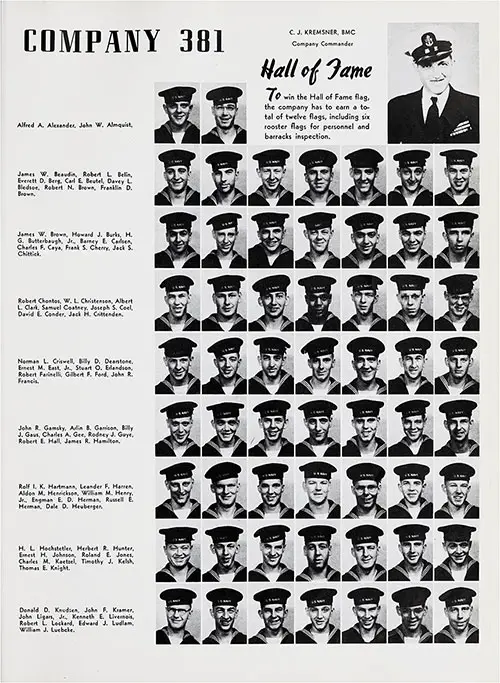 Hall of Fame Company 50-381 Great Lakes NTC Recruits, Page 1. GGA Image ID # 13960d9788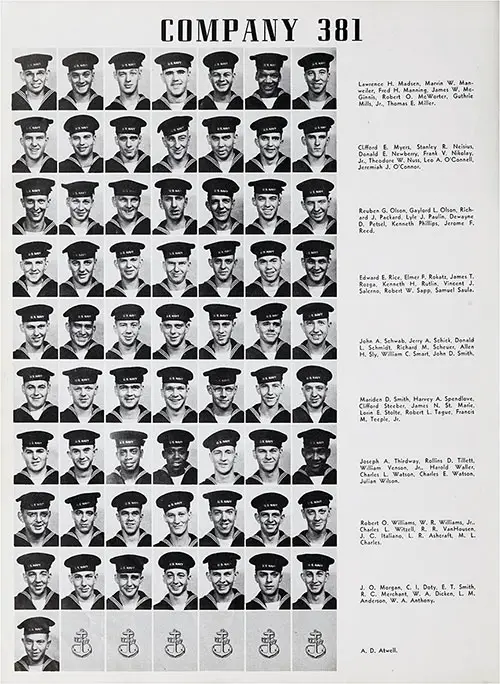 Hall of Fame Company 50-381 Great Lakes NTC Recruits, Page 2. GGA Image ID # 13961bbaf8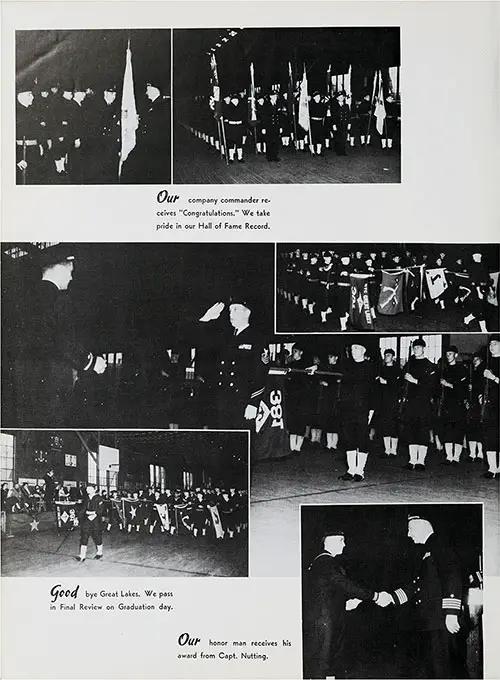 Hall of Fame Company 50-381 Great Lakes NTC Recruit Graduation. GGA Image ID # 13965574dd
Photo Captions: Top: Our company commander receives "Congratulations." We take pride in our Hall of Fame Record. Middle Section: Good Bye Great Lakes. We pass in Final Review on Graduation day. Bottom Right: Our honor man receives his award from Capt. Nutting.