Navy Boot Camp Book 1951 Company 269 The Keel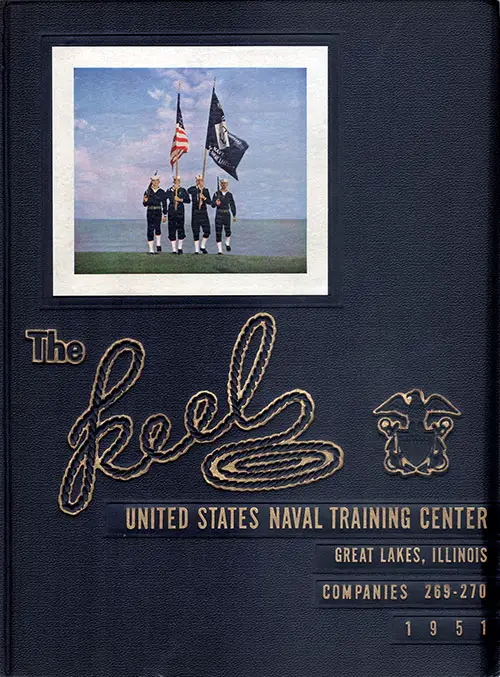 Front Cover, Great Lakes USNTC "The Keel" 1951 Company 269
Roster and Photos for Recruit Company 269 for 1951, United States Naval Training Center, Great Lakes, Illinois. Company Commander: V. P. Wilde, ENGC. 79 Men Graduated. Training Dates Not Reported.
Company 51-269 Leadership
Company Commander: V. P. Wilde, ENGC
Company 51-269 Recruit Roster
Virqil A. Acree
George W. Atkinson
Ralph B. Bailey
William H. Bell
Carl O. Bengtson
Loren C. Beouaher
William S. Boehme
Junior O. Brown
Clarence G. Brown
Marvin F. Bybee
Lawrence B. Clary
Charles L. Combs
Robert J. Correll
James C. DeLonga
Donald R. Dornon
Philip L. Dunkle
David W. Edwards
James L. Ennis
R. M. Fielding, Jr.
Robert L. Girvin
Ernest S. Haney
Francis W. Hansen
Donald L. Hargis
J. J. Harrington, Jr.
Robert H. Hutchin
Charles F. Jamison
Richard F. Janda
Victor R. Jensen
James M. Kenney
Henry A. Kies
Kenneth E. Kile
Alfred Kotula
Alfred N. Kubera
C. F. Lambert, Jr.
Jack S. Lenhart
John K. Levick
Jessell Love
Dean E. Luhman
Ralph W. Lundquist
Harold R. Mason
John H. Mateer
Edwin J. McBreen
Kenneth R. McClure
L. J. McGroarty
James G. Miller
Robert J. Moline
Cecil G. Moore
Richard M. Moskal
Frederick W. Neal
John Novosel, Jr.
Jerry D. Noyes
Wesley W. Ogle
Alfred F. Overman
Michael Pankow
Theodore H. Parker
Jack A. Parmer
Donald R. Phalen
Jan R. Phillips
Merlin L. Phillips
George W. Ponchak
Robert L. Post
John D. Ressler
Gale A. Rinehart
Rudy O. Rome
LaVern G. Rosenthal
John O. Rupert
Fred W. Saatkamp
Glen I. Shevel
David L. Sill
George S. Simmons
Joseph P. Slozak
Dwight M. Swisher
Carroll A. Taylor
Herschell E. Tubbs
William A. Ward
Edwin L. Weyers
Rodney W. Whitaker
Gerald W. Larson
Donald J. Proctor
Navy Boot Camp Recruit Photos - Company 51-269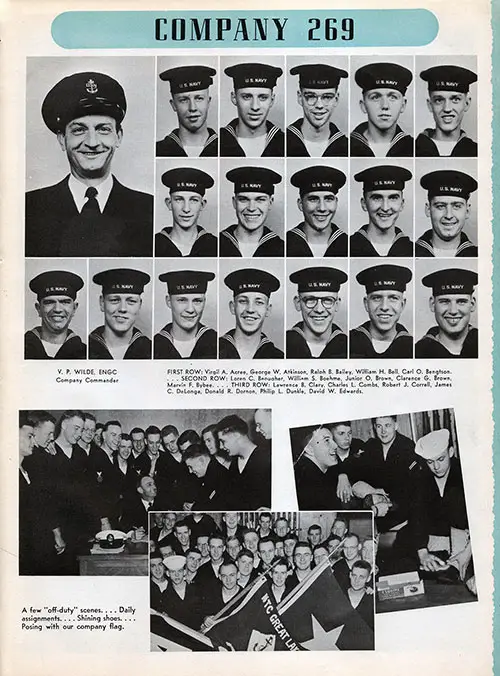 Company 51-269 Recruits, Page 1
A few "off-dufy" scenes. . . . Daily assignments. . . . Shining shoes. . . . Posing with our company flag.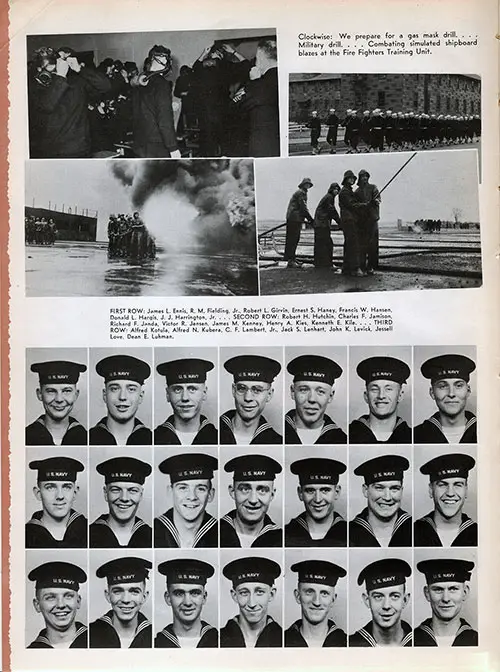 Company 51-269 Recruits, Page 2
Clockwise: We prepare for a gas mask drill. . . . Military drill. . . . Combating simulated shipboard blazes at the Fire Fighters Training Unit.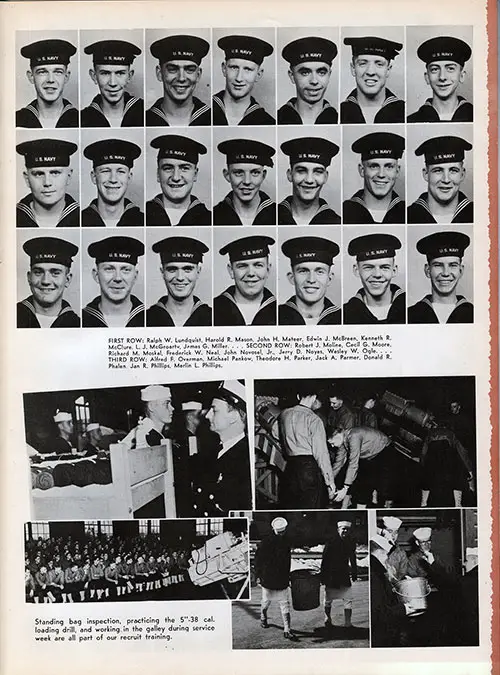 Company 51-269 Recruits, Page 3
Standing bag inspection, practicing the 5"-38 cal. loading drill, and working in the galley during service week are all part of our recruit training.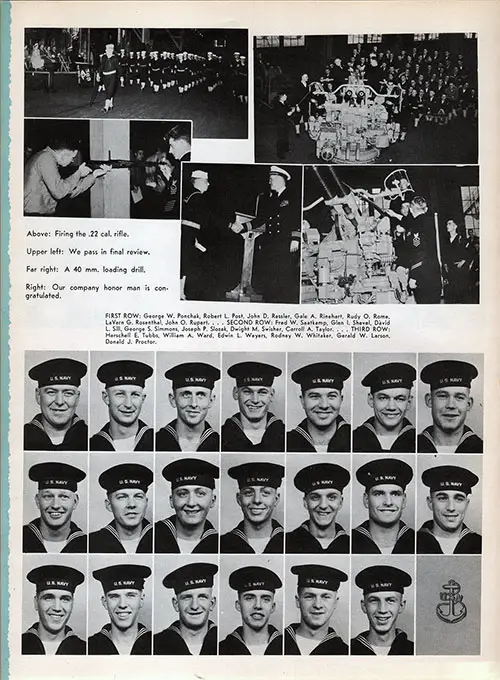 Company 51-269 Recruits, Page 4
Above: Firing the .22 cal. rifle.
Upper left: We pass in final review.
Far right: A 40 mm. loading drill.
Right: Our company honor man is congratulated.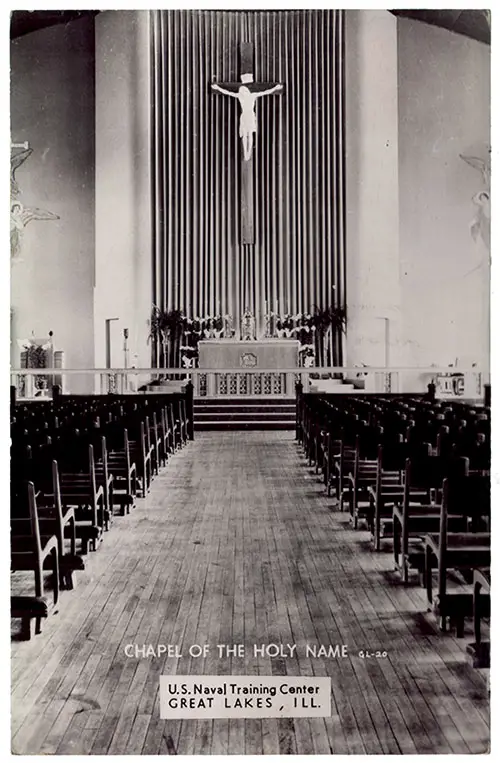 Chapel of the Holy Name, U.S. Naval Training Center, Great Lakes, Illinois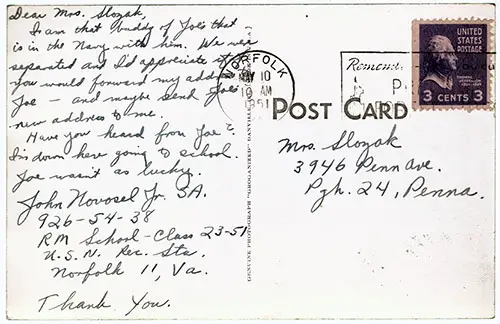 Transcript of Postcard (1951-05-10): Dear Mrs. Slozak, I am that buddy of Joe's that is in the Navy with him. We were separated and I'd appreciate it if you would forward my address to Joe -- and maybe send Joe's new address to me. Have you heard from Joe? I'm down here going to school. Joe wasn't so lucky. John Novosel Jr. SA 926-54-38 RM School - Class 23-51, USN Rec. Sta. Norfolk 11, VA. Thank You.