Navy Boot Camp Book 1951 Company 80 The Keel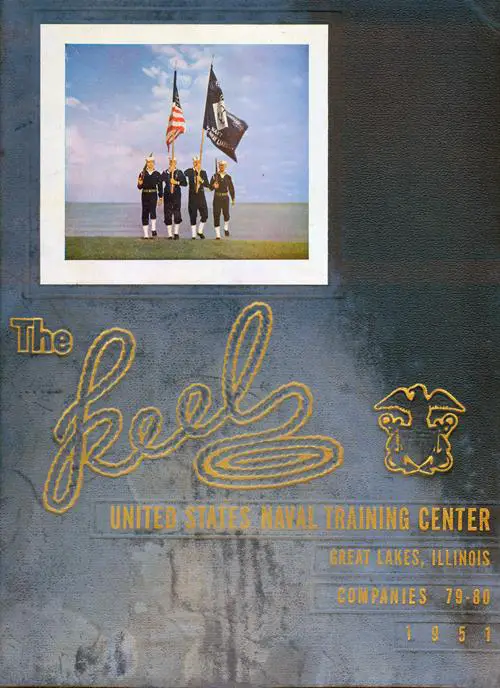 Front Cover, USNTC Great Lakes "The Keel" 1951 Company 080. GGA Image ID # 1b073c0920
Roster and Photos for Recruit Company 80 for 1951, United States Naval Training Center, Great Lakes, Illinois. Company Commander: F. J. JAHN, QMQC. 75 Men Graduated. Training Dates Not Reported.
Company 51-080 Leadership
Company Commander: F. J. Jahn, QMQC
Company 51-080 Recruit Roster
Thomas E. Barry
Milford E. Born
Earl C. Brown
Henry F. Button
Francis J. Capone
Thomas F. Condon, Jr.
William S. Dailey
George W. English
Kenneth A. Faulter
Edward F. Finigan
Robert V. Gardner
Thomas E. Gerard, Jr.
William H. Gildea
William G. Grams
Lowell L. Hines
James G. Holway
Robert S. Jackson.
Vincent E. Jay
Ralph E. Johnson
Richard H. King
Frank J. Kowalskey
Arnold C. Langley
Kenneth J. Lavine
Curtis W. Law, Jr.
Edward Lawless
Kenneth B. Lezatte
Charles L. Lusk
Joseph G. McCartha
Donald L. F. McKenna
Frank E. McVicker
Jerome J. Misuraca
John T. Murphy, Jr.
Raymond D. Omara
Joe R. Parker
Stanley O. Phelix
Donald L. Price
Jarrell D. Ritter
Alfred N. Santos.
Charles J. Schnurr
Robert L. Steele
Daniel C. Stour
Louis D. Stoner
Allen C. Strough
Robert T. Sullivan
James R. Surles
Charles A. Tarallo
Richard A. Tegimeier
Howard J. Thompson
Harold E. Towers, Jr.
Billy L. Troop
Stanley P. Urbaetis
Dennie L. Walker
Norman R. Waits
Frank J. Waz
Harold G. Weekes, Jr.
Harold E. West
Harry C. Wilmot
James F. Woods
D. J. Leary.
S. A. Clark
D. G. Carson
K. J. Jones
R. L. Christensen
G. G. Boswell
F. E. Wallick
C. T. Conard
W. G. Laughlin
L. J. Thompson
J. E. Koobs
A. W. Barton
D. L. Cary
S. Brewer
H. H. Buresh
K. A. Sheffler
J. R. Steenhusen.
Images Courtesy of Alex, granddaughter of one of the recruits.
Navy Boot Camp Recruit Photos - Company 51-080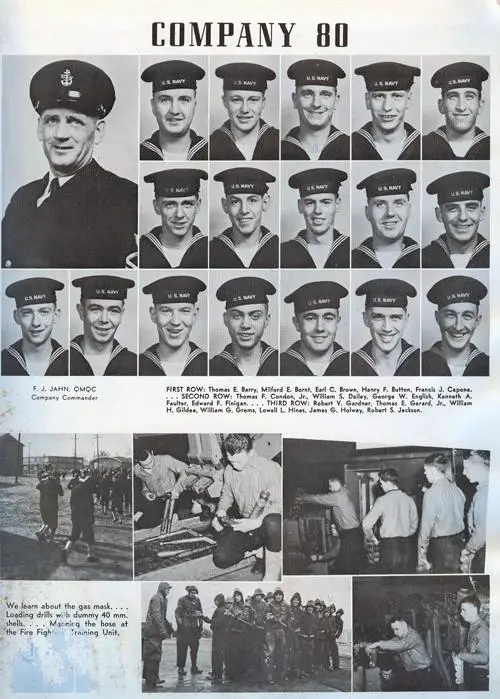 Company 51-080 Recruits, Page 1. GGA Image ID # 1b0767d4e9
Caption: We learn about the gas mask ... Loading drills with 40 mm shells ... Manning the hose at the Fire fighting Training Unit.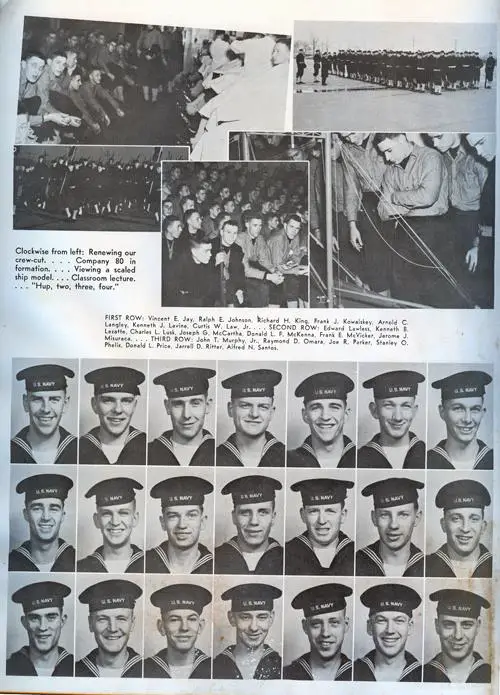 Company 51-080 Recruits, Page 2. GGA Image ID # 1b079681ca
Captions:
Clockwise from left: Renewing our crew-cut. . . . Company 80 in formation. . . . Viewing a scaled ship model. .. . Classroom lecture. . . . "Hup, two, three, four."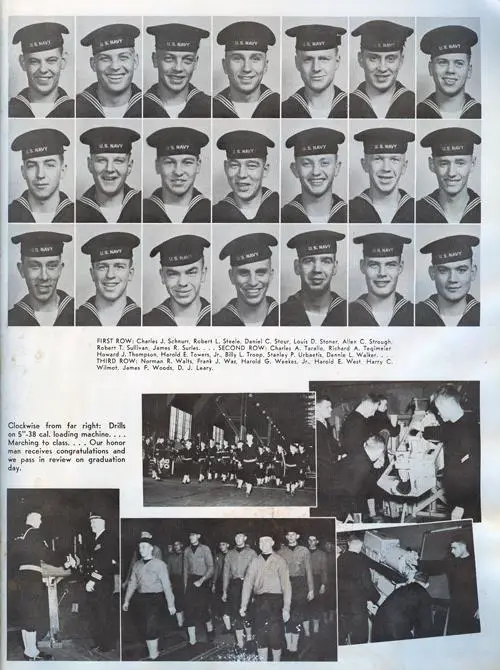 Company 51-080 Recruits, Page 3. GGA Image ID # 1b0803cd07
Captions:
Clockwise from far right: Drills on 5'1-38 cal. loading machine. .. . Marching to class. . . . Our honor man receives congratulations and we pass in review on graduation day.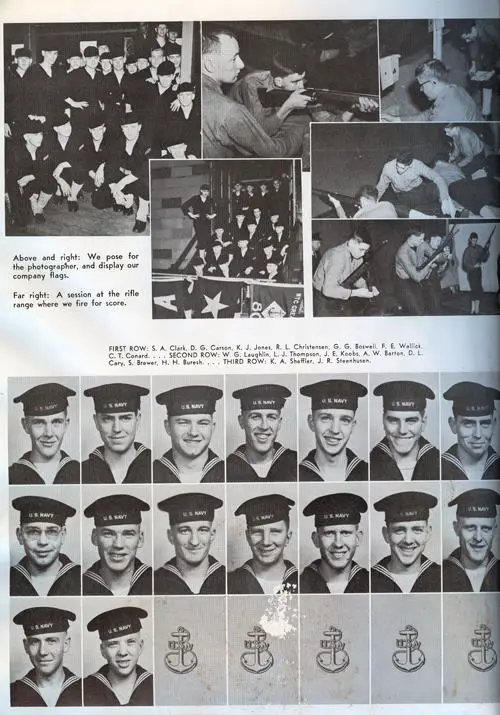 Company 51-080 Recruits, Page 4. GGA Image ID # 1b0836b47d
Captions:
Above and right: We pose for the photographer, and display our company flags.
Far right: A session at the rifle range where we fire for score.