Navy Boot Camp Book 1951 Company 068 The Keel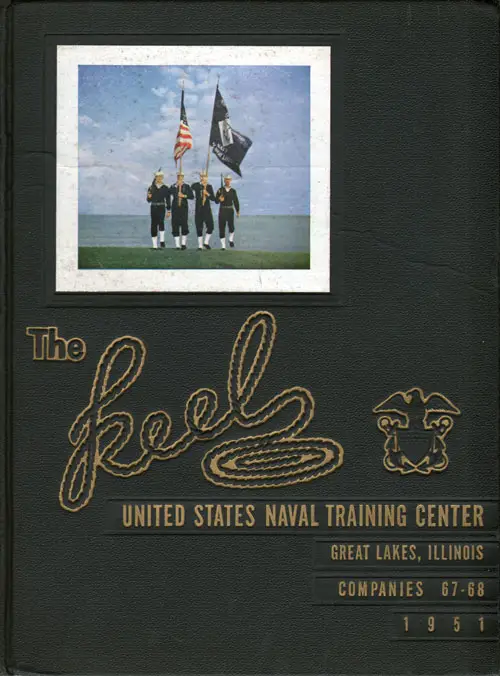 Front Cover, USNTC Great Lakes "The Keel" 1951 Company 068. GGA Image ID # 1b059da923
Roster and Photos for Recruit Company 68 for 1951, United States Naval Training Center, Great Lakes, Illinois. Company Commander: M. E. Smith, QMC. 78 Men Graduated. Training dates not provided.
Company 51-068 Leadership
Company Commander: M. E. Smith, QMC
Company 51-068 Recruits
Bushrod W. Allin, Jr.
Maurice Banks
Richard D. Beideck
Credon E. Bixler
Isaac E. Bomberger
Andrew J. Bower
Phillip H. Bunch
Dale B. Carter
Donald C. Chronister
John J. Coiling
Marshall T. Cook
Kermit Q. Cosner
Frederick R. Crush
Richard A. Cusick
George W. Darlington
Donald G. Davies
Ray W. Edwards.
Burdett G. Fierstein
Chester Fluck, Jr.
Byron 0. Foster
Charles I. Gallagher
Joseph Gonda
Donald L. Harbaugh
Robert F. Hooe
Richard W. House
Edward L. Johnson
John A. Jones
Kenneth V. Keefauver
Harold L. Kees
Edward P. Kolpack
Morton J. Long
Harry S. Marshall
Joseph B. McCleary
Nicholas Michalerya
Carl H. Moats
Sterlie L. Mullennex
Bernard A. Niadna
Richard A. Ogden
Harry N. Pogust
Robert A. Posluszny
James E. Recher
Harvey I. Reiseman
James Rex
Roy J. Richardson
Donald E. Robinson
Clarence E. Shaw
Eugene P. Shreiner
Homer C. Slaughter
Marvin L. Spencer
James D. Stevens
Stephen L. Stewart
Harris Strozier, Jr.
Bordie L. Taylor
Williams H. Taylor, Jr.
Harvey K. Tiller
Roy M. Tipton, Jr.
Bernard A. Tretick
Stanley G. Webster
Michael H. Welch.
Jack W. Wilson
Kelvin D. Williams
Carl L. Wilson
James L. Porter
James T. Pranoine
James R. Pullion
William E. Ray
Eugene N. Reichenbach
John J. Revello
James G. Sewalk
Benjamin T. Sheilds
Matthew E. Siehl
Ronald A. Snyder
Michael S. Sramko
Ronald J. Temsik
Elfred Toney
Paul E. Umbach
Dewayne L. Walters
Robert H. Zientek
Navy Boot Camp Recruit Photos - Company 51-068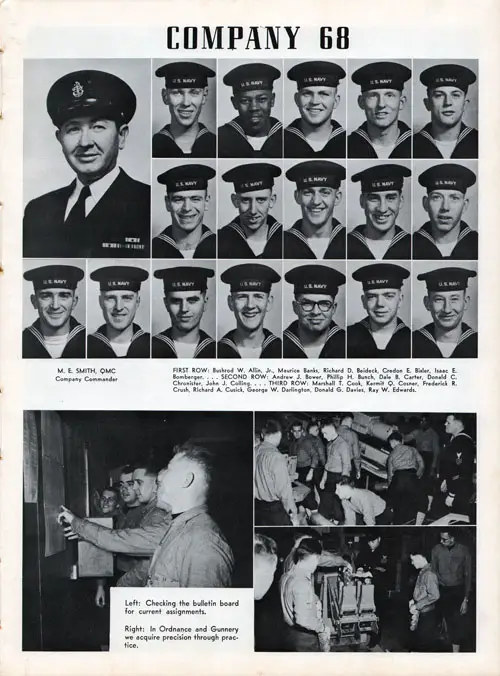 Company 51-068 Recruits, Page 1. GGA Image ID # 1b05e6504a
Captions:
Left: Checking the bulletin board for current assignments.
Right: In Ordnance and Gunnery we acquire precision through practice.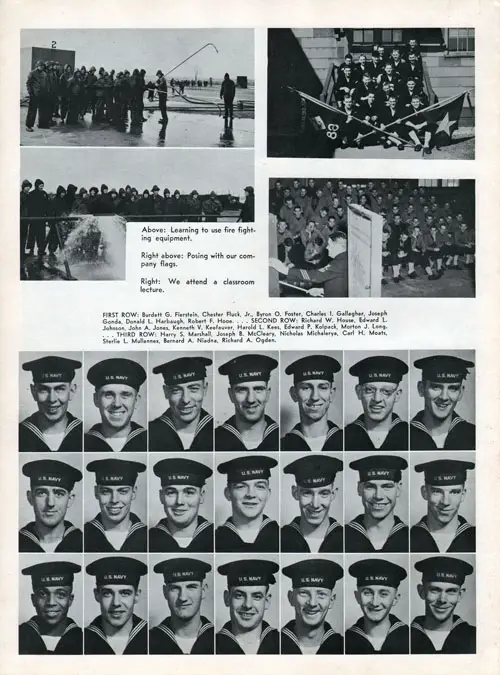 Company 51-068 Recruits, Page 2. GGA Image ID # 1b05ee80f3
Captions:
Above: Learning to use fire fighting equipment.
Right above: Posing with our company flags.
Right: We attend a classroom lecture.
Company 51-068 Recruits, Page 3. GGA Image ID # 1b05f162d8
Captions:
Left: We train hard in every phase of firing rifles to become skilled.
Right: The "Chief" gives some pointers in stowing our gear for bag inspection.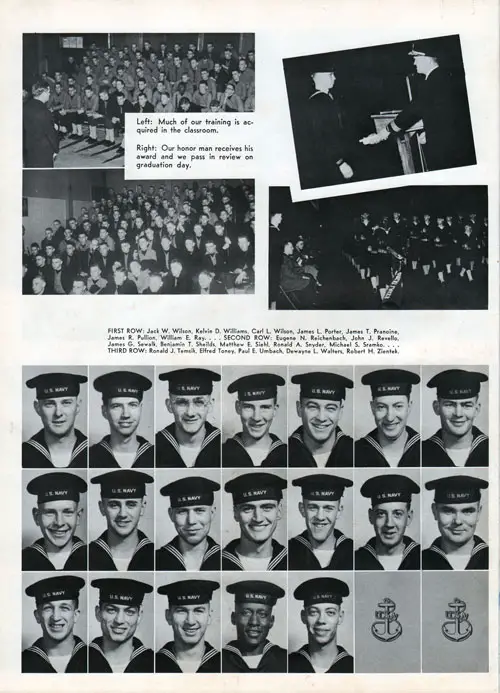 Company 51-068 Recruits, Page 4. GGA Image ID # 1b065d8e5b
Captions:
Left: Much of our training is acquired in the classroom.
Right: Our honor man receives his award and we pass in review on graduation day.