Navy Boot Camp Book 1973 Company 284 The Keel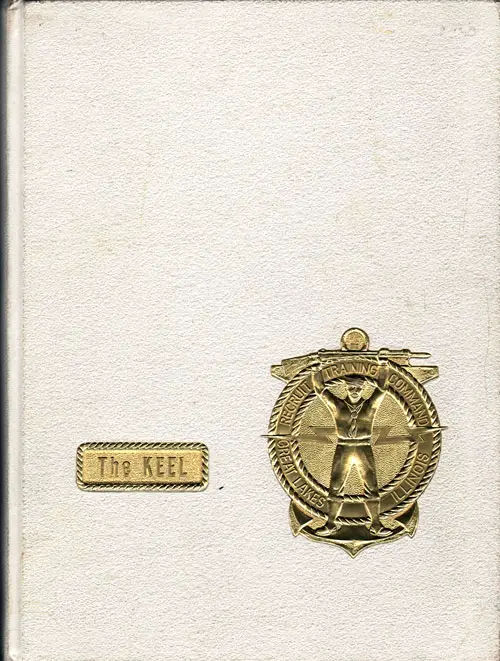 Roster and Photos for Recruit Company 284 for 1973, United States Naval Training Center, Great Lakes, Illinois. Company Commander: OS1 B. P. Butz USN. Training commenced 20 August 1973 and concluded on 5 October 1973. 66 Men Graduated.
Company 73-284 Organization and Schedule
ORGANIZATION: 1st Regiment | 16th Battalion
COMMENCED TRAINING: 20 August 1973
COMPLETED TRAINING: 5 October 1973
Company 73-284 Leadership
REGIMENTAL COMMANDER: LTJG R. Kehoe USN
BATTALION COMMANDER: CWO J. Moss USN
BATTALION ADJUTANT: MMCS J. J. Osterloh USN
BATTALION MAINTENANCE SUPERVISOR: BMC R. E. Weaver USN
COMPANY COMMANDER: OS 1 B. P. Butz USN
Company 73-284 Recruit Roster
Allen, Donald E.
Austin, John T.
Austin, Rocky M.
Barnes, Lynn W.
Barnes, Thomas C.
Barrie, Donald R.
Beyerle, Paul T.
Brotschul, Peter P.
Brown, Ricci S.
Campa, Daniel
Clark, Richard T.
Collins, Troy L.
Devin, James M.
Downey, Richard A.
Fields, Keith L. S.
Folk, Stephen A.
Francis, James R.
Freed, Joe D.
Galvin, Michael P.
Gant, Edward
Goins, Arnold E.
Gregoire, Robert G.
Hackett, Jerome A.
Hale, Thomas L.
Harris, Dana V.
Hasemeyer, Kevin P.
Heisler, Thomas R., Jr.
Hodges, Cornell D.
Hollingsworth, John D.
Hood, Arlandus
Hutchins, Daniel L.
Jones, Dennis L.
Jones, John G.
Lacie, Gregory J.
Lavoie, Paul N.
Lawson, John E.
Lebel, Roland G.
Lewis, Morgan J.
Lucia, Gary M.
Melrath, Jeffrey R.
Moore, Melvin M.
Mulcahy, Richard D.
Ostriche, Croydon L.
Phillos, John N.
Phillippe, Jerry "K"
Poore, WilHam E.
Rivera, Jose
Robbins, Raymond J., Jr.
Robison, Donald L.
Samuels, Nathan T.
Schoenberg, Kurt E.
Sel I man, Steven W.
Smith, John C.
Stodola, Bruce D.
Sye, Richard A.
Tait, Jerome J. M.
Taylor, Daniel R.
Vucinich, James D.
Walther, Steven E.
Weber, Charles E.
Webster, Bruce A.
Whitehall, Anthony M.
Young, Raymond E.
Zarr, Lewis E., Jr.
Samuels, Nathan T.
Poisson, Ronald J. (No Picture)
Credits
Individuals Photographed By R. King
Activities Photographed By M. Shapiro
Layouts By D. Heikkala and M. Shapiro
Navy Boot Camp Recruit Photos - Company 73-284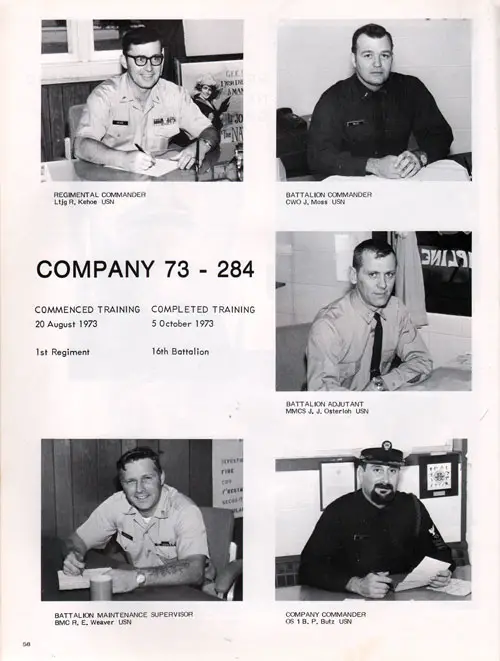 Company 73-284 Recruits, Page 1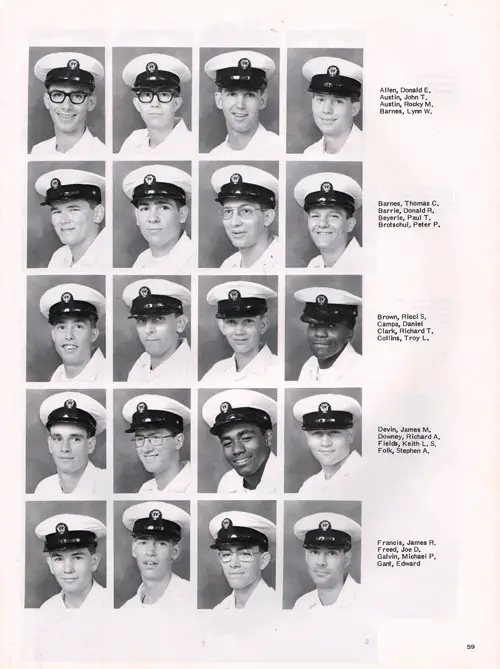 Company 73-284 Recruits, Page 2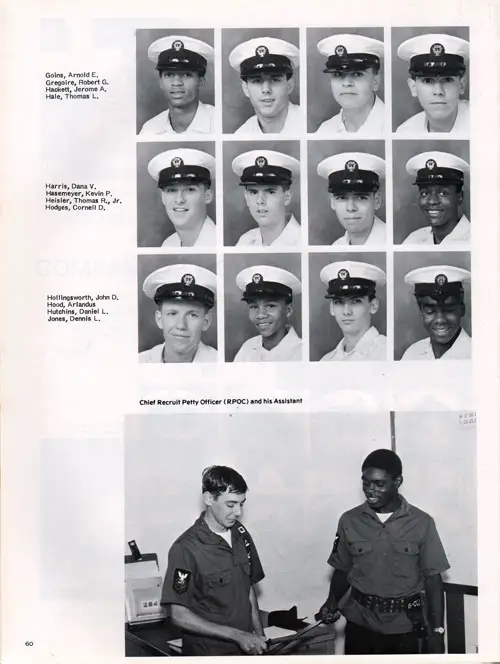 Company 73-284 Recruits, Page 3
Bottom Photograph Caption: Chief Recruit Petty Officer (RPOC) and his Assistant.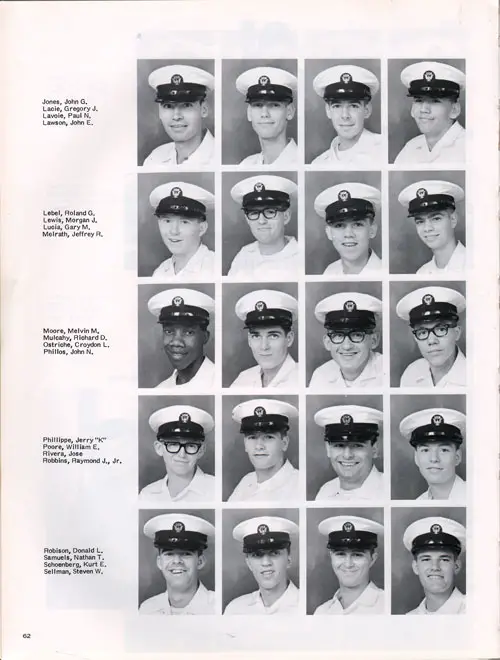 Company 73-284 Recruits, Page 4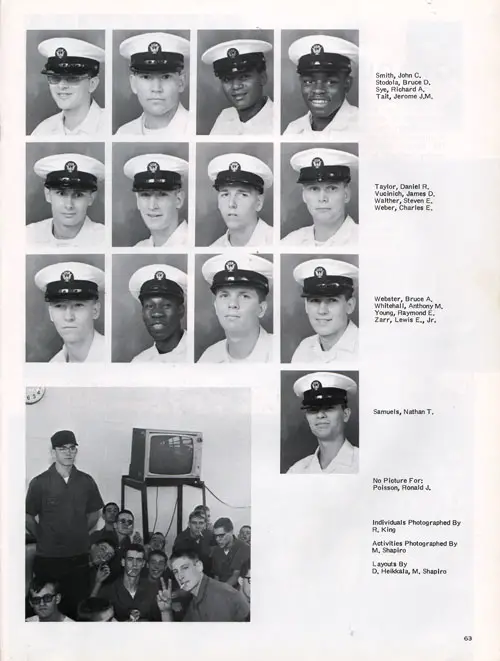 Company 73-284 Recruits, Page 5