Navy Boot Camp Book 1948 Company 402 The Keel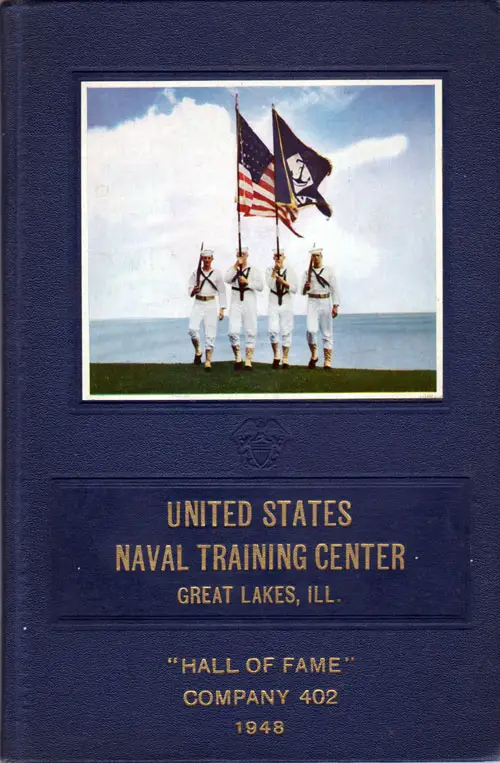 Front Cover, USNTC Great Lakes "The Keel" 1948 Company 402. GGA Image ID # 1afe6c48b9
Roster of the graduates of "Hall of Fame" Recruit Company 402, United States Naval Training Center, Great Lakes, Illinois. Company Commander PRUDEN, GMC. 99 Men Graduated. Training Dates Not Reported.
Great Lakes has served with distinction in its role as a recruit training installation and as the home of several of the Navy's Service Schools.
Company 402 Leadership
Company Commander Pruden, GMC
Asst. Commander BRANTMAN, BMC
Company 48-402 Recruit Roster
Robert W. Auber
A. G. Battaglini
Warren F. Bertolet:
Joseph E. Berger
Mitchell P. Black, Jr.
Harold L. Blind
George M. Brooks
Fred J. Cardella
Donald E. Carson
Donald L. Chason
C. Chappellie
William H. Cheatwood.
Andrew P. Chesnick
John A. Cigolle
David A. Coburn
Arthur R. Cockrell
Edward C. Copeland
Webster Cornelius
Ellis D. Crane, Jr.
Floyd W. Crissman
William R. Cummings
A. J. Deschoolmeester
Howard J. Dillman, Jr.
Francis J. Doherty
George E. Dolan
David G. Ducharme
James W. Eckinger
James T. Estop
Harold J. Ferguson
Joseph G. Gallucci
Robert Garcia
Alvin E. Genske
Floyd A. Godwin
Auburn L. Griffin
David J. Gross
Louis A. Gulling
Thomas R. Harrison
Calvin Hart
Donald J. Helker
Leonard T. J. Hill
Thomas E. Hines
Fred G. Hoffman, Jr.
Richard Hoffman
Merle L. Hoffman
Joseph R. Hoover
David C. Hopper
Lawrence Jose
Kenneth H. Krueger
Louis N. Kubinski
Brutus C. Martin, Jr.
John A. Masters;
Ronald . McLean
Roger W. Medley
Frank D. Merkel
Arthur D. Miller
Grover G. Miller
William F. Nelson
Wayne W Overstreet
Nelson W. Paine;
Jacob F. Parkinson
Charles Paschke, Jr.
John S. Payne
Donald Pernice
Fred R. Pulver
Wallace F. Ries
Darius L. Rogers
Donald E. Rogers
Robert M. Ryan
Richard A Sager
Richard L. Scamyhorn
Dennis Seale
Donald E. Sheldon
John J. Sieminski
Charles E. Smith
R. Southworth
Gerald L. Staley
J. H. Sullivan, Jr.
George Swenson
John J. Tracz
Robert Vanduse
Richard N. Vincent
Bruce E. Walpole
John W. Wendt
Elmer J. Whalen, Jr.
R. L. Willoughby
Roger A. Wood
Harold J. Zimmerman
R. W, Bissaillon
G. Bellart
T. F. Dawson
W. C. Grigor;
D. C. Huntley
Richard I. Mesick
E. R. Olson
S. B. Schnitzer
M. R. Smith
Thomas E. Sheridan
H. F. Wareberg
R. L. Whiting.
Navy Boot Camp Recruit Photos - Company 48-402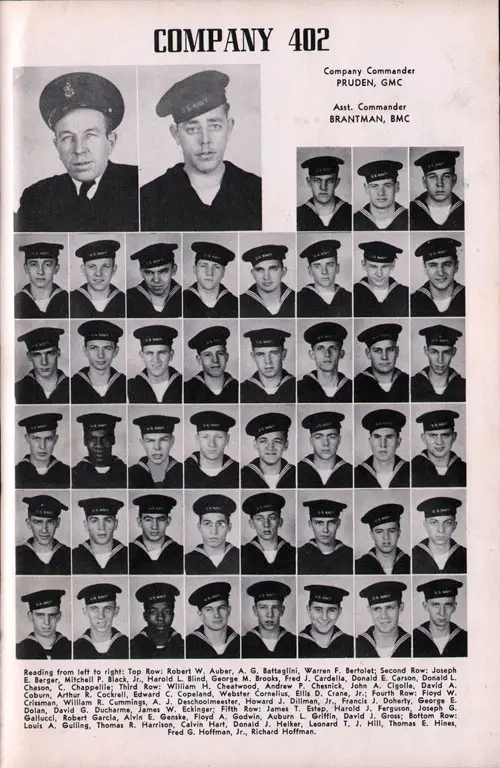 Company 48-402 Recruits, Page 1. GGA Image ID # 1afe74596a
Company 48-402 Recruits, Page 2. GGA Image ID # 1afea62ebd