Navy Boot Camp Book 1977 Company 261 The Keel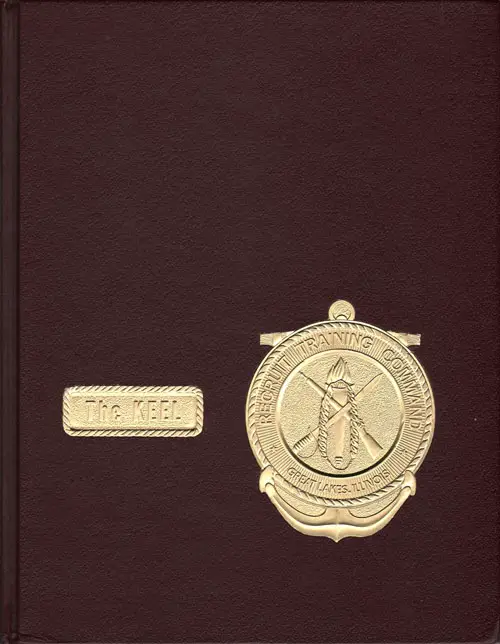 Roster and Photos for Recruit Company 261 for 1977, United States Naval Training Center, Great Lakes, Illinois. Company Commander: EMC L. L. Green USN. Training commenced 5 September 1977 and concluded on 21 October 1977. 74 Men Graduated.
Company 77-261 Organization and Schedule
Organization: 17th Division
Commenced Training: 5 September 1977
Completed Training: 21 October 1977
Company 77-261 Leadership
Division Commander: LTJG W. D. Mayo USN
Division LCPO: QMC J. W. Nicholoff USN
Company Commander: EMC L. L. Green USN
Division MAA: MM1 P. Guidry USN
Company 77-261 Recruit Roster
Alexander, Jonathan
Pittsburgh, Pa.
Boaz, John
Limestone, Me.
Borgen, Martin
West Des Moines, la.
Bosse, Miguel
Bristol, Ct.
Bossinger, John
Butler, Pa.
Brown, Lindsay
Kenmore, NY
Brungardt, Wayne
Garden City, Ks.
Chastang, Timothy
Cincinnati, Ohio
Clemons, Anthony
Meriden, Ct.
Demario, Benjamin
Waldwick, NJ
Denton, Nickles
Columbus, Ohio
Dinicola, Robert
Erie, Pa.
Duncan, Jerry
Canton, Tx.
Duvall, Dana
Ostrander, Oh.
Ebeling, David
Little River, Ks.
Ervin, Steve
McDowell, Va.
Flemister, Vincent
Dayton, Ohio
Fondren, Floyd
Lonoke, Ark.
Fox, Fred
Yonkers, NY
Gabriel, David
Niles, IL
Garnett, Dan
Eau Claire, Wi.
Griffin, Simmie
Trenton, NJ
Guerriero, Anthony
W. Roxbury, Ma.
Guevara, John
Chicago, IL
Hamilton, Anthony
Wilson, NC
Hanson, Dana
Cleveland, Ohio
Harris, Melvin
Cincinnati, Ohio
Harris, William
Jackson, Ms.
Harvey, Ted
Eden Prairie, Mn.
Hayden, Richard
Boston, NY
Helton, Dennis
Westport, In.
Hernandez, John
Clovis, NM
Hicks, George
Mansfield, Ohio
Humphrey, Timothy
Memphis, Tn.
Johnson, Bruce
Columbus, Ohio
Johnson, Walter
Chicago, IL
Kirk, Gale
Scott City, Ks.
Klinck, David
Cheektowaga, NY
Klinck, Thomas
Amherst, NY
Kreischer, Stephen
Mt. Sinai, NY
Kromis, Michael
Wilson, NC
Landers, Bobby
Lewisville, Tx.
Lascola, Anthony
Pawtucket, RI
Lechner, Michael
Dafter, Mi.
Lee, Joseph
Crystal, Mn.
Lewis, Arturo
Philadelphia, Pa.
Lewis, Guy
Greenville, SC
Markham, John
Gary, In.
Martin, James
Columbus, Ohio
McConnell, William
Holdrege, Ne.
McKay, Jeffrey
IndianapoHs, In.
Mediey, Gary
Columbus, Ohio
Minch, William
Addison, IL
Monast, Peter
Wareham, Ma.
Willock, Todd
Tremont, IL
Wilson, Woodrow
Loring AFB, Me,
Montgomery, Willie
Cleveland, Ohio
Mooney, James
Eau Claire, Wi.
Moore, Richard
Deposit, NY
Murphy, Joseph
Hinsdale, IL
O'Brien, Gerard
Brooklyn, NY
Price, Dwaine
Council Bluffs, Ia.
Prosser, Uriah
Pittsburgh, Pa.
Roth, Gregg
Butler, Pa.
Russell, Herbert
Woodstock, IL
Scully, Leo
Yonkers, NY
Sgro, Frank
N. Babylon, NY
Shuman, Joseph
Bedford Heights, Oh.
Stepp, Richard
Butler, Pa.
Tankersley, Mark
Dayton, Ohio
Van Dyke, William
Flat Rock, Al.
Wehmer, Robert
Monroeville, Pa.
Wemmer, Gary
La Farge, Wi.
White, Frederick
Sumter, SC
Company History
compiled by
Robert Alan Wehmer
Company Clerk
Joseph Paul Shuman RPOC
Bruce Johnson Asst. RPOC
Mark Alan Tankersley MAA
David Gregory Gabriel EPO
Robert Alan Wehmer Co. Clerk
Dennis L. Helton Asst. Clerk
Lindsay Christopher Brown Postal Clerk
Dana Alan Hanson Athletic PO
Timothy William Chastang DCPO
Frederick Fox Laundry PO
John A. Hernandez Guidon
Dana Dale Duvall Honorman
Dennis L. Helton Batt. Clerk
Stickmen
William Montgomery
Gary Wayne Medley
Dana Alan Hanson
John Joseph Bossinger
Gregg Alan Roth
David Gregory Gabriel
Squad Leaders
1st Squad Robert Vincent Dinicola
2nd Squad Joseph J. Lee
3rd Squad Floyd Randle Fondren
4th Squad Dana Dale Duvall
5th Squad Guy Deon Lewis
6th Squad John William Boaz
Platoon Leaders
1st Platoon John Garard Guevara
2nd Platoon James Matthew Martin
Religious Petty Officers
Catholic Todd Lynn Willock
Protestant Gregg Alan Roth
Flags Won by Company
2 Reg. "E" Flags
1 Color Company Flag
2 Reg. Star Flags
1 Brig. Star Flag
3 Batt. Star Flags
2 Reg. "S" Flags
1 Brig. "S" Flag
2 Batt. "S" Flags
1 Reg. Drill Flag
1 Brig. Drill Flag
3 Batt. Drill Flags
Company Commander Comments:
To Company 261, it has been a real pleasure being your company commander. You are the best company I ever led through training. Good luck and smooth sailing to all of you. Have fun in the fleet but do your job like a real sailor.
/s/ L. L. GREEN EMC
Company Commander
RECRUIT GRADUATION REVIEW
21 OCTOBER 1977
1400
RECRUIT REVIEW COMMANDER
ERIC J. VANSEN—Company 942
| Special Units | RCPO | Comany | Drill Instructor |
| --- | --- | --- | --- |
| Drill Team | H. S. Marshall | 943 | IC1 Ronald R. Allen |
| Drum and Bugle Corps | N. A. Nau | 943 | TM1 J. T. Nordman |
| Bluejacket Choir | S. D. Williams | 943 | E. D. Sandager, DC |
| Honor Guard | W. L. Watkins | 941 | MMC(SS) P. P. Maes |
| State Flags | J. C. Ward | 942 | SM1 C. Dennison |
GRADUATING RECRUIT COMPANIES
| CO | COMPANY COMMANDER | COMPANY RCPO | COMPANY HONORMAN |
| --- | --- | --- | --- |
| 257 | EW1 S. Rossi | R. L. Pelly | A. Conway |
| 258 | EM1 C. H. Goodman | L. D. Bentley, Jr. | G. E. Johnston |
| 259 | GMGC L. D. Nanlot | M. J. Harris | L. H. Barnett |
| 260 | GMG1 P. D. Montague | L. D. Coates | B. P. Kelly |
| 261 | EMC L. L. Green | J. P. Shuman | D. D. Duvall |
| 262 | MMC L. G. Martin | R. E. Tully | A. Dorsey, Jr. |
| 263 | GMM1 D. L. Sevenbergen | R. W. Nydegger, II | J. R. Mulford |
| 264 | EN1 T. A. Decarlo | C. W. Bond | R. J. Symenski |
| 265 | BT1 F. G. Press | S. N. Miller | W. Hardgrove |
| 266 | HT1 J. C. Evans | L. Bell | J. P. Toy |
| 267 | GMGC G. C. Turner | R. D. Hawkins | M. H. Buksha |
| 268 | AMH1 G. Oversen | M. L. Cherry | K. J. Tufford |
Sequence of Events
ARRIVAL HONORS TO REVIEWING OFFICER
Commanding Officer, RTC
PRESENTATION OF THE GRADUATING COMPANIES
Recruit Review Commander
SOUND OFF
Navy Band, Great Lakes
CHORAL PRESENTATION
Bluejacket Choir
PRECISION DRILL DEMONSTRATION
Drill Team
MUSICAL PRESENTATION
Drum and Bugle Corps
INVOCATION
LCDR D. T. DERAMUS, CHC, USNR
NAVY HYMN
Bluejacket Choir
NATIONAL ANTHEM
Navy Band, Great Lakes
AWARDS PRESENTATION
CAPTAIN ADRIAN V. LORENTSON, USN (RET)
PASS IN REVIEW
Graduating Companies
AWARD RECIPIENTS
DISTINGUISHED LEADERSHIP AWARD
EMC LARRY L. GREEN—Company 261
NAVY LEAGUE AWARD
JOSEPH P. SHUMAN—Company 261
Bedford He1C1ts, Ohio
MILITARY EXCELLENCE AWARD
WILLIAM F. SPURLING—Company 266 101
Lebanon, Kentucky
Navy Boot Camp Recruit Photos - Company 77-261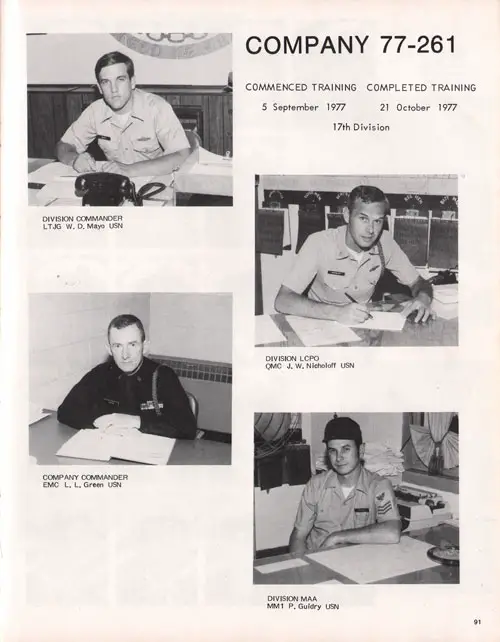 Company 77-261 Recruits, Page 1
Company 77-261 Recruits, Page 2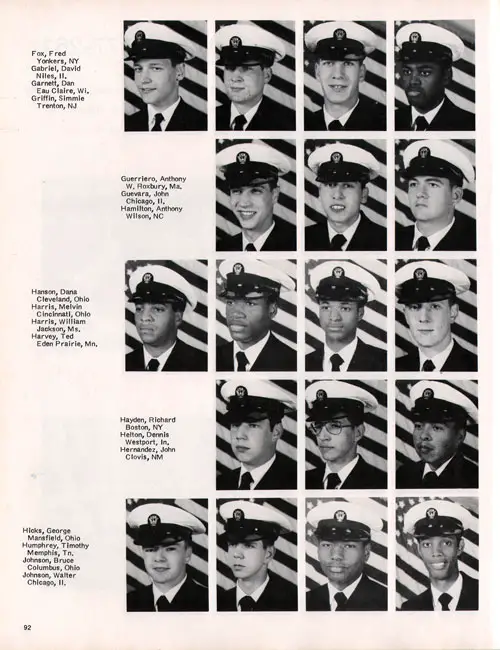 Company 77-261 Recruits, Page 3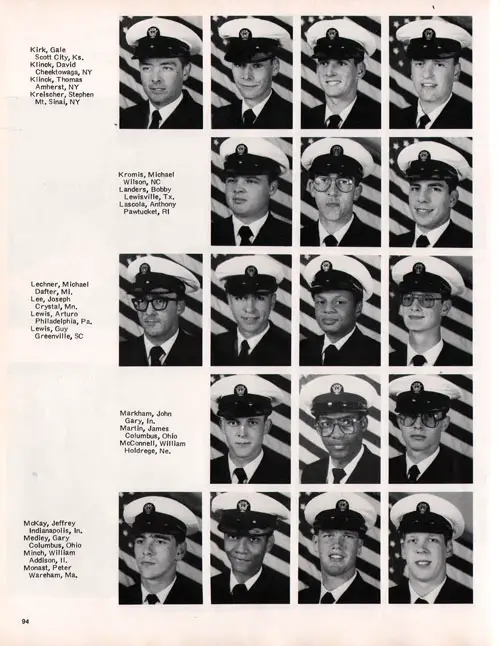 Company 77-261 Recruits, Page 4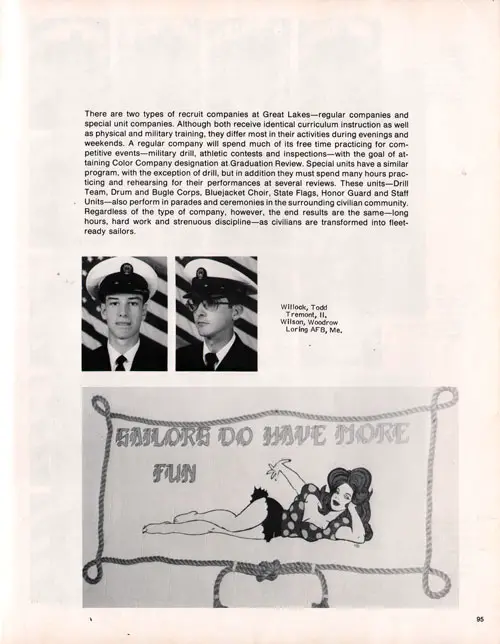 Company 77-261 Recruits, Page 5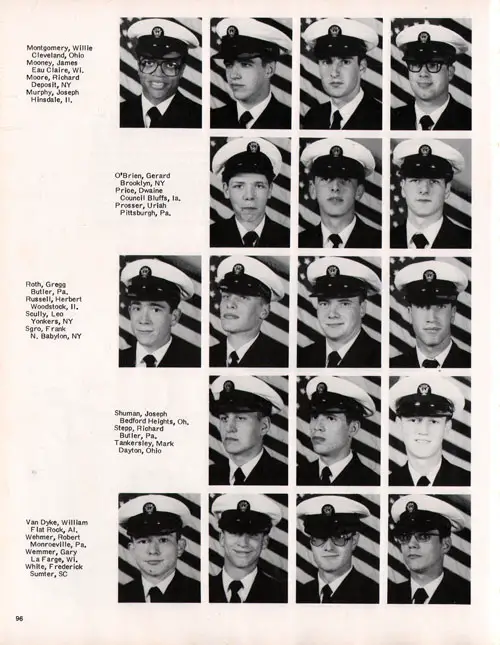 Company 77-261 Recruits, Page 6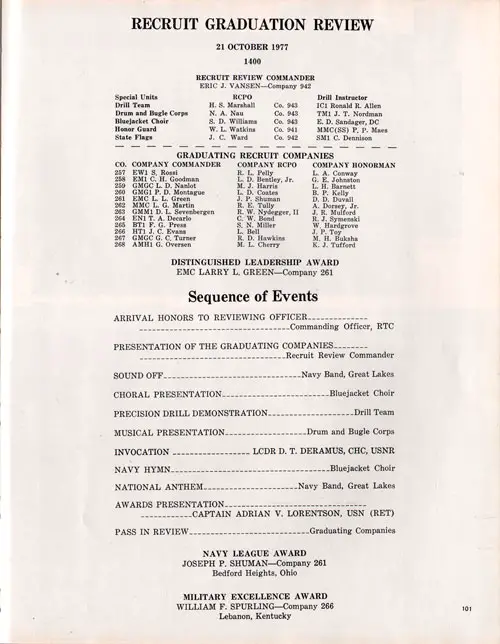 Company 77-261 Recruits, Recruit Graduation Review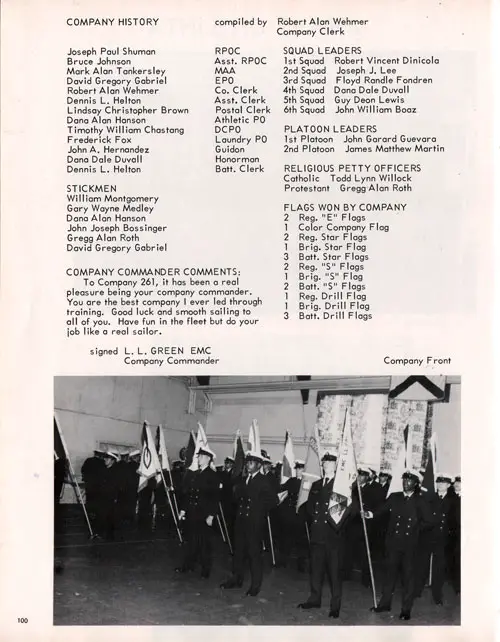 Company 77-261 Company History