Navy Boot Camp Book 1948 Company 343 The Keel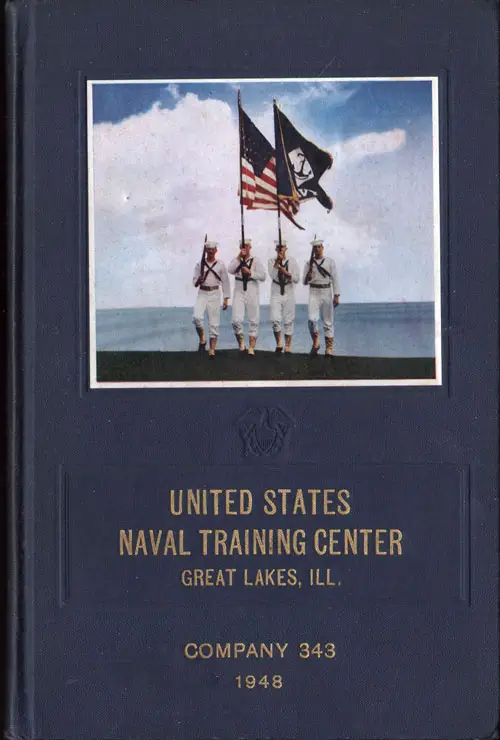 Front Cover, USNTC Great Lakes "The Keel" 1948 Company 343. GGA Image ID # 1afe066711
Roster and Photos for Recruit Company 343 for 1948, United States Naval Training Center, Great Lakes, Illinois. Company Commander : M. G. RARRER, B.M.C. 130 Men Graduated. Training Dates Not Reported.
Great Lakes has served with distinction in its role as a recruit training installation and as the home of several of the Navy's Service Schools.
Company 343 Leadership
Company Commander : M. G. Rarrer, B.M.C.
Asst. Company Commander: BILLY P. MONROE, A.O.C.
Company 48-343 Recruit Roster
Page One, (Reading from left to right)
Top Row:
Donald W. Ashbrook
Fred P. Aurand
Jack W. Bair
Second Row:
Nils R. Berhouist
Leroy W. Betts
Benjamin C. Bibb
Stanley A. Bitout
Robert Blachaniec
Richard E. Blair
Benson C. Blevin
Donald J. Bowman
Third Row:
Karl E. Bregenzer
Francis R. Brendis
George S. Brown
Raymond H. Burr
Ralph J. Calerro
William E. Campbell
Homer D. Cannon
Mario Caruso
Fourth Row:
Hanceford B. Carter
Perry F. Clendenin
John 0. Cyphert
Thomas C. Daley
Richard E. Davis
Jimmy L. Davisworth
Robert L. Dejarnette
Joel M. Elliott
Fifth Row:
Walter H. England
Robert R. Evans
Donald D. Evick
William A. Fetter
Paul S. Fitzpatrick
Norman E. Foster
James W. Fox
George C. Gale
Bottom Row:
Manuel A. Garcia
Joseph Garcia, Jr.
Robert Gerhardt
Alvie B. Graham
Manuel Guerrero
Louis Guerrero
Charles J. Hanna
John E. Harrison.
Page Two, (Reading from left to right)
Top Row:
Harold N. Hicks
Robert R. Hinton
Herbert H. Hollander
Walter J. Hollis
John T. Howard
George R. Humphrey
Joseph Hutchinson
Orville M. Hyder, Jr.
Second Row:
Paul D. Jacobs
David J. Janosik
Vincent J. Jarrio
Simon H. Johnson
Thomas R. Karns
Charles C. Kerns
William L. Ketchem
James B. Kiel
Third Row:
James E. Komaromy
Louis J. Krajnik
Robert L. Krejci
Samuel B. Lee
K. Embrey
W. A. Smith
K. L. Daring
C. F. Sjogren
Fourth Row:
Carroll A. Lee
Harry E. Legge
William B. Lewis
V. P. Lewandowski
Robert R. Lowe
Walter L. Martin
Leroy V. McClaine
Regis H. McClaine
Fifth Row:
James L. McGraw
Donald P. McGinnis
Francis J. Melanson
Bruce A. Merrett
Donald E. Milroy
Hayward H. Murray
Richard C. Myers
Richard W. Norman
Sixth Row:
Ralph D. North
Rolland D. Ohm
Richard E. Orris
Edward J. Parciak
Solomon J. D. Patrow
Richard G. Pierce
Lester Portis
Ernie J. Prestinario
Bottom Row:
Elmer W. Proudfoot
Ralph L. Purvis
Edward J. Rangus
John J. Ray
Bernard Rice
C. A. Rickabaugh
Kenneth R. Rigling
Arthur T. Robinson
Page Three, (Reading from left to right)
Top Row:
John A. Rodgers
John D. Rutter
Alexander Sagan
Stanley Schweck
James L. Sendelbach
Kenneth E. Shriver
Robert J. Simon
Norman W. Slayton
Second Row:
F. E. Slingerland, Jr.
Robert W. Snyder
Glenn L. Snyder
Frank B. Spooner
Ronald D. Sprow
John W. Stahl
Donald L. Thompson
Marvin A. Thom
Third Row:
Delmer L. Thomas
Robert. S. Topp
Donald E. Troop
Harry Valenigas
Dean A. Vanzuuk
Harry Wald
James R. Wallace
James M. Walls
Bottom Row:
Paul E. White
R. P. Whitesell
William P. Williams
Paul L. Wilson
G. C. Worthington
F. J. Wrigley
John M. Zarones
Navy Boot Camp Recruit Photos - Company 48-343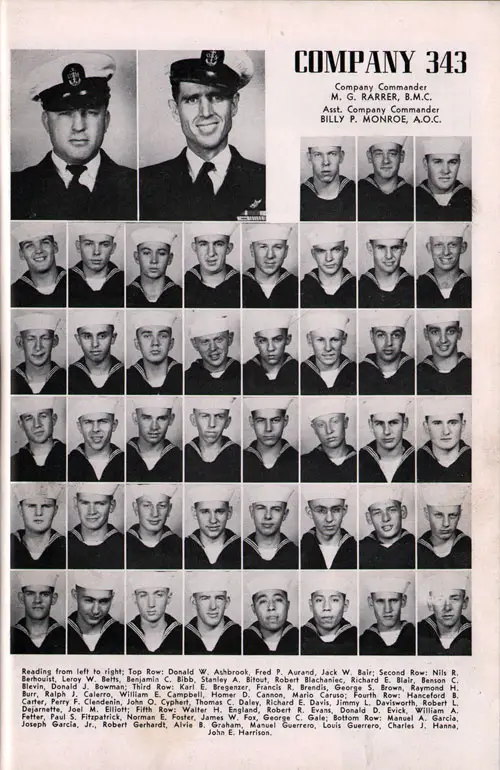 Company 48-343 Recruits, Page 1. GGA Image ID # 1afe07698d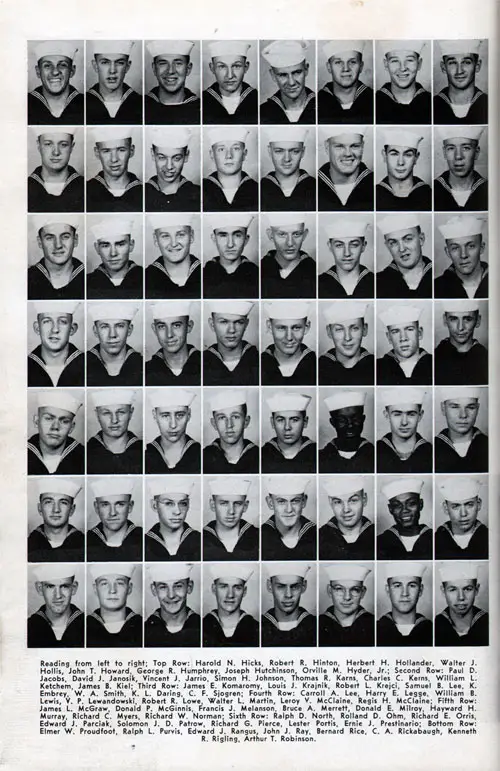 Company 48-343 Recruits, Page 2. GGA Image ID # 1afe314bc2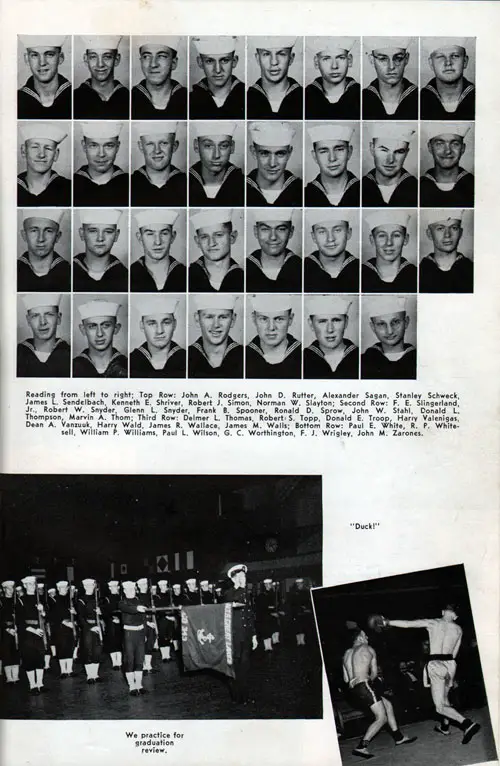 Company 48-343 Recruits, Page 3. GGA Image ID # 1afe4cd01a
Bottom Photographs Captions
We Practice for Graduation Review
"Duck"