Navy Boot Camp Book 1951 Company 67 The Keel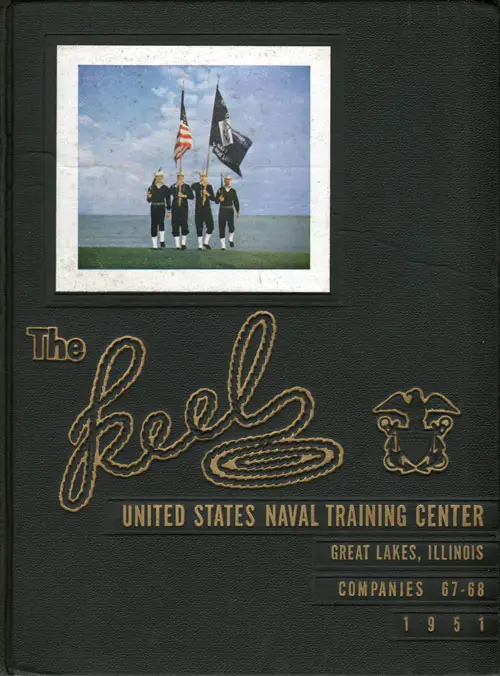 Front Cover, USNTC Great Lakes "The Keel" 1951 Company 067. GGA Image ID # 1b030ad92a
Roster and Photos for Recruit Company 67 for 1951, United States Naval Training Center, Great Lakes, Illinois. Company Commander: E. C. Redman, GMC. 70 Men Graduated. Training dates not provided.
Company 51-067 Leadership
Company Commander: E. C. Redman, GMC
Company 51-067 Recruit Roster
Michael G. Andreyco
Ancelo J. Biordi
Joseph L. Bolich
Joseph G. Bussle
James E. Burton
Bruce E. Dickman
Joseph N. Emm
James A. Galloway
Willard B. Gantt
John C. Graybeal
Arthur M. Guerrieri
Thomas H. Hodge, Jr.
Harold E. Innes
Charles H. Jacobs
Walter R. Jasper
Robert P. Jordan
Joseph E. Kaminski
William F. Kincaid
Bernard H. Kirschner
Marion G. Kokosinski
Richard F. Kresge
Richard K. Krown
Edward E. Landis
William J. Lever
Edward F. Lipsky
Henry A. Marshall
C. W. Mastrangelo
John J. McGeehan
Daniel R. Micucci
Marion M. Miller, Jr.
James G. Mitchell
Ray R. Myers
William J. Palkovits
Richard J. Piekarski
John B. Robeling
Walter Sali, Jr.
William S. Sauter
John H. Schroeder
Herman E. Schoberg
Donald E. Scott
John E. Shaddinger
Richard H. Stimmler
Ralph C. Stinnett
Joseph Susarchick
Jerome P. Symalla
Aluysius W. Symalla
V. W. Tomalavage
Kostas E. Vasiliadis
Charles E. Voobhees
Michael E. Weber
George E. Williams
Monroe C. Wonder, Jr.
Robert Wyttenhove
William W. Young
Allen, Hillenga
Koncash, Kreiger
Krentz
Kuvick, Lehr
Lipely, Lloyd
Mahoney
McCutcheon
McDermitt
McKean
McKee
Moyta
Pappas
Park's
Posney
J. R. Cassell
T. C. Corcoran
Navy Boot Camp Recruit Photos - Company 51-067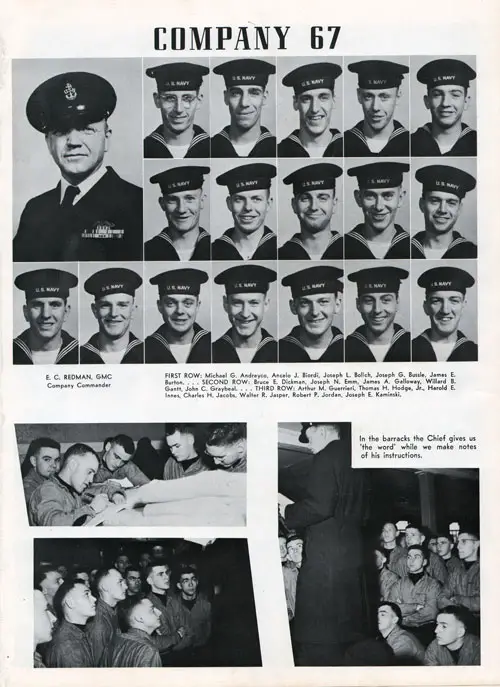 Company 51-067 Recruits, Page 1. GGA Image ID # 1b03c921ac
Caption: In the barracks the Chief gives us 'the word' while we make notes of his instructions.
Company 51-067 Recruits, Page 2. GGA Image ID # 1b044bf6d1
Captions:
Left: We adjust our masks for drill in the gas chamber.
Right: Combating fires similar to those that might occur aboard ship.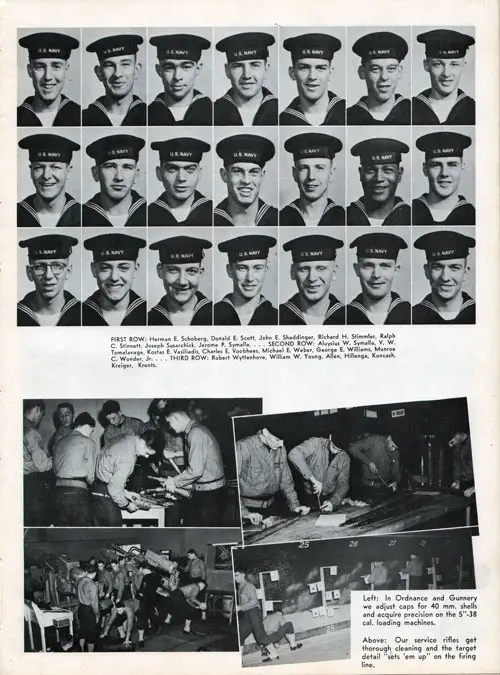 Company 51-067 Recruits, Page 3. GGA Image ID # 1b0463f543
Captions:
Left: In Ordnance and Gunnery we adjust caps for 40 mm. shells and acquire precision on the 5"-38 cal. loading machines.
Above: Our service rifles get thorough cleaning and the target detail "sets 'em up" on the firing line.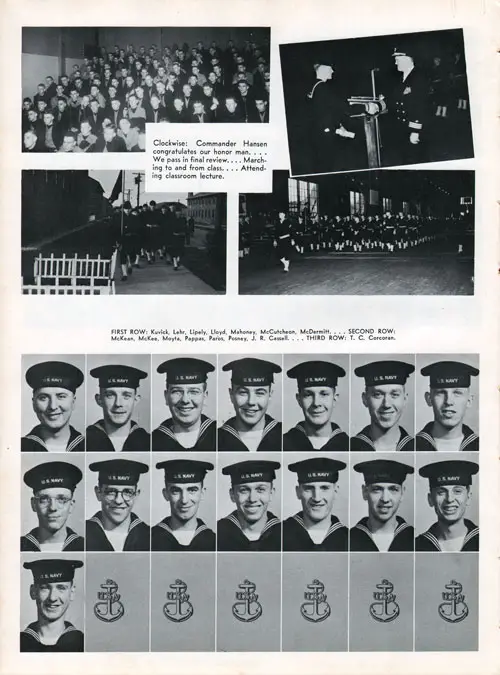 Company 51-067 Recruits, Page 4. GGA Image ID # 1b04848252
Caption:
Clockwise: Commander Hansen congratulates our honor man. . . We pass in final review.... Marching to and from class.... Attending classroom lecture.