Navy Boot Camp Book 1948 Company 260 The Keel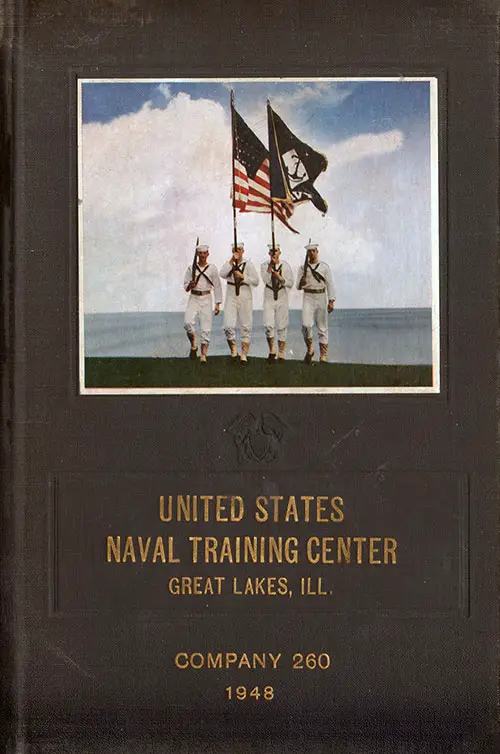 Front Cover, Great Lakes USNTC "The Keel" 1948 Company 260
Roster and Photos for Recruit Company 260 for 1948, United States Naval Training Center, Great Lakes, Illinois. Company Commanders: Frank G. Hacker, GMC and Bert Joseph Bielawski, BMC. 155 Men Graduated. Training Dates Not Reported.
Company 48-260 Leadership
Company Commander: Frank G. Hacker, GMC
Assistant Company Commander: Bert Joseph Bielawski, BMC
Company 48-260 Recruit Roster
Donald J. Alexander
Cloyd E. Allen
Bernard G. Ament
Earl R. Bade
John R. Badgeley
Albert R. Bailey
Myron R. Bandt
Donald Bastiansen
Forrest O. Baur
George A. Beattie
Donald A. Beathie
Edward Beauchemin
Sherman Bensor
John Bidleman
John H. Blucher
Sterling T. Boggess
Joseph Bole
Thomas A. Borell
John W. Brillhard
Albert W. Brown
Clarence E. Bruce
Robert A. Budd
Donald L. Burch
Michael A. Buzzeo
Dale E. Calkins
John S. Calignire
John C. Cameron
W. M. Carlton, Jr.
Rudy J. Chizmar
Edward Chizmar
K. F. Clark
James F. Conner
James D. Craig
Hugh A. Crouse
Ernest E. Curtis
Anthony M. Degennaro
Raymond Dombrowsky
Jackie Ewing
Donald M. Foltz
George F. Foreachre
Robert S. Fox
William E. Fox
Samuel E. Ganter
Woodrow B. Garvin
John F. Goerke
Donald V. Gonglewski
Donald E. Grams
Michael F. Grogan
Lorin E. Guilkey, Jr.
Peter L. Guilday
Glenn A. Gwinn
Burton L. Hall
David L. Hancher
Robert Harrier
William J. Hartman
Richard E. Hawkins
Raymond E. Hayes
Richard H. Heller
Ben E. Hill
P. L. Hollingsworth
Dale R. Jones
John Jones
Thayne E. Kellis
Edward E. Kemerer
William F. Kilbert
Gerald A. Kragt
John Kuchera
R. J. Kwiatkowski
William F. Leake, Jr.
Leo M. Lehman
Edward C. Lematty
Merle E. Lewis
Donald E. Lilledahl
Gerald P. Lusk
Samuel G. Madden
Bill J. Mael
Clyde D. Mathey
Daniel C. McCluskey
James F. McCullah, Jr.
Howard McGinnis
James H. McGurgan
Patrick A. McGinn
Leslie E. McHenry
Frederick A. McLeod
Harold E. Meanor
Richard L. Melton
Charles E. Miller
Phillip Miller
Stanley Miller
Richard D. Moline
Robert S. Milson
Ronald E. Morris
Francis R. Moulis
Jack L. Moyer
Thomas B. Murphy
Earl M. Newport, Jr.
John M. Ondash
Ervin E. Persinger
Joe W. Powers
William R. Prosser
Maynard I. Pyles
Alfred P. Raccosta
Robert E. Ransom
Thomas W. Rausch
Vance H. Reece
George E. Rosian
Charles R. Rushen
Steve Samila
Jerome L. Schardin
Richard C. Scheff
Herbert R. Scholl
Willard E. Seibert
Robert E. Senulis
Robert T. Shaffer
Lester R. Sheffer
Floyd H. Shoemaker
James A. Slavin
William A. Smet
William H. Smith
Charles E. Smith, Jr.
D. K. Sparkenbaugh
Victor O. Stacey
Wesley D. Stangee
Richard G. Stegner
Paul R. Stimmer
S. R. Stypolkowski
Loren L. Talsness
Norman P. Teachman
Leonard J. Turner
Alfred J. Uhl
Foster Vanderveer
Lester Vicker
G. S. Waggerty
Richard Wahlstrom
Jack E. Walters
Thomas E. Walsh
John F. Wasco
Harry A. Waugaman
William E. Welch
Robert L. White
Raymond L. Wicker
David E. Wilson
Leonard A. Winter
William L. Yankie
Edward F. Yerman
Kenneth R. Yount
Lambert Azzgman
Walter J. Zamosky
Walter A. Zuhard
W. T. Kardaras
D. A. Dunning
B. R. Evans
Ray D. Bowling
G. A. Trabucchi
R. E. Stahl
Navy Boot Camp Recruit Photos - Company 48-260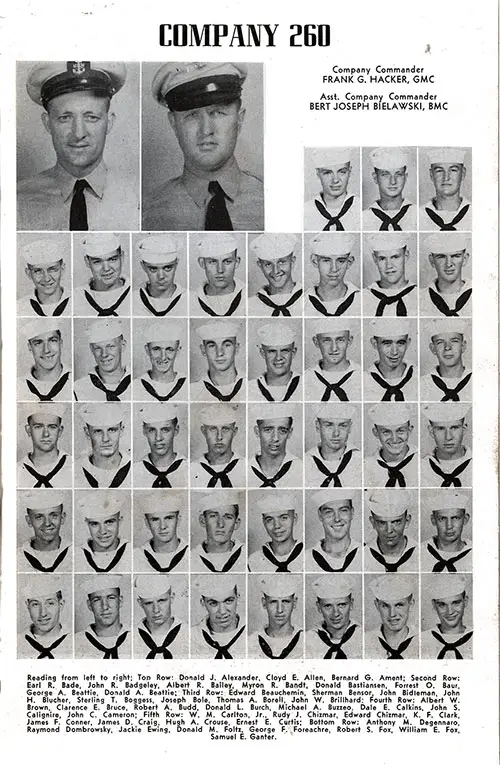 Company 48-260 Recruits, Page 1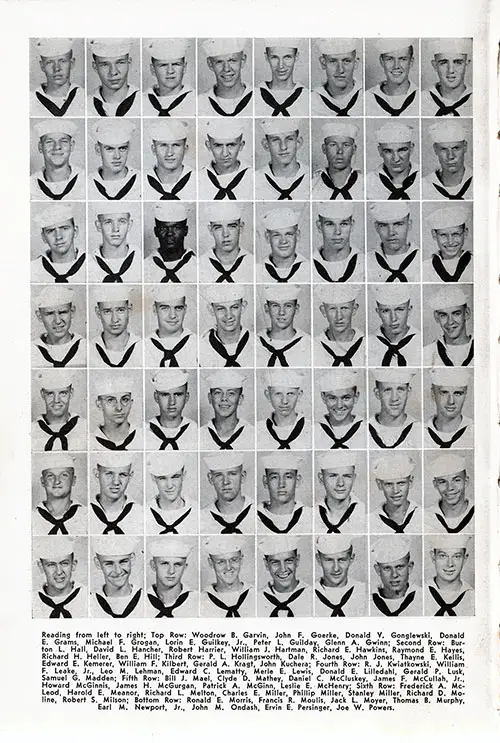 Company 48-260 Recruits, Page 2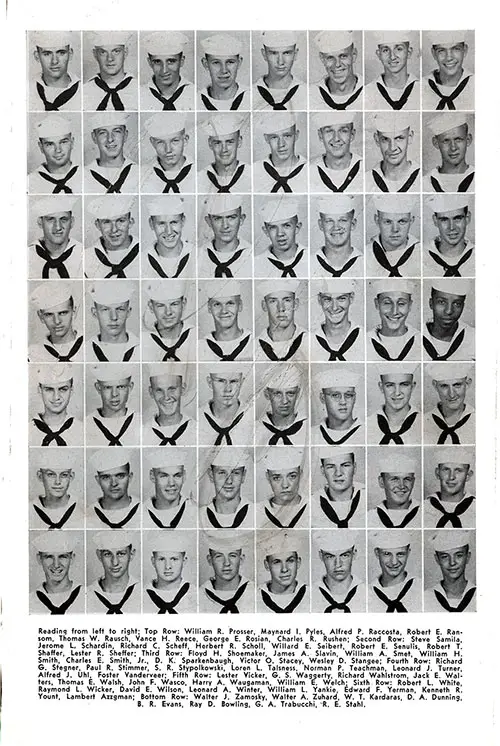 Company 48-260 Recruits, Page 3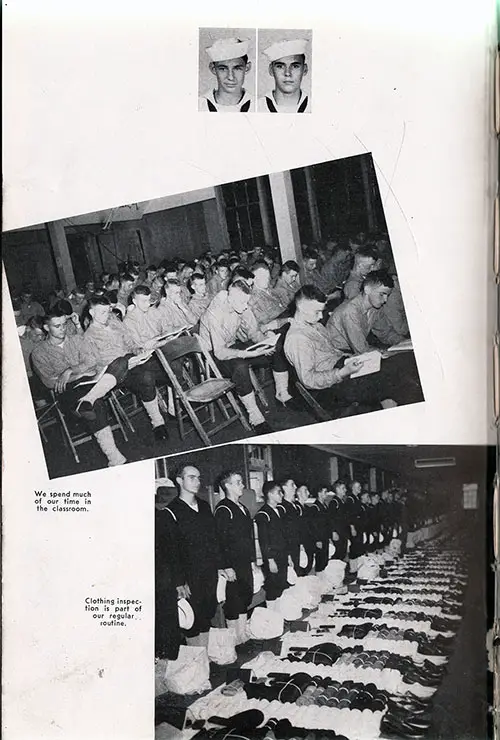 Company 48-260 Recruits, Page 4
Image Captions
Top: Two Unidentified Sailor Recruits
Middle: We spend much of our time in the classroom.
Bottom: Clothing inspection is part of our regular routine.