Navy Boot Camp Book 1986 Company 141 The Keel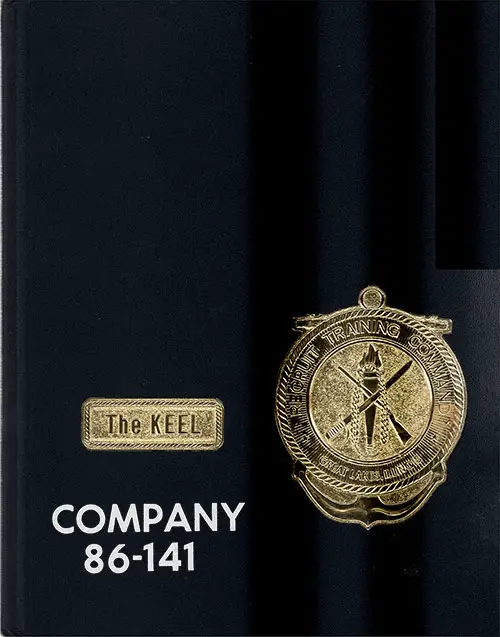 Front Cover, Great Lakes USNTC "The Keel" 1986 Company 141. GGA Image ID # 1336e5f31a
Roster and Photos for Recruit Company 141 for 1986, United States Naval Training Center, Great Lakes, Illinois. Company Commander: EMC B. L. Aguado and EM1 J. T. Frilles. 62 Men Graduated 20 June 1986.
Supplemental Content: Photographs of Company Leading Petty Officers; Company Commanders (with statement); Recruit Training Command Officers; Recruit Graduation Review Program; Reviewing Officials, Award Winner; and Passing in Review.
Company 86-141 Organization and Schedule
Commenced Training: 7 May 1986
Completed Training: 20 June 1986
Company 86-141 Leadership
Company Commander: EMC B. L. AGUADO
Company Commander: EM1 J. T. FRILLES
Division Officer: LT. M. L. ZAREM
Division LCPO: ENCS C. E. HAUS
Division BMS: BT1 (SW) J. I. SKIPWORTH
Company 86-141 Recruit Roster
ANDERSON BRET D. - VA. BEACH. VA
ARDEN DAVID L. - TERRA BELLA. CA
BERNIUS JEFFREY R. - BENNINGTON, IN
BERZANSKY RUSSELL W. - SAN JOSE, CA
BROWN BRADFORD J. - GLENDALE HTS., IL
BROYLES THOMAS H. - RICHMOND, VA
CALL1ES RONALD E. - ATLANTA, GA
CAMPBELL MARK A. - MANCHESTER, NH
CAUGHILL TODD A. N. - TONAWANDA, NY
CHAMPION DAN M. - STAYTON, OR
DACENAY GUIOTTO D. - CHICAGO, IL
DANIELS LEONARD Y. - MARTINSVILLE, VA
DAVIDSON DALE B. - DUNCANVILLE, TX
COMBS MARLIS J. - CLAYHOLE, KY
COUSLAND ALAN E. - MARIPOSA, CA
DEAN DOHN J. - NEWTON, IA
DELANEY JEFFREY A. - WILLIAMSBURG, VA
FINNEY REGIE M. - BUHL, IN
FORTUNE ROBERT A. - PARMA, OH
GARDNER SHANE H. - SACRAMENTO, CA
GUTTORMSEN EDWARD - HALE TROY S.
HODGENVILLE, KY - STAUNTON, VA
HARTLESS JAMES M. - LYNCHBURG, VA
HARVEY MICHAEL J. - JACKSON, KY
JOHNSON DAVID W. - BROCKTON, MA
JONES CHRISTOPHER - LOUISVILLE, KY
KALEIKINI MATTHEW - WAIMANALO, HI  
KINSEY JEFFREY S. - GAINESVILLE, GA 
KLING EDWIN J. - FT. LAUDERDALE, FL  
KOONTZ ROBERT T. - BROOKLINE, MA
LARSEN JOHN. J. - HOPATCONG, NJ      
LESTER MICHAEL K. - SALVDA, SC
LONGO FRANCIS G. - STONEHAM, MA
LOUIS IVON T.  - RICHMOND, VA
MANNING MICHAEL V. - LOUISVILLE, KY
MARSHALL THOMAS K. - WESTON, WV
MATTIAS RONALD - COVENTRY, RI
MCLEOD KEVIN A. - BAYONET PT., FL
MCCULLEY JONATHAN - GARDEN GROVE, CA
P. MENIL BRADLEY B. - STOCKTON, CA
MEREDITH RICHARD A. - GRANITE CITY, IL
MESLER TIMOTHY L. - WINCHESTER, NH
MILLER EDGAR C. - MOSCOW, TN
MINER WENDELL D. - FINDLAY, IL
MORRIS TODD D. - CLEARWATER, FL S3
MOSEIL ROBERT J. - FAIRVIEW, NJ
NIMMO GREGORY A. - UKIAH, CA 
PADGETT JEFFREY C. - RICHMOND, VA
PATE JOHN R. - NICHOLASVILLE, KY
ROUSE DAVID L. - SAN PEDRO, CA
SHEDEGER EUGENE T. - GREEN BAY, WI
STEFANI THOMAS S. - BARTLETT, TN    
STOUT LONNIE R. - HOUSTON, TX
SUTPHIN RONALD N. - MEADOWS OF DAN, VA
THOMPSON RICHARD L. - HEPHZIBAH, GA
TULAK ROBERT L. - DENNISON, OH
WILKERSON HAROLD B. - VICTORIA, VA
WILLIAMS DAVID A. -  SUNSET, VT
WILSON ROBERT H. - LANSING, MI         
WOLFE GARRY G. - MARTINEZ, CA
WORLESTER RICHARD L. - BURLINGTON, VT
COLLTER CARNELL S. - NEW ORLEANS, LA
Navy Boot Camp Recruit Photos - Company 86-141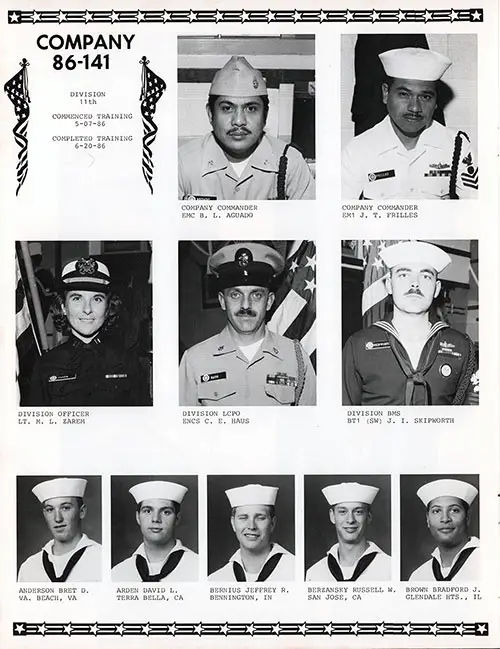 Company 86-141 Great Lakes NTC Recruits, Page 1. GGA Image ID # 1337161e30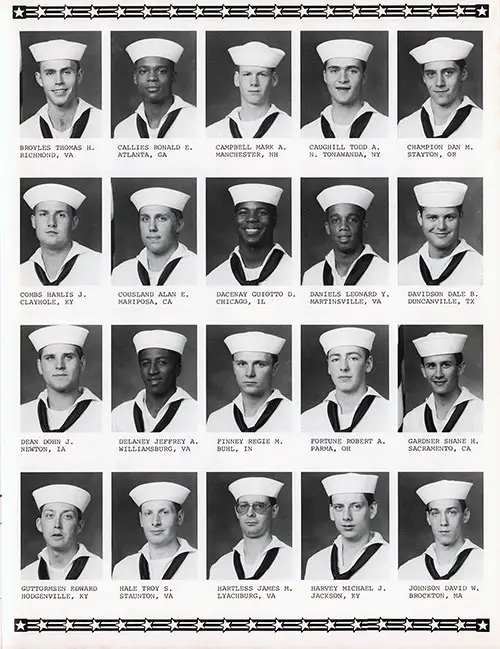 Company 86-141 Great Lakes NTC Recruits, Page 2. GGA Image ID # 13371f38c6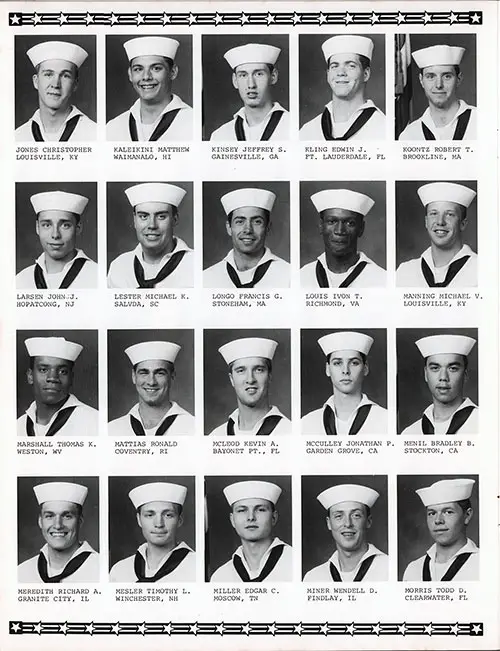 Company 86-141 Great Lakes NTC Recruits, Page 3. GGA Image ID # 1337429009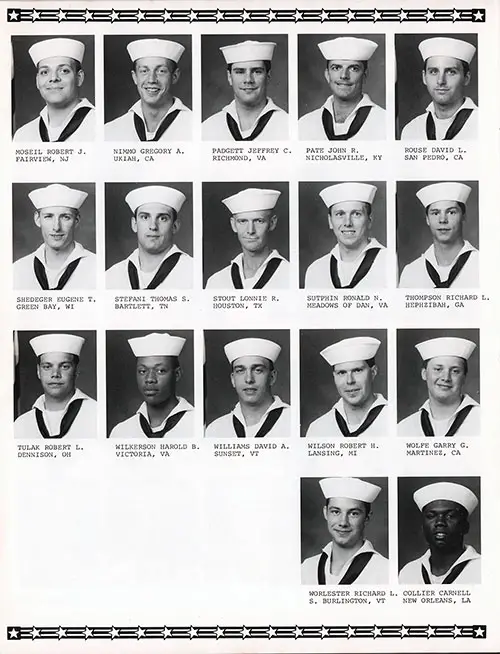 Company 86-141 Great Lakes NTC Recruits, Page 4. GGA Image ID # 1337a00907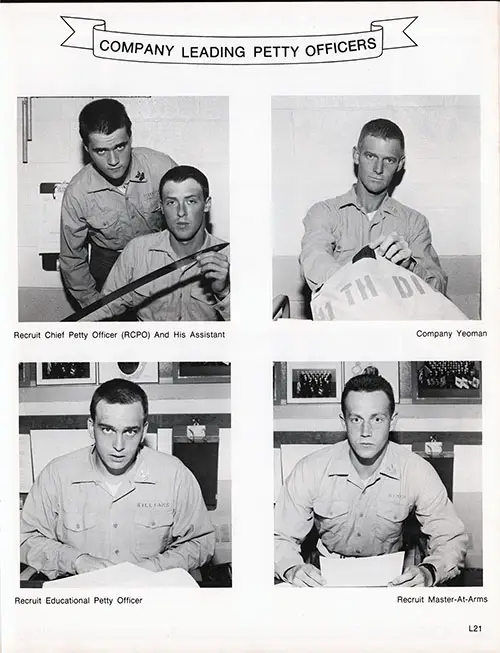 Company 86-141 Great Lakes NTC Recruit Leaders. GGA Image ID # 1337b6c3ba
Recruit Chief Petty Officer (RCPO) And His Assistant
Company Yeoman
Recruit Educational Petty Officer
Recruit Master-At-Arms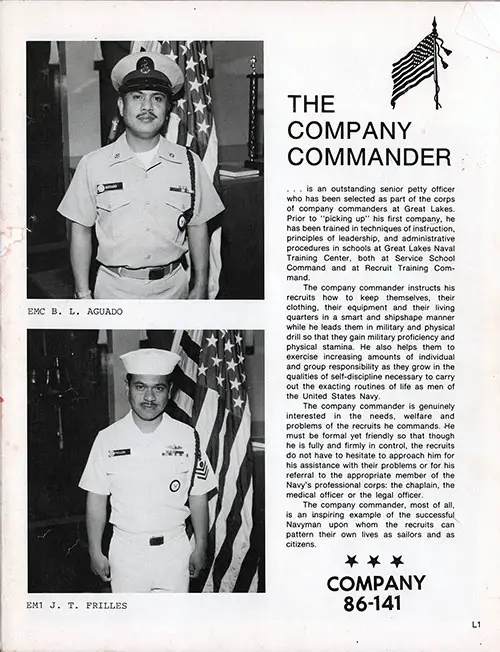 Company 86-141 Great Lakes NTC Company Commanders. GGA Image ID # 1337becdc0
COMPANY COMMANDER
. . . is an outstanding senior petty officer who has been selected as part of the corps of company commanders at Great Lakes. Prior to ''picking up" his first company, he has been trained in techniques of instruction, principles of leadership, and administrative procedures in schools at Great Lakes Naval Training Center, both at Service School Command and at Recruit Training Command.
The company commander instructs his recruits how to keep themselves, their clothing, their equipment and their living quarters in a smart and shipshape manner while he leads them in military and physical drill so that they gain military proficiency and physical stamina. He also helps them to exercise increasing amounts of individual and group responsibility as they grow in the qualities of self-discipline necessary to carry out the exacting routines of life as men of the United States Navy.
The company commander is genuinely interested in the needs, welfare and problems of the recruits he commands. He must be formal yet friendly so that though he is fully and firmly in control, the recruits do not have to hesitate to approach him for his assistance with their problems or for his referral to the appropriate member of the Navy's professional corps: the chaplain, the medical officer or the legal officer.
The company commander, most of all, is an inspiring example of the successful Navyman upon whom the recruits can pattern their own lives as sailors and as citizens.
Company 86-141
EMC B. L. AGUADO
EM1 J.T. FRILLES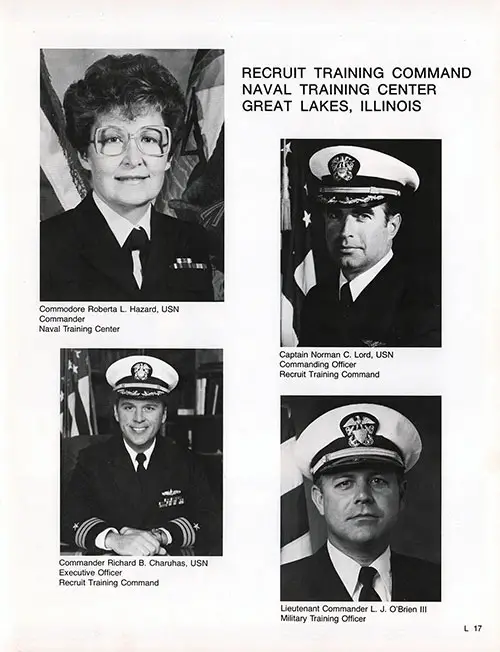 Great Lakes NTC Commanders. GGA Image ID # 1337fe8554
RECRUIT TRAINING COMMAND NAVAL TRAINING CENTER GREAT LAKES, ILLINOIS
Commodore Roberta L. Hazard, USN –
Commander - Naval Training Center
Captain Norman C. Lord, USN -
Commanding Officer - Recruit Training Command
Commander Richard B. Charuhas, USN -
Executive Officer - Recruit Training Command
Lieutenant Commander L. J. O'Brien III -
Military Training Officer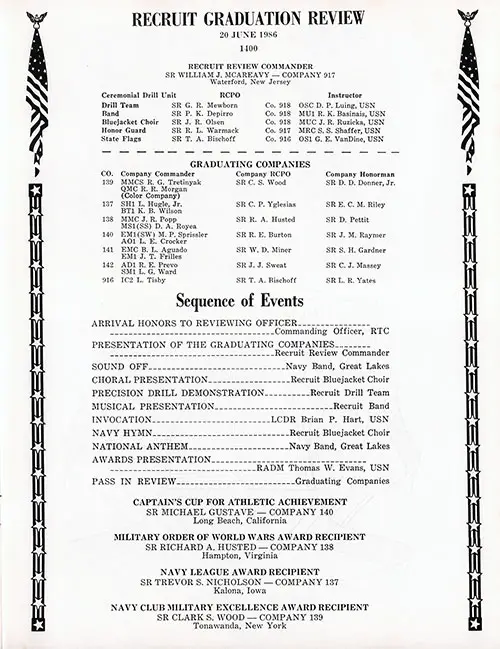 Company 86-141 Great Lakes NTC Recruit Graduation Review. GGA Image ID # 133811c1e4
RECRUIT GRADUATION REVIEW - 20 JUNE 1986 - 1400
RECRUIT REVIEW COMMANDER
SR WILLIAM J. MCAREAVY - COMPANY 917 - Waterford, New Jersey
Ceremonial Drill Unit – RCPO - Instructor
Drill Team Band - SR G. R. Mewborn - Co. 918 OSC D. P. Luing, USN
Band  - SR P. K. Depirro -  Co. 918 MU1 R. K. Basinais, USN
Bluejacket Choir - SR J. R. Olsen - Co. 918 MUC J. R. Ruzicka, USN
Honor Guard  - SR R. L. Warmack - Co. 917 MRC S. S. Shaffer, USN
State Flags - SR T. A. Bischoff - Co. 916 OS1 G. E. VanDine, USN
GRADUATING COMPANIES
CO. - Company Commander - Company RCPO - Company Honorman
139 - MMCS R. G. Tretinyak - QMC R. R. Morgan (Color Company) - SR C. S. Wood - SR D. D. Donner, Jr.
137 - SH1 L. Hugle, Jr. - BT1 K. B. Wilson - SR C. P. Yplesias - SR E. C. M. Riley
138 - MMC J. R. Popp – MS1 (SS) D. A. Royea - SR R. A. Husted - SR D. Pettit
140 – EM1 (SW) M. P. Sprissler – AO1 L. E. Crocker - SR R. E. Burton - SR J. M. Raymer
141 - EMC B. L. Aguado – EM1 J. T. Frilles - SR W. D. Miner - SR S. H. Gardner
142 - AD1 R. E. Prevo – SM1 L. G. Ward - SR J. J. Sweat - SR C. J. Massey
916 -IC2 L. Tisby - SR T. A. Bischoff - SR L. R. Yates
Sequence of Events
ARRIVAL HONORS TO REVIEWING OFFICER - Commanding Officer, RTC
PRESENTATION OF THE GRADUATING COMPANIES - Recruit Review Commander
SOUND OFF     - Navy Band, Great Lakes
CHORAL PRESENTATION - Recruit Bluejacket Choir
PRECISION DRILL DEMONSTRATION - Recruit Drill Team
MUSICAL PRESENTATION - Recruit Band
INVOCATION - LCDR Brian P. Hart, USN
NAVY HYMN     - Recruit Bluejacket Choir
NATIONAL ANTHEM - Navy Band, Great Lakes
AWARDS PRESENTATION - RADM Thomas W. Evans, USN
PASS IN REVIEW - Graduating Companies
CAPTAIN'S CUP FOR ATHLETIC ACHIEVEMENT
SR MICHAEL GUSTAVE - COMPANY 140 - Long Beach, California
MILITARY ORDER OF WORLD WARS AWARD RECIPIENT
SR RICHARD A. HUSTED - COMPANY 138  - Hampton, Virginia
NAVY LEAGUE AWARD RECIPIENT
SR TREVOR S. NICHOLSON - COMPANY 137 - Kalona, Iowa
NAVY CLUB MILITARY EXCELLENCE AWARD RECIPIENT
SR CLARK S. WOOD- COMPANY 139 - Tonawanda, New York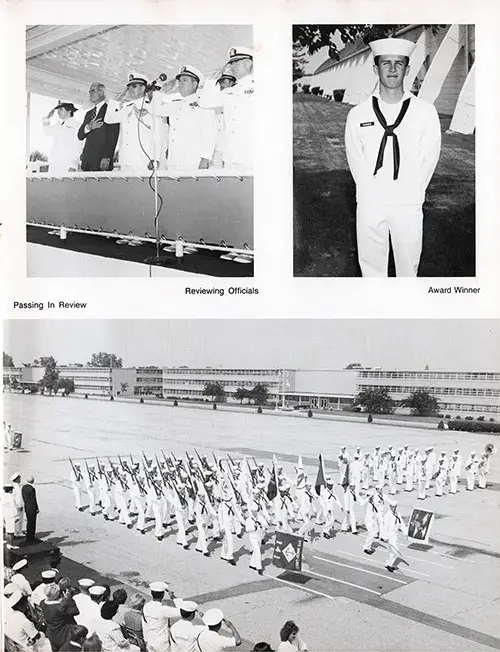 Company 86-141 Great Lakes NTC Passing in Review and Award Winner. GGA Image ID # 13382f92a1
Reviewing Officials
Award Winner
Passing in Review