Navy Boot Camp Book 1964 Company 015 The Keel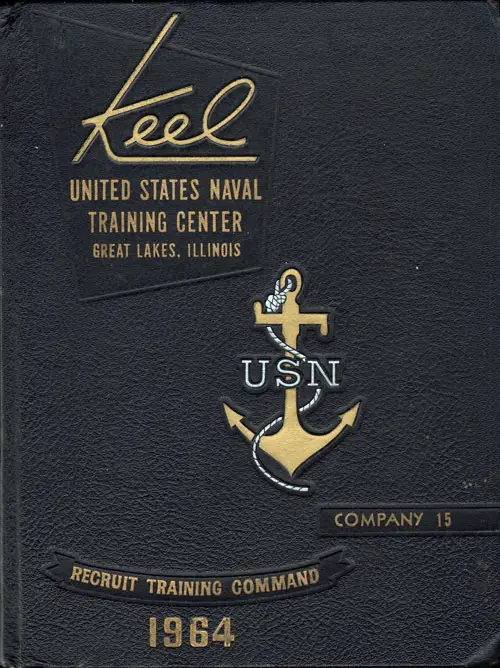 Front Cover, USNTC Great Lakes "The Keel" 1964 Company 015. GGA Image ID # 1b30ee841b
Roster and Photos for Recruit Company 15 for 1964, United States Naval Training Center, Great Lakes, Illinois. Company Commander: J. K. Christian, MM1. Training commenced 20 January 1964 and concluded on 25 March 1964. 79 Men Graduated.
Company 64-015 Leadership
Brigade Commander: LCDR D. Kraushaar, USN
Regimental Commander: LT R. E. Hartzell, USNR
Battalion Commander: LTJG G. T. Hilt, USN
Company Commander: J. K. Christian, MM1
Company 64-015 Recruit Roster
S. Georgi
RPOC
R. Kildow
EPO
B. Carreno
First Platoon Leader
D. Martin
MAA
C. Tokoesky
Company Clerk
K. D. Babroski
Gary A. Balsamo
John A. Barbella
Richard R. Bender
David Ber
James W. Bolton
R. A. Bucholz
James T. Bullock
A. F. Caruso, Jr.
Joseph C. Coerts
Walter A. Cox, Jr.
J. W. Curtis
J. J. Dempsey, Jr.
P. D. Desrosiers
William Doran
John P. Drennan
Robert L. Earl
Joseph J. Ellul
Edwing G. Every
W. W. Freedman
T. Galemski, Jr.
W. P. Gilluly
Edward J. Graff
John N. Grace
Francis L. Graham
J. L. Hanratty, Jr.
V. W. Harris, Jr.
C. E. Joscelyn
Steven A. Kern
Robert B. Kessel
William J. Lebeck
Alfred B. Legault
Robert S. Mack
T. R. Manara
M. J. McCallister
Charles Minehan
Ernest K. Nichols
Richard R. O'Brien
Thomas A. Ort
R. R. Perreault
Lawrence Philyaw
J. Pierchorowicz
Wayne L. Postma
Terol B. Reagle
R. Rodriguez, Jr.
R. A. J. Rozsay
R. D. Sanford
V. Santomassimo
Richard P. Shaw
Robert W. Smith
W. S. Stevens, Jr.
Roger R. Talbot
W. J. Tidgewell, Jr.
John F. Tufte
Daniel J. Tyburc
Milford C. Ward R. M.
Weinberg Willi
Willms William D.
Wolf A. F. Cosmo
Pinsonneault
W. Elijah Wells
L. Dale Williams
G. John Kalivas
E. Larry Hawkins
R. George Letendre
William Henson
A. F. Cosmo
W. J. Hawes
P. A. Jacob
A. Lynn
J. R. McNamara
C. A. Paquette
A. C. Penfield
H. J. Seinsoth
Navy Boot Camp Recruit Photos - Company 64-015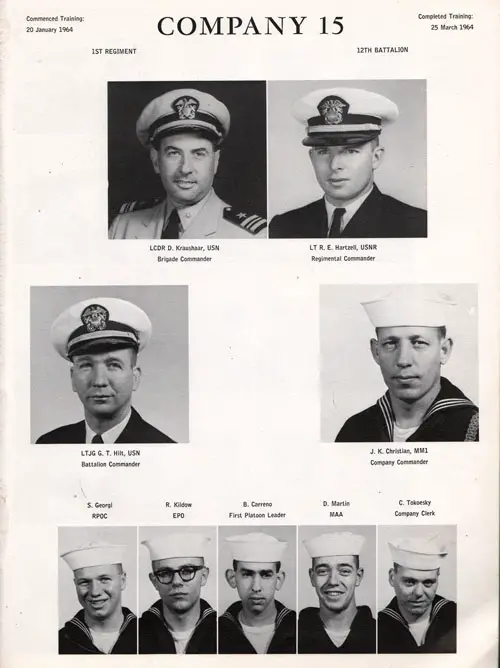 Company 64-015 Recruits, Page 1. GGA Image ID # 1b31073bf2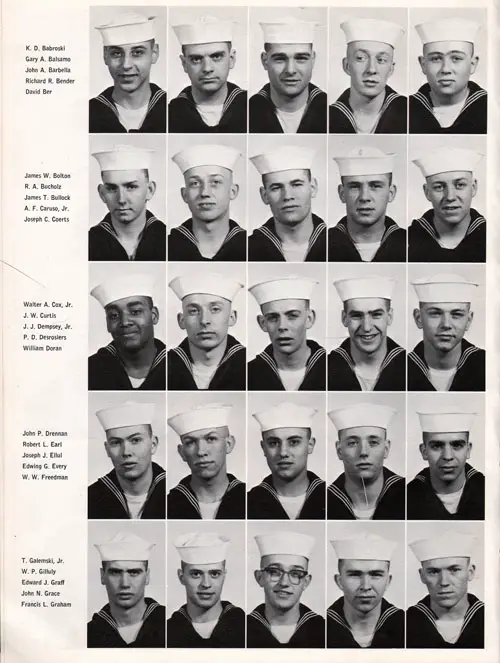 Company 64-015 Recruits, Page 2. GGA Image ID # 1b312bf492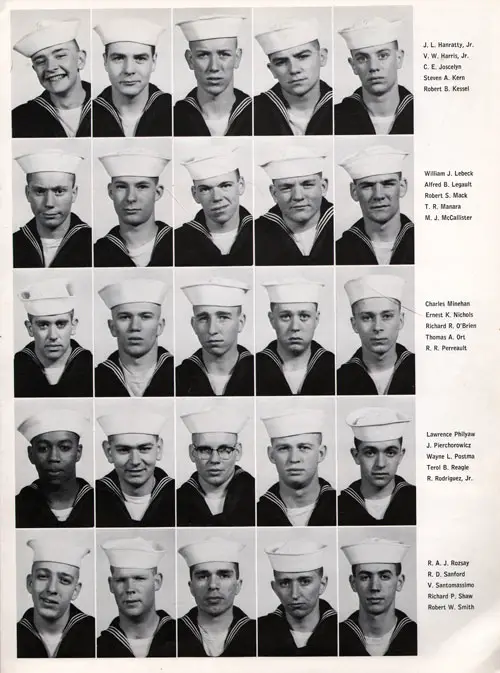 Company 64-015 Recruits, Page 3. GGA Image ID # 1b31feacdd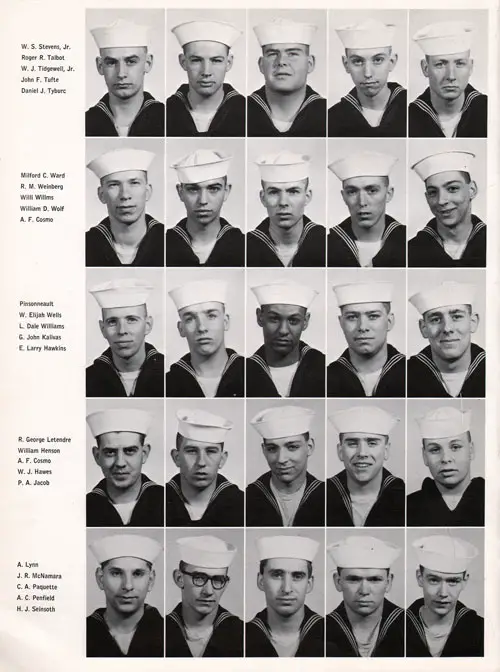 Company 64-015 Recruits, Page 4. GGA Image ID # 1b32a77c94
Book provided by the generous donation to the Gjenvick-Gjønvik Archives by Pat Dennehey.