Navy Boot Camp Book 1951 Company 079 The Keel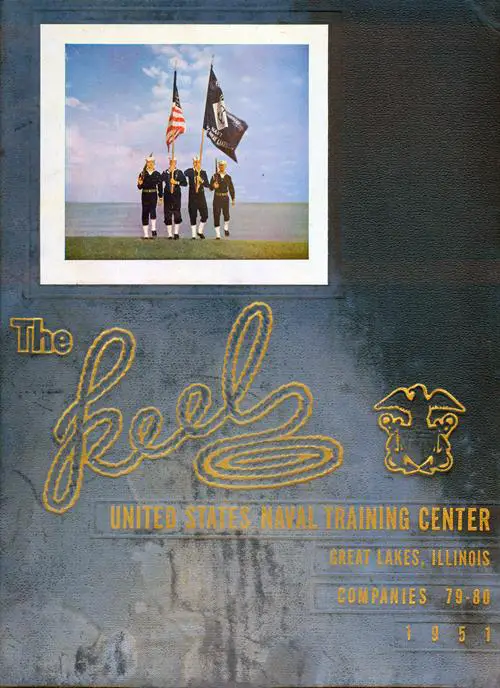 Front Cover, USNTC Great Lakes "The Keel" 1951 Company 079. GGA Image ID # 1b068581e3
Roster and Photos for Recruit Company 79 for 1951, United States Naval Training Center, Great Lakes, Illinois. Company Commander: A. J. BEAL, BMC. 76 Men Graduated. Training Dates Not Reported. Images Courtesy of Alex, granddaughter of one of the recruits.
Company 51-079 Leadership
A. J. Beal, BMC
Company Commander
Company 51-079 Recruit Roster
Jimmy R. Abernathy
Joseph N. Anderson
Paul G. Bass
Bruce B. Berry
Thomas E. Black
Daniel E. Blackburn
Abe Brownfield
James A. Bybee
Gene E. Brasswell
Edsel D. Byrd
Walter F. Coble
Frank M. Cocanougher
Hubert R. Collins
J. C. Corley
Robert W. Cunningham
Robert R. Davis
Donald B. Dennis.
Earl A. Dimmick
Billy J. Duncan
John H. Edgerton
Robert E. Egeland
Leslie H. Faber
Danny Forson
John G. Fuller
William M. Fulp
Thomas S. Garland, Jr.
Patrick E. Gentis
Donald E. Gentry
Richard B. Gray
Sherman A. Hanes
Leonard M. Hardison
Louis R. Hare
Jack G. Harris
Merdith W. Helm
Stanley L. Hendrickson
Boyd Hole
Henry N. Holleman
Frederick M. Hux.
Gerald W. Ironside
David W. Jenkins
Delmar K. Johnson
George 0. Johnston
Richard P. Jones
Russel T. Jones
Kenneth E. Keenan
Earl A. Keifer
Claude D. Kelsey
Harold L. Kimrey
Phillip D. Kirtley
Edward G. Kramer, Jr.
Jack E. Long
Edward J. Menke
Jack T. Minish
Sammy G. Moody
Charles F. Morrison
Bobby J. McAdow
Billy G. McIntyre
Clarence E. McKnight
James 0. McLaughlin
Harold D. Newell
Albert F. Orrell
Herbert A. Parker
Donald D. Price
Frank H. Reid
Warren D. Reynolds
James K. Rhea
Edwin E. Richards
Thomas G. Roth
David C. Schnarr
Henry D. Stewart
Lonnie M. Vann
Robert S. Vician
Joel B. Warren
Donald R. Williamson
Bobby J. Wood
Kenneth D. Yontz
Navy Boot Camp Recruit Photos - Company 51-079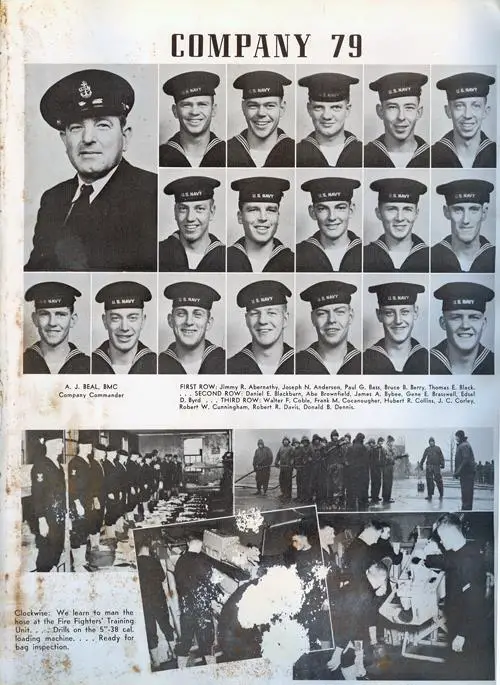 Company 51-079 Recruits, Page 1. GGA Image ID # 1b071d61e2
Caption:
Clockwise: We learn to man the hose at the Fire Fighters' Training Unit. . . . Drills on the 5"-38 cal. loading machine. . . . Ready for bag inspection.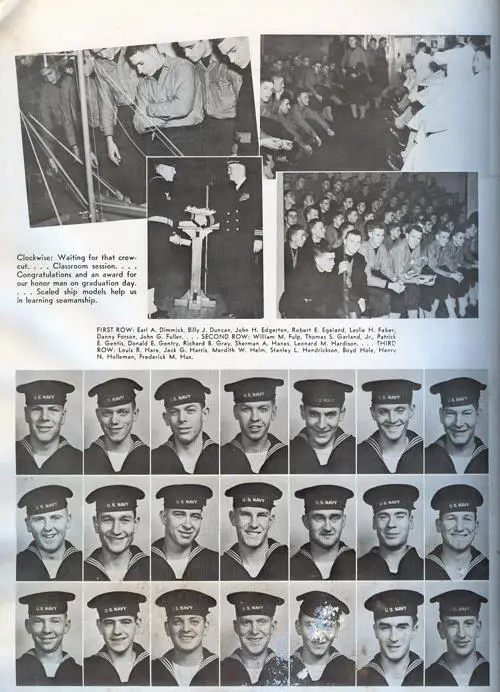 Company 51-079 Recruits, Page 2. GGA Image ID # 1b07298739
Captions:
Clockwise: Waiting for that crewcut. . . . Classroom session. . . . Congratulations and an award for our honor man on graduation day. Scaled ship models help us in learning seamanship.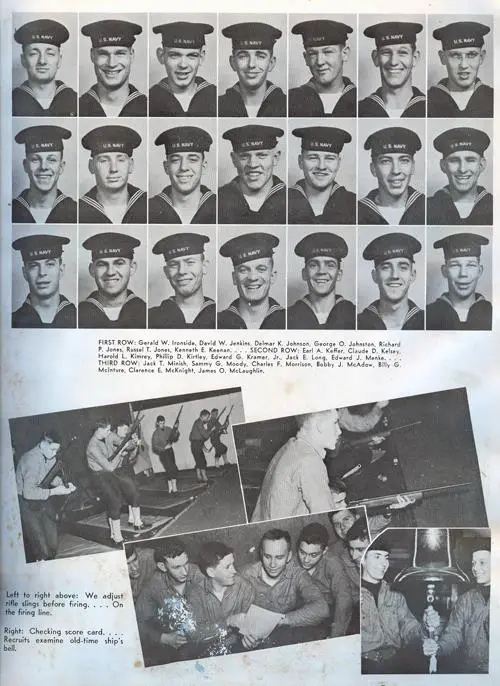 Company 51-079 Recruits, Page 3. GGA Image ID # 1b072d8f61
Captions:
Left to right above: We adjust rifle slings before firing. . . . On the firing line.
Right: Checking score card. . . . Recruits examine old-time ship's bell.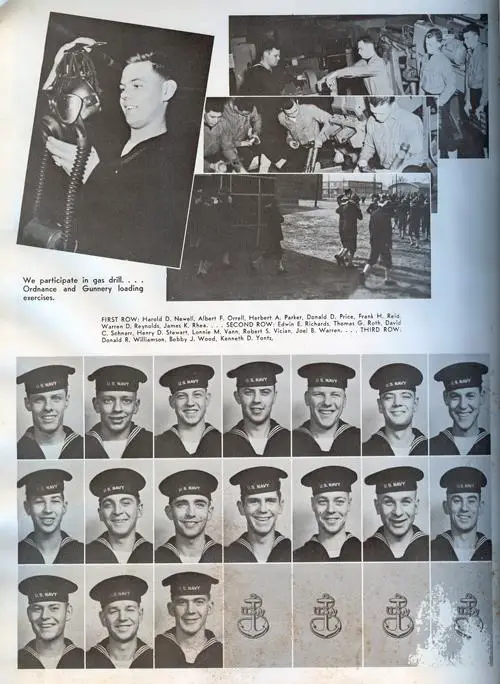 Company 51-079 Recruits, Page 4. GGA Image ID # 1b0735e286
Caption:
We participate in gas drill. .. . Ordnance and Gunnery loading exercises.