Van Houten's Cocoa
THE DRINK QUESTION is ever coming to the front. What beverage shall we drink to quench thirst? Next to tea, the most popular non-intoxicant is Cocoa, which is rapidly supplanting tea and coffee as a national beverage.
There are many excellent Cocoas, but in advance of all other preparations stands Van Houten's, which is universally declared to be perfectly pure, free from fat, easily digested, delicious to the taste, nutritious, and a stimulant without any depressing after-effects.
Van Houten's Cocoa was introduced into the household of the late Emperor of Germany upon high recommendation. The senior physician of the London Court Hospital has used this brand of Cocoa for many years.
It is strongly recommended to Students and all whose duties involve much wear and tear, whether mental or physical. For these reasons it has earned the highest encomiums of the leading analysts of the day.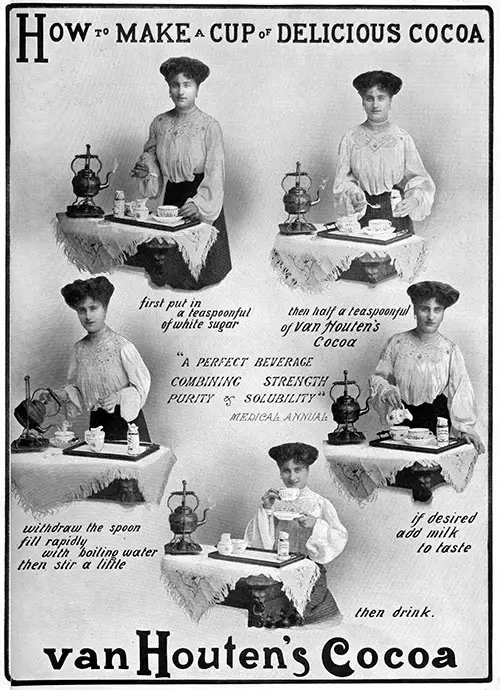 Van Houtens Cocoa - How to Make a Cup of Delicious Cocoa © 1905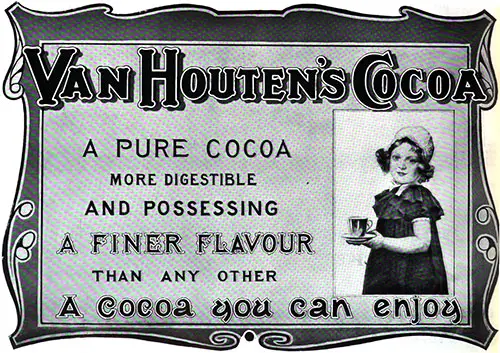 Van Houtens Cocoa - A Cocoa You Can Enjoy © 1905