AirlinE Honey - Home of the Honey Bees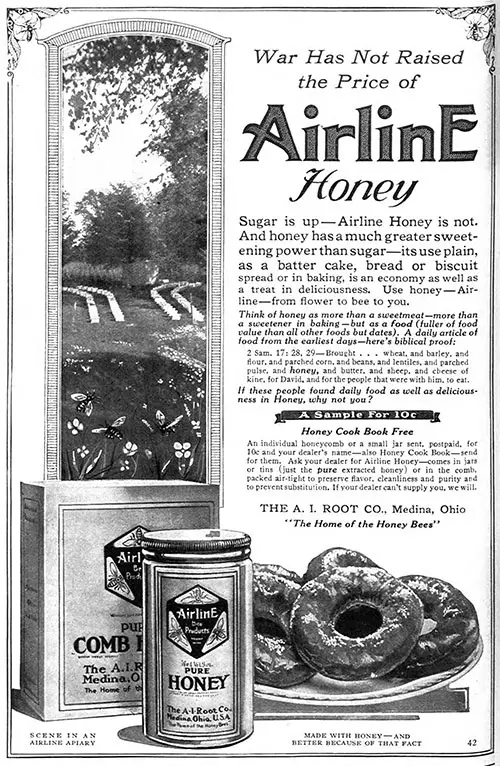 War Has Not Raised The Price of AirlinE Honey © 1915 The A. I. Root Co. GGA Image ID # 19bf391e52
AirlinE Honey makes better cakes, cookies, candies, and desserts; makes preserves that taste better and keep better; is the finest spread for griddle cakes, waffles, bread, and biscuit; has superior food value and is infinitely more wholesome.
Honestly, one of the best things this war can do for you is to force you for the sake of economy to learn the goodness of honey irrespective of economy. We guarantee the absolute purity of AirlinE Honey.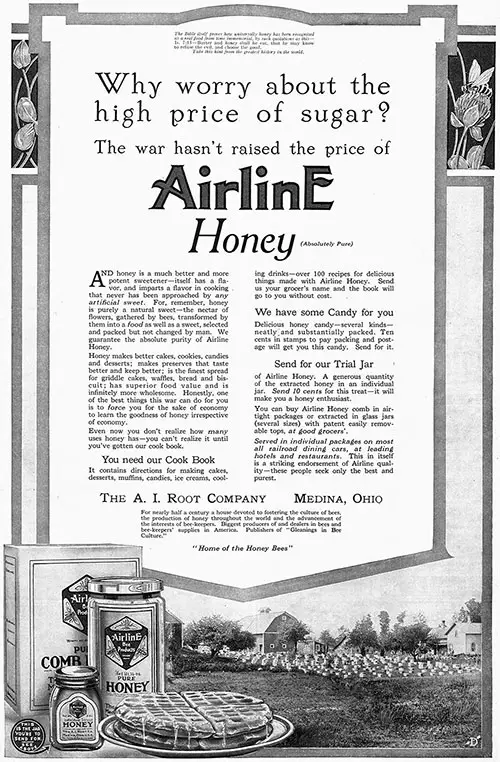 Why Worry About The High Price of Sugar? AirlinE Honey © 1916 The A. I. Root Co. GGA Image ID # 19bf56f078
The difference between AirlinE Honey and so-called "pick-up" honey was described as follows:
"Infinite care in selecting uniformly high-grade honey is the reason for packing it under the AirlinE label. Neither we nor the bees can change the quality of Nature's sweets—we can only make certain that when you buy AirlinE honey you are picking your delight from the choicest honey-bearing flowers that grow."