Auerbach Chocolate & Candy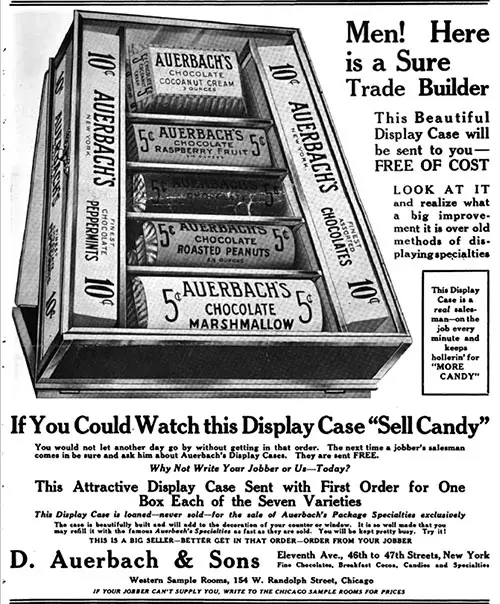 Auerbach Chocolates Advertisement, Candy and Ice Cream Magazine, January 1916.
Auerbach Chocolate Bars need no introduction. They were very popular ever before we made them "Bigger and Better than Ever." They're crowded to the wrapper with wholesome chocolate, enclosing a tempting filling of many flavors that makes every bite encourage another.
Every morning, just after the silver rays of the Sun have scattered the mists of night, car-load after car-load of fresh milk is delivered at "Candy Headquarters "-- rich, creamy milk, fresh from the cows. We use it to make our milk-chocolate.
We add to this milk the best quality of smooth chocolate and great quantities of big, fresh roasted, crispy almonds.
With the aid of the most modern, up to date machinery we mold the milk, chocolate and almonds into the finest Almond Bars in the world. The taste of one makes you want another—and they are Made the American Way.