Sun-Maid Raisins
California's Rich Contribution to the Food-Wealth of a People
Long before Rome was an Empire, man husbanded the raisin as one of his chief foods. Now 8000 modern raisin growers offer you this great fruit-food in Sun-Maid Raisins, from the sunlit vineyards of California, sun-cured in the vineyards and shipped throughout the nation.
This is the brand by which these growers wish to be judged. Better raisins cannot be produced. No other soil and sunshine make such grapes. No other grapes yield such rare flavor in their sun brewed juices.
Nature stores her choicest sugar in such raisins. Eat plenty of these Sun-Maid Raisins. They are a true fruit-food, both good and good for you—nuggets of energy, exceeding in energizing properties eggs, milk, meat, and other famous foods. And they are slightly laxative.
Raisins are Nature's confection—her own answer to the sweet-tooth problem. Children find in them a satisfying supply, in its purest form, of the energy food they crave. Let them have all they wish.
Sun-Maid Raisins lend a rich variety to your daily menu and are a true economy because of their high food value. To get this great fruit-food at its best, ask for Sun-Maid Raisins by name. Your grocer—or some other grocer near you—can supply you.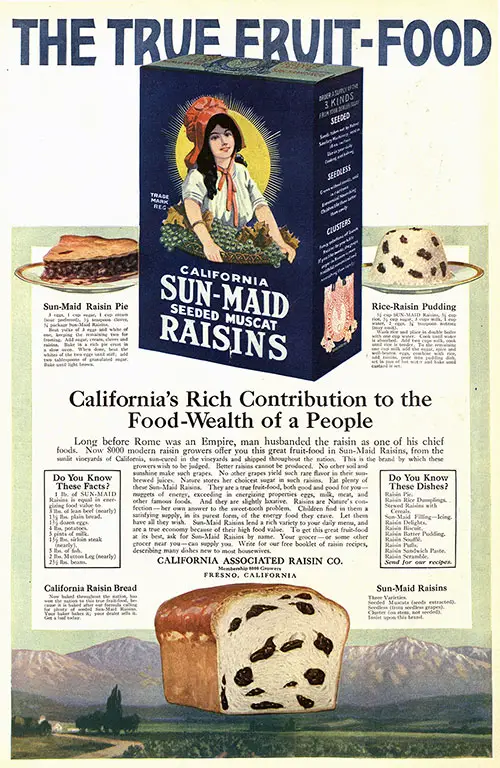 California Sun-Maid Raisins - The True Fruit-Food © 1916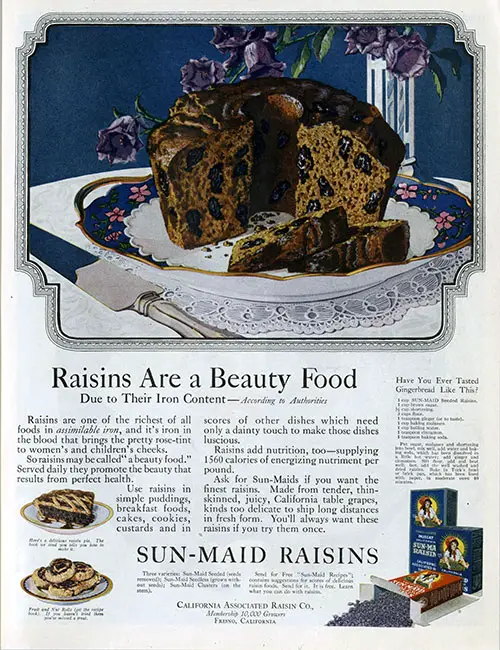 California Sun-Maid Raisins - Raisins Are a Beauty Food © 1921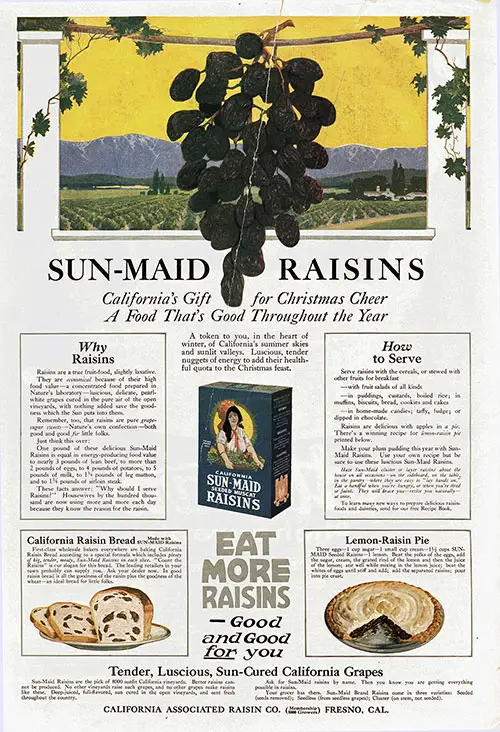 California Sun-Maid Raisins - Gift for Christmas Cheer © 1916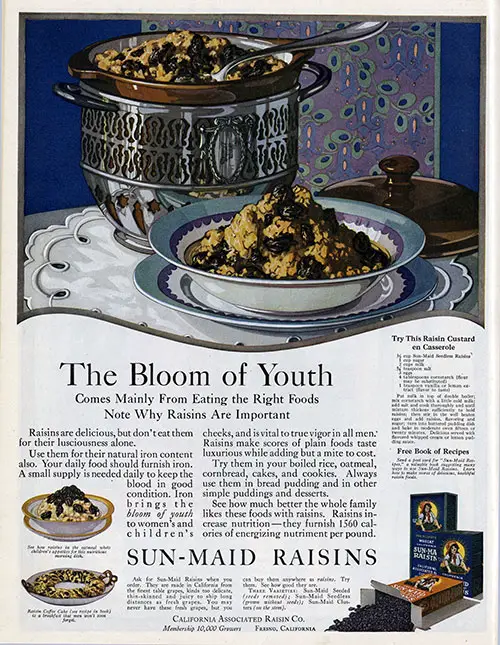 California Sun-Maid Raisins - The Bloom of Youth © 1921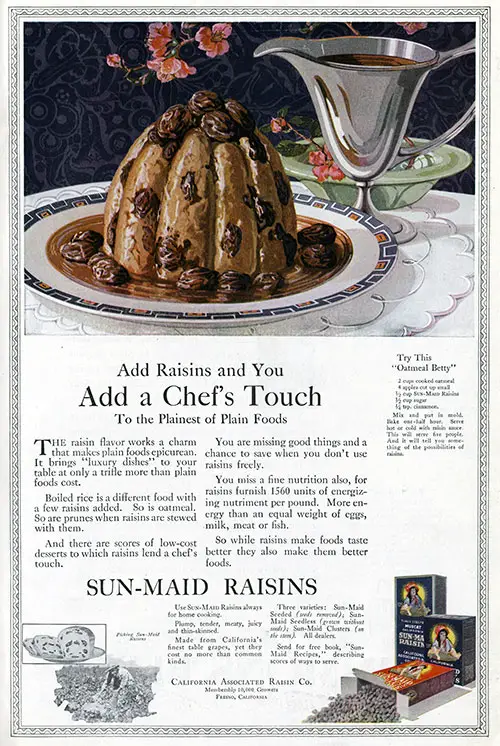 California Sun-Maid Raisins - Add Raisins and You © 1921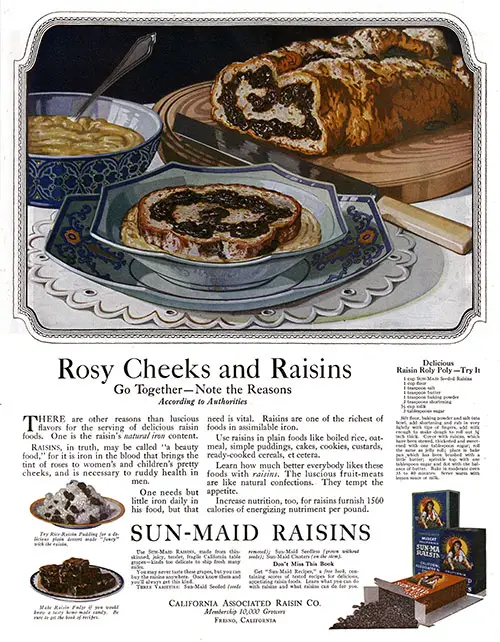 California Sun-Maid Raisins - Rosy Cheeks and Raisins © 1921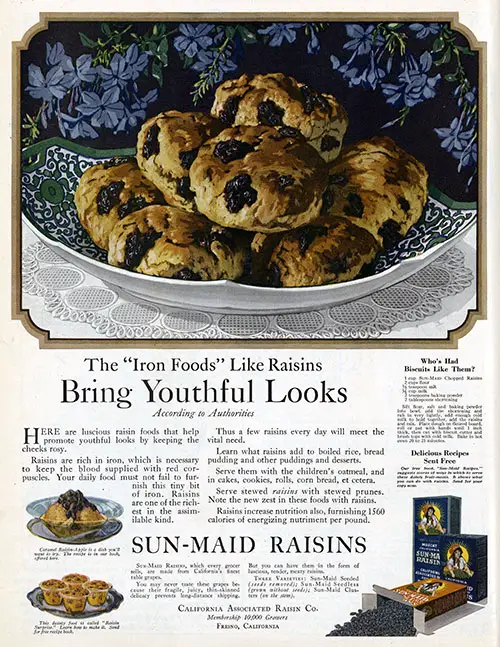 California Sun-Maid Raisins - The "Iron Foods" © 1921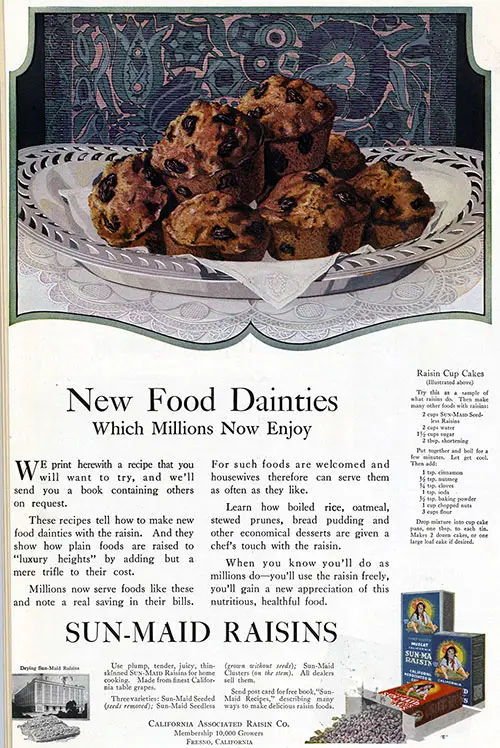 California Sun-Maid Raisins - New Food Dainties © 1921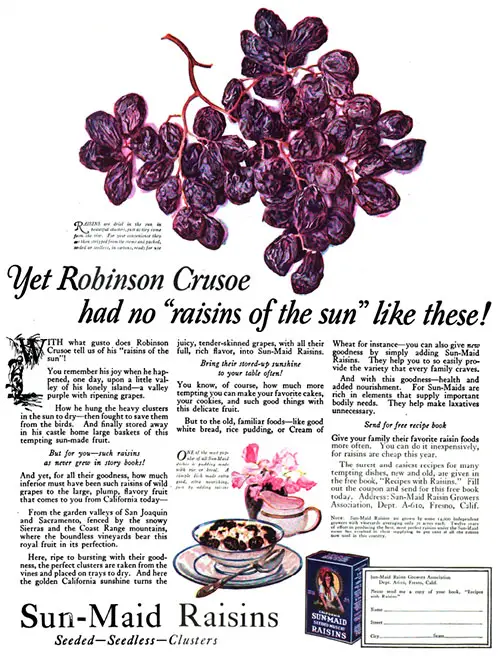 California Sun-Maid Raisins - Robinson Crusoe © 1923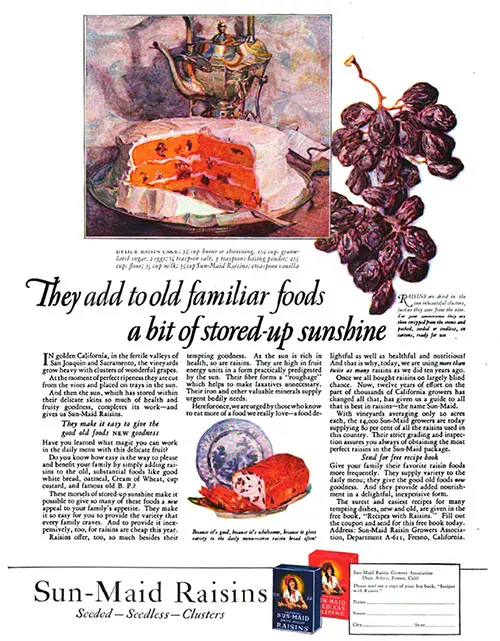 California Sun-Maid Raisins - A Bit of Stored-Up Sunshine © 1923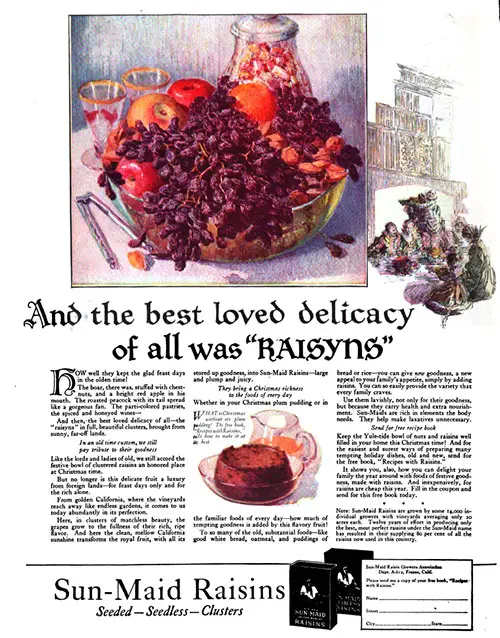 California Sun-Maid Raisins - The Best Loved Delicacy of All © 1923