Ovaltine Tonic Food Beverage
Rich in vitamins and nutrients, Ovaltine is the home beverage for health. This product is said to be a concentrated extract of malt, milk, eggs and cocoa, and has been prescribed by European physicians for almost half a century.
Enables the Mother to Nurse her Child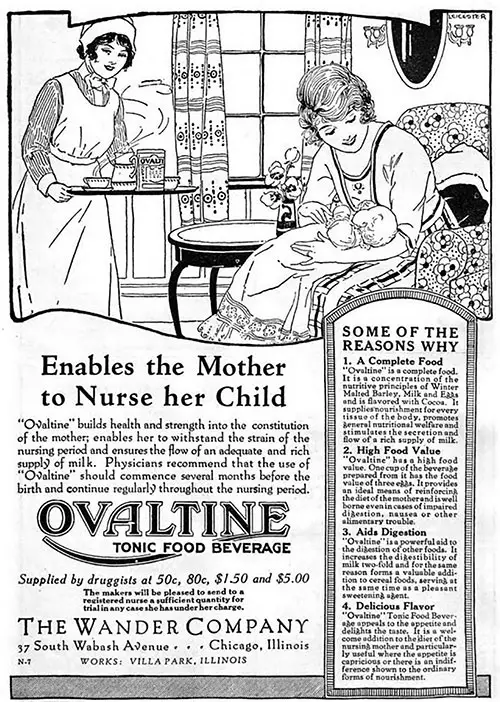 "Ovaltine" builds health and strength into the constitution of the mother; enables her to withstand the strain of the nursing period and ensures the flow of an adequate and rich supply of milk. Physicians recommend that the use of "Ovaltine" should commence several months before the birth and continue regularly throughout the nursing period.
Some of the Reasons Why
1. Complete Food
"Ovaltine" is n complete food. It is a concentration of the nutritive principles of Winter Mailed Barley. Milk and Eggs and is flavored with Cocoa. It supplies nourishment for every tissue of the body, promotes general nutritional welfare and stimulates the secretion and flow of a rich supply of milk.
2. High Food Value
"Ovaltine" has a high food value. One cup of the beverage prepared from it has the food value of three eggs. It provides un ideal means of reinforcing the diet of the mother and is well borne even in cases of impaired digestion, nausea or other alimentary trouble
3. Aids Digestion
"Ovaltine" is a powerful aid to the digestion of other foods. It increases the digestibility of milk two-fold and for the same reason forms a valuable addition to cereal foods, serving at the same time as a pleasant sweetening agent.
4. Delicious Flavor
"Ovaltine" Tonic Food Beverage appeals to the appetite and delights the taste. It is a welcome addition to the diet of the nursing mother and particularly useful where the appetite is capricious or there is on indifference shown to the ordinary forms of nourishment.
Supplied by druggists at 50c, 80c, $150 and $5.00
The Home Beverage for Health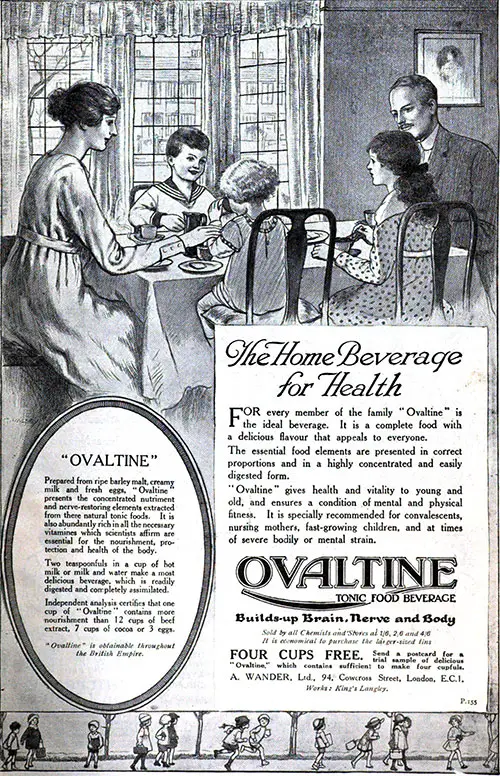 "OVALTINE"
Prepared from ripe barley malt, creamy milk and fresh eggs, " Ovaltine ' presents the concern rated nutriment and nerve-restoring elements extracted from there natural tonic foods. It is also abundantly rich in all the necessary vitamines which scientists affirm are essential for the nourishment, protection and health of the body.
Two teaspoonfuls in a cup of hot milk or milk and water make a most delicious beverage, which is readily digested and completely assimilated.
Independent analysis certifies that one cup of *Ovaltine" contains more nourishment than 12 cups of beef extract, 7 cups of cocoa or 3 eggs.
Ovaltine" is obtainable throughout the British Empire.
The Home Beverage for Health
For every member of the family " Ovaltine " is the ideal beverage. It is a complete food with a delicious flavor that appeals to everyone.
The essential food elements are presented in correct proportions and in a highly concentrated and easily digested form.
Ovaltine" gives health and vitality to young and old, and ensures a condition of mental and physical fitness. It is specially recommended for convalescents, nursing mothers, fast-growing children, and at times of severe bodily or mental strain.
OVALTINE TONIC FOOD BEVERAGE
Builds-up Brain, Nerve, and Body
Ovaltine - The Tonic Food Beverage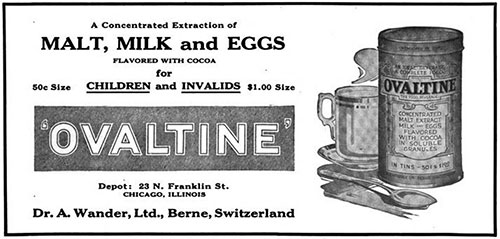 As a tonic, "Ovaltine" possesses marked tonic and energizing qualities. This is due to the rapidity with which it is digested, and to the promptitude with which its reconstructive and restorative materials become available to the jaded body, brain and nerve cells.
The artificial stimulus obtained by alcohol or drug tonics is merely transitory and often harmful. "Ovaltine'' gives real and lasting tone and energy, promotes that feeling of "wellbeing-' which accompanies robust health, and greatly benefits those whose systems are "overwrought" or debilitated.
As a body builder. Measured by the exact scientific Caloric Value method of estimating nourishing and bodybuilding power, a cup of "Ovaltine" Food Beverage, without milk or sugar, contains nearly five times as much nourishment as a cup of any Cocoa, whilst being lighter and more digestible. And a teacupful of milk with two teaspoonfuls of "Ovaltine" possesses twice the bodybuilding power contained in a dessertspoonful of Malt Extract and Cod Liver Oil Emulsion, eight times that in one wineglassful of Meat and Malt Wine, or thirty times that available in one teacupful of Beef Extract "Tea."
For the Convalescent, for the Nursing Mother, for the Ill Nourished; or wherever a powerful reinforcement of the diet is required, without throwing strain upon the assimilative functions, "Ovaltine" has been proved to be of great service.
As the Children's Beverage. For rapidly growing children, particularly where the digestive functions are not equal to the demands of the growth, and where tea and coffee are inadmissible. "Ovaltine" is ideal. Children are invariably attracted by the flavor.
For the Strenuous Life, for Brain Workers, for Active Business Men, a sustained mental activity and capacity for work are the chief assets. These depend largely upon health; health of the body and health of the nerves.
These in turn depend mainly upon good nutrition. "Ovaltine" nourishes the brain. nerve and muscle cells with those reconstructive elements which they require and promotes mental "staying power" and an increased resistance to, and immunity from diseases, of the minor as well as the more severe kinds.
"Ovaltine" for Breakfast is a splendid "start" for the day's doings, and as a light repast between principal meals is that "extra" source of energy so necessary.
As a "Night Cap." insomnia is frequently due to the brain being kept active by the slight irritation caused through a flow «if gastric juice on an empty stomach "Ovaltine" taken just before retiring stops this irritation without itself being difficult of digestion. "Ovaltine" promotes healthy and restful sleep.