RMS Campania Passenger Lists 1895-1910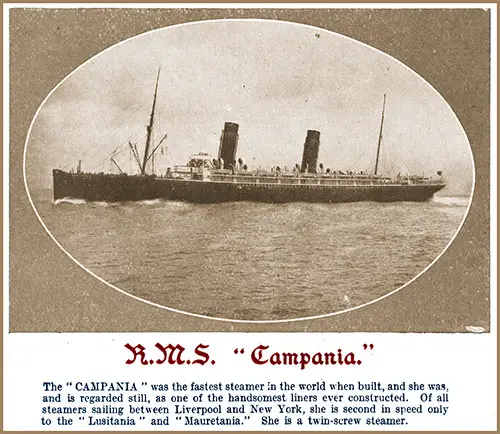 The RMS Campania (1893) of the Cunard Line. The Campania Was the Fastest Steamer in the World When Built, and She Was and is Still Regarded as One of the Handsomest Liners Ever Constructed. Of All Steamers Sailing Between Liverpool and New York, She Is Second in Speed Only to the Lusitania and Mauretania. She Is a Twin-screw Steamer. Cunard Daily Bulletin, Summer 1912. GGA Image ID # 1d350c87d5
Campania (1893) Cunard Line
Built by Fairfield Shipbuilding and Engineering Co., Ltd., Govan, Glasgow. Tonnage: 12,950. Dimensions: 598' x 65'. Twin-screw, 22 knots. Two masts and two funnels. Launched on September 8, 1892. Building cost amounted to approximately $3,000,000. From her keel to the top of her funnels measured 130 feet high. The diameter of the funnels was 19 feet. The main dining saloon measured 85 feet by 63 feet and seated over 400 passengers at one time. Commenced her maiden voyage from Liverpool on April 22, 1893. WW1 Service: In 1914 she was sold to T. W. Ward & Company, famous shipbreakers. Before scrapping operations could be started she was requisitioned by the British Government for war service, and converted into a seaplane carrier and used at the Battle of Jutland. Fate: On November 5, 1918 she was in collision with the battleship Revenge in the Firth of Forth and as a result sunk. Sister ship: Lucania.
All Digitized Passenger Lists For the RMS Campania Available at the GG Archives. Listing Includes Date Voyage Began, Steamship Line, Vessel, Passenger Class and Route.
Passenger Lists contained in the GG Archives collection represent the souvenir list provided to the passengers of each cabin class (and other classes). Many of these souvenir passenger lists have disappeared over the years. Our collection contains a sampling of what was originally produced and printed by the steamship lines.