SS City of Chicago Passenger Lists 1883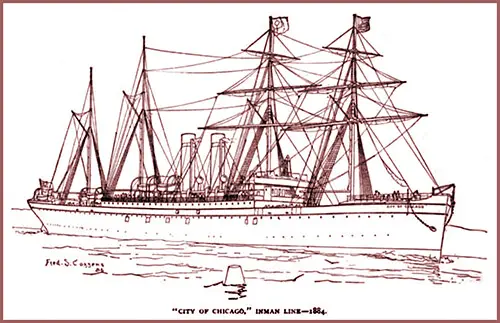 The SS City of Chicago of the Inman Line (1884). Recreation Magazine, May 1887. GGA Image ID # 1d2d9705ea
City of Chicago (1883) Inman Line.
Built by Charles Connell & Co., Scotstoun, Glasgow, Scotland. Tonnage: 5,202. Dimensions: 430'x 45'. Single-screw, 14 knots. Compound engines. Four masts and two funnels. Iron hull. Note: Laid down as the Vancouver, as she originally was intended for the Dominion Line. Maiden voyage: Liverpool-New York, September 18, 1883. Fate: Wrecked by stranding near Old Head of Kinsale, on south coast of Ireland, July 1892. Ex-Vancouver (1883).
All Digitized Passenger Lists For the SS City of Chicago Available at the GG Archives. Listing Includes Date Voyage Began, Steamship Line, Vessel, Passenger Class and Route.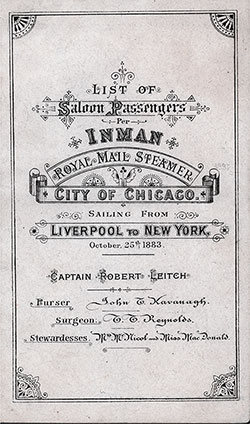 Steamship Line: Inman Line
Class of Passengers: Saloon
Date of Departure: 25 October 1883
Route: Liverpool to New York
Commander: Captain Robert Leitch
Passenger Lists contained in the GG Archives collection represent the souvenir list provided to the passengers of each cabin class (and other classes). Many of these souvenir passenger lists have disappeared over the years. Our collection contains a sampling of what was originally produced and printed by the steamship lines.