SS Caledonia Passenger Lists 1905-1938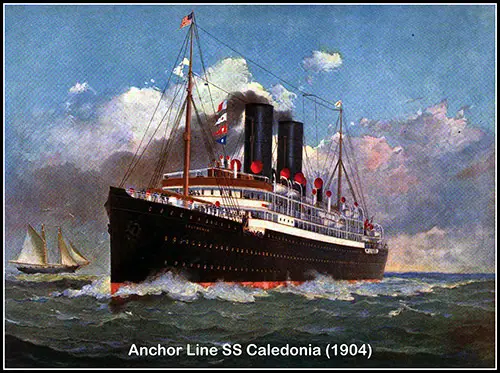 SS Caledonia (1904) of the Anchor Steamship Line. History of the Anchor Line, 1911, p. 30. GGA Image ID # 1d263b4a5a
Caledonia (1904) Anchor Line.
Built by D. & W. Henderson & Co., Glasgow, Scotland. Tonnage: 9,223. Dimensions: 500' x 58'. Twin-screw, 16 knots. Tripie expansion engines. Two masts and two funnels. Maiden voyage: Glasgow-New York, March 25, 1905. Passenger accommodation as of 1912: 390 first, 376 second, 850 third. Fate: Torpedoed and sunk in Mediterranean, December 4, 1916. Running mates: California, Cameronia and Columbia.
All Digitized Passenger Lists For the SS Caledonia Available at the GG Archives. Listing Includes Date Voyage Began, Steamship Line, Vessel, Passenger Class and Route.
The "Caledonia" (III) 1904/1905, a vessel of 9223 tons, 515 feet in length over all, by 58 feet beam and 33 feet 4 inches depth of hold, was launched. She was the finest and most expensive vessel in the fleet, and retains her great popularity still as being one of the speediest and most luxuriously equipped steamers sailing out of the Clyde. She was christened by the Duchess of Montrose. She carries 250 saloon, 350 second-class, and 850 third-class passengers, and performs the voyage between Glasgow and New York in a trifle over 7 days.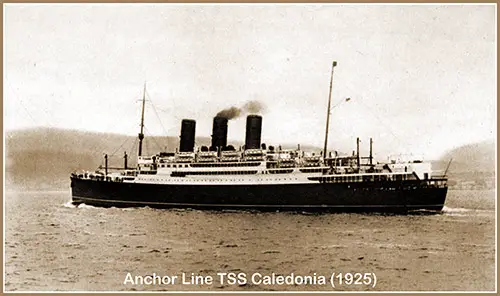 TSS Caledonia (1925) of the Anchor Steamship Line. GGA Image ID # 1d264cf910
Caledonia (1925) Anchor Line.
Built by Alexander Stephen & Sons, Ltd., Glasgow, Scotland. Tonnage: 17,046. Dimensions: 553' x 70' (578' o.l.). Twin-screw, 15 knots. Speed increased to 17 knots in 1939. Steam turbines. Two masts and three funnels. Passengers: 264. first, 458 second, 620 third. Launched, April 22, 1925. Maiden voyage: Glasgow-New York, October 3, 1925. Notes: Converted to armed merchant cruiser in 1939. Renamed: Scotstoun (1939). Fate: Torpedoed and sunk in the North Atlantic, June 13, 1940. Sister ship: Transylvania.
Passenger Lists contained in the GG Archives collection represent the souvenir list provided to the passengers of each cabin class (and other classes). Many of these souvenir passenger lists have disappeared over the years. Our collection contains a sampling of what was originally produced and printed by the steamship lines.