SS Cassandra Passenger Lists 1914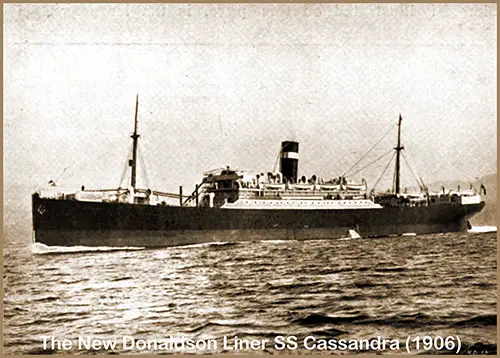 The New Donaldson Liner Cassandra (1906). Built by Scott's Shipbuilding and Engineering Company, Limited, Greenock. The Syren & Shipping Illustrated, 2 January 1907. GGA Image ID # 1d2e0dead9
Cassandra (1906) Anchor-Donaldson Line
Built by Scott's Shipbuilding & Engineering Co., Greenock, Scotland. Tonnage: 8,135. Tonnage originally 7,396. Dimensions: 455' x 53'. Twin- screw, 14 knots. Triple expansion engines. Two masts and one funnel. Passengers: 200 second and 1,000 third. Maiden voyage: Glasgow-Quebec- Montreal, September 22, 1906. Note: Passenger accommodation removed in 1925. Renamed: (a) Carmia (b) Drachtenstein (Bernstein Line).
All Digitized Passenger Lists For the SS Cassandra Available at the GG Archives. Listing Includes Date Voyage Began, Steamship Line, Vessel, Passenger Class and Route.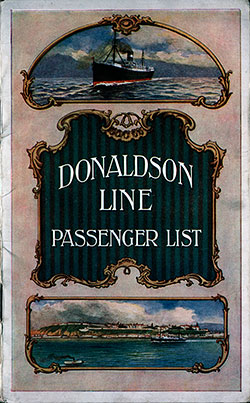 1914-08-29 TSS Cassandra Passenger List
Steamship Line: Donaldson Line
Class of Passengers: Cabin
Date of Departure: 29 August 1914
Route: Glasgow to Quebec and Montreal
Commander: Captain Robert C. Brown
Passenger Lists contained in the GG Archives collection represent the souvenir list provided to the passengers of each cabin class (and other classes). Many of these souvenir passenger lists have disappeared over the years. Our collection contains a sampling of what was originally produced and printed by the steamship lines.