RMS Celtic Passenger Lists 1904-1928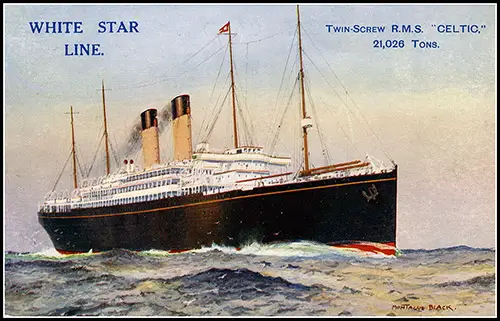 Twin-Screw RMS Celtic (1901) 21,026 Tons of the White Star Line. From a Painting by Montague Black. GGA Image ID # 1d2e302fbb
Celtic (1901) White Star Line
Built by Harland & Wolff, Ltd., Belfast, Ireland. Tonnage: 20,904. Dimensions: 680' x 75' (697' o.l.). Twin-screw, 17 knots. Quadruple expansion engines. Four masts and two funnels. Note: First steamship to exceed 20,000 tons. Maiden voyage: Liverpool-New York, July 26,1901. Passengers: 347 first, 160 second, 2,350 third. Converted to cabin class liner in 1928. Fate: Went aground in a dense fog at entrance to Queenstown harbor, December 10, 1928 and became a total loss. Dismantled by shipbreakers in 1933, as she was a danger to navigation. Sister ship: Cedric. Similar ships: Adriatic and Baltic. Note: These liners were noted for their steadiness in bad weather.
All Digitized Passenger Lists For the RMS Celtic Available at the GG Archives. Listing Includes Date Voyage Began, Steamship Line, Vessel, Passenger Class and Route.
Passenger Lists contained in the GG Archives collection represent the souvenir list provided to the passengers of each cabin class (and other classes). Many of these souvenir passenger lists have disappeared over the years. Our collection contains a sampling of what was originally produced and printed by the steamship lines.