RMS Andania Passenger Lists 1924-1928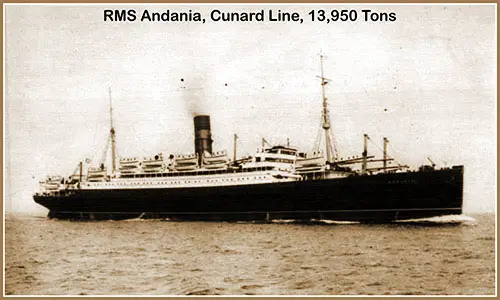 The RMS Andania (1922) of the Cunard Line, 13,950 Tons. GGA Image ID # 1d2118939b
Andania (1922) Cunard Line.
Built by R. and W. Hawthorne, Leslie & Co., Ltd., New-Castle-on-Tyne, England.
Tonnage: 13,950.
Dimensions: 520' X 65' (540' o.l.). Twin-screw, 15 knots. Oil Burning, Steam Turbines. Two masts and one funnel.
Passengers: 500 Cabin Class, 1,200 Third Class.
Note: Converted to British armed merchant cruiser in 1929.
Fate: Torpedoed and sunk near Iceland on 15 June 1940.
Sister ships: Alaunia, Ascania, and Aurania. All Built for the Canadian Trade.
All Digitized Passenger Lists For the RMS Andania Available at the GG Archives. Listing Includes Date Voyage Began, Steamship Line, Vessel, Passenger Class and Route.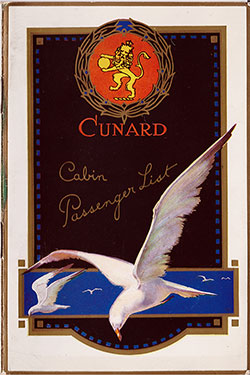 1924-08-01 RMS Andania Passenger List
Steamship Line: Cunard Line
Class of Passengers: Cabin
Date of Departure: 1 August 1924
Route: Southampton to Quebec & Montreal via Cherbourg & Queenstown (Cobh)
Commander: Captain R. V. Peel., R.N.R.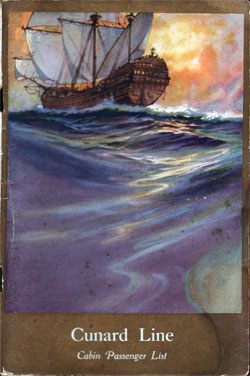 1925-05-06 RMS Andania Passenger List
Steamship Line: Cunard Line
Class of Passengers: Cabin
Date of Departure: 6 May 1925
Route: Hamburg to Halifax NS and New York via Southampton, Cherbourg, and Queenstown (Cobh)
Commander: Captain E. G. Diggle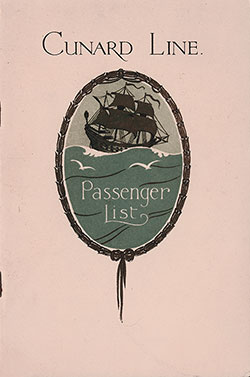 1928-08-17 RMS Andania Passenger List
Steamship Line: Cunard Line
Class of Passengers: Tourist Third Cabin
Date of Departure: 17 August 1928
Route: Liverpool to Quebec and Montreal via Greenock and Belfast
Commander: Captain E. Edkin, O.B.E., R.D., R.N.R.
Passenger Lists contained in the GG Archives collection represent the souvenir list provided to the passengers of each cabin class (and other classes). Many of these souvenir passenger lists have disappeared over the years. Our collection contains a sampling of what was originally produced and printed by the steamship lines.
R. & W. Hawthorn, Leslie & Co., Ltd., Hebburn-on-Tyne.
Twin-screw passenger and cargo steamer" Andania." of the intermediate type; 540 ft. overall, by 65 ft by 43 ft.; 14,000 tons gross; 15 knots' speed. The vessel is the seventh to be launched of the ships in the Cunard Steamship Company's post-war building program. Two of these— the Scythia and Albania are already in commission. The Andania, too, is one of six ships of her type, carrying only cabin and third-class passengers.
Designed especially for the Cunard Company's Canadian service, she is expected to take up her service in the spring. Accommodation is provided for 500 cabin class and 1,200 third-class passengers.
The saloon for cabin passengers is situated on the "D" deck. The main staircase leads from after the end of the saloon and, passing through the intermediate decks and giving access to the staterooms, etc., terminates in the writing room on "A" deck.
On the "A" deck are a writing room, lounge, smoking room, and verandah café. A children's room is also provided. For third-class passengers, the public spaces are unusually spacious and comprise a dining saloon, smoking room, general room, etc. The third-class cabins are fitted for two and four passengers.
The propelling machinery, constructed by the shipbuilding company at their St. Peter's Works, Newcastle, consists of two sets of Parsons turbines driving twin screws through double-reduction mechanical gearing and arranged to take superheated steam at 220 lbs pressure. The ahead propelling machinery of each set comprises one h.-p. Turbine driving through a flexible coupling, one pinion, and one l.-p. Turbine driving through a flexible coupling the other pinion of the first-reduction gearing and the second-reduction pinions to the gear-wheel mounted on the main shaft.
The astern turbines are incorporated in the same casings as the l.-p. Ahead turbines. The total power for astern work is about 63 percent of the ahead power. The complete installation can develop a collective S.H.P. of about 8,500 with the revolutions of the propeller shafts at about 90 per minute.
The h.-p. Turbines are designed for 3,190 RPM. and the 1.-p. Turbines for 2,170 revs. Steam is supplied by two double-ended and two single-ended boilers, placed in one compartment of the ship.
The boilers are arranged for burning oil fuel on the White low-pressure system. Still, provision is also made for fitting coal-burning furnace mountings. How- den's forced draught system is installed, and the superheaters are of Robinson's smoke-tube type. Launched, 1st November 1921.
"Launches and Trial Trips," in The Shipbuilder, Vol. XXV, No. 136, December 1921, pp. 357-358.