RMS Albertic Passenger Lists 1927-1929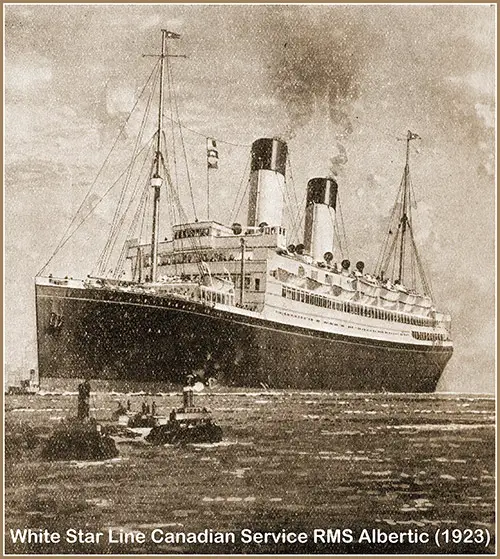 RMS Albertic (1923) of the White Star Line Canadian Service. 19,000 Tons. The Largest Steamer to Montreal. GGA Image ID # 1d3f3972f8
Albertic (1923) White Star Line
Built by Akt. Ges. "Weser", Bremen, Germany. Tonnage: 18,940. Dimensions: 590' x 72'. Twin-screw, 16 knots. Quadruple expansion engines. Two masts and two funnels. Launched as the München on March 23, 1920. Ceded to Great Britain in 1920. Sold to Royal Mail Line in 1922. Renamed: Ohio (1923), (b) Albertic (1927). Broken up by Japanese shipbreakers in 1934.
White Star Line Albertic (1923) Passenger Lists Available at the GG Archives:
Passenger Lists contained in the GG Archives collection represent the souvenir list provided to the passengers of each cabin class (and other classes). Many of these souvenir passenger lists have disappeared over the years. Our collection contains a sampling of what was originally produced and printed by the steamship lines.
Primary Categories