RMS Cretic Passenger Lists 1904-1913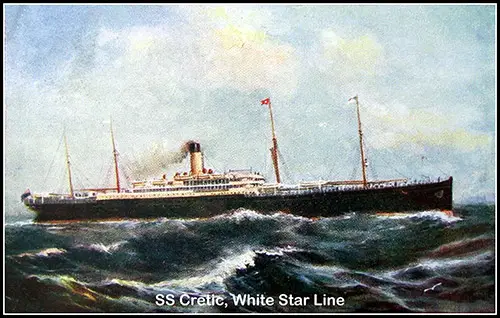 The Steamship SS Cretic of the White Star Line (1902). GGA Image ID # 1d1d5871a6
Cretic (1902) White Star Line.
Built by Hawthorn, Leslie & Co., Newcastle, England. Tonnage: 13,507. Dimensions: 582' x 60' (601' o.l.). Twin- screw, 16 knots. Triple expansion engines. Four masts and one funnel. First voyage as Cretic, November 26, 1903, Liverpool-Boston. Renamed: Devonian (1923). Broken up for scrap in 1930. Ex-Mayflower (1903), ex-Hanoverian (1903).
All Digitized Passenger Lists For the RMS Cretic Available at the GG Archives. Listing Includes Date Voyage Began, Steamship Line, Vessel, Passenger Class and Route.
Passenger Lists contained in the GG Archives collection represent the souvenir list provided to the passengers of each cabin class (and other classes). Many of these souvenir passenger lists have disappeared over the years. Our collection contains a sampling of what was originally produced and printed by the steamship lines.
Steamship Cretic of the White Star Line
One of the most notable vessels of the White Star Line's service from New York to the Mediterranean is the steamship Cretic, a staunch vessel of yacht-like lines, four masts and a single funnel. The Cretic has often been pronounced by passengers to be as steady as the proverbial rock, and is, indeed, most comfortable in any sea. In fact, mal-de-mer is an exceptional occurrence among passengers on this steamer, and because of this her popularity is constantly growing.
The Cretic's principal dimensions are: Length, 602 feet; beam, 60 feet; molded depth, 42 1/2 feet; gross tonnage, 13,518 tons; and her twin-screws are driven at a fifteen-knot speed by twin, triple expansion engines of the most modern type.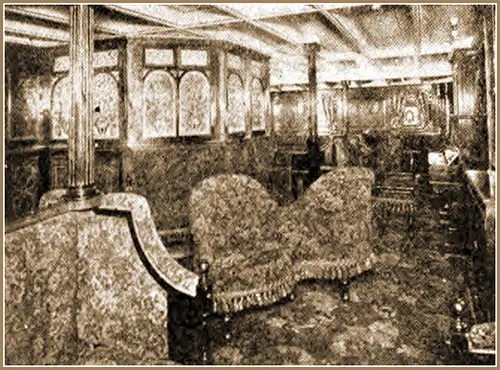 First Class Lounge on the SS Cretic of the White Star Line. Facts for Travelers, 1908, p. 84. GGA Image ID # 1d1d1fa9d3
The apartments for first-class passengers on the Cretic are situated well amidships, as on the other steamers in the Mediterranean Services of the White Star Line. The dining saloon is most comfortably seated, and when the tables are arranged for the ship's passengers, this apartment presents a very attractive appearance. The location of the saloon insures plenty of light and air, requisites greatly appreciated on the southern route.
The library and the smoke room attract the passenger by the facilities they afford for the passing of a pleasant hour, and each of these rooms is always in demand. The furnishings of the passenger staterooms are in excellent taste, and the Cretic can boast of a decided innovation in this connection, as she is equipped with several of the new " Bibby " plan staterooms. By means of a unique provision for light and air, the rooms located inside (which, on other ships, have no daylight connection) are made equal to the regular outside cabins.
Spacious decks make possible the pleasant outdoor existence which is the special charm of the Mediterranean trip.