SS Chemnitz Passenger Lists 1902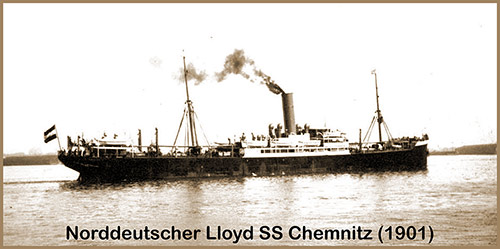 The SS Chemnitz (1901) of the Norddeutscher Lloyd Bremen. The Ship was Built for the Emigrant Trade, Capable of Carrying Almost 2,000 Immigrants in Steerage. GGA Image ID # 1d30cbb9eb
Chemnitz (1901) North German Lloyd.
Built by J. C. Tecklenborg, Geestemunde, Germany. Tonnage: 7,543. Dimensions: 428' x 54'. Twin-screw, 13 knots. Triple expansion engines. Two masts and one funnel. Passengers: 129 Second Class and 1,935 Third Class. Maiden Voyage: Bremen to Baltimore 21 March 1902. Service : Mainly in Europe-Baltimore. Notes: Acquired by Ellerman Wilson Line after World War I. Sold to Dutch shipbreakers in November 1923. Sister ships: Cassel, Brandenburg and Breslau.
All Digitized Passenger Lists For the SS Chemnitz Available at the GG Archives. Listing Includes Date Voyage Began, Steamship Line, Vessel, Passenger Class and Route.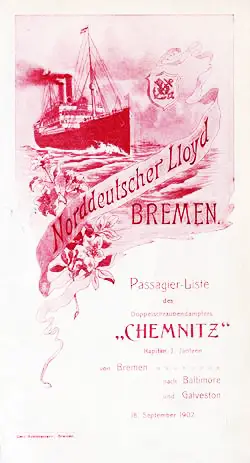 1902-09-18 SS Chemnitz Passenger List
Steamship Line: Norddeutscher Lloyd (North German Lloyd)
Class of Passengers: Cabin
Date of Departure: 18 September 1902
Route: Bremen to Baltimore and Galveston
Commander: Captain J. Jantzen
Passenger Lists contained in the GG Archives collection represent the souvenir list provided to the passengers of each cabin class (and other classes). Many of these souvenir passenger lists have disappeared over the years. Our collection contains a sampling of what was originally produced and printed by the steamship lines.