SS Assyria Passenger Lists 1922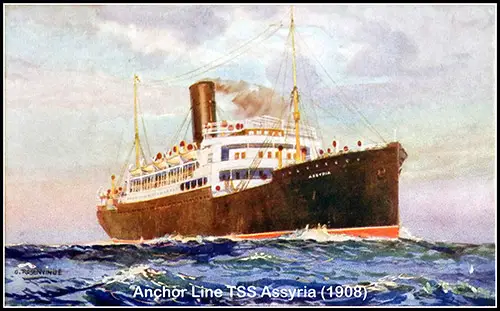 TSS Assyria (1908) of the Anchor Steamship Line. GGA Image ID # 1d2670b043
Assyria (1908) Anchor Line.
Built by Frd. Krupp, Kiel, Germany. Tonnage: 8,072. Dimensions: 449' x 54'. Twin-screw, 13 1/2 knots. Quadruple expansion engines. Two masts and one funnel. Passengers: 240 cabin, 140 third. First voyage Glasgow-New York, May 28, 1921. Sold to Portuguese owners in December 1929. Renamed: Colonial (1929). Wrecked in 1950 after having been sold for scrap. Ex-Ypiranga (1921).
All Digitized Passenger Lists For the SS Assyria Available at the GG Archives. Listing Includes Date Voyage Began, Steamship Line, Vessel, Passenger Class and Route.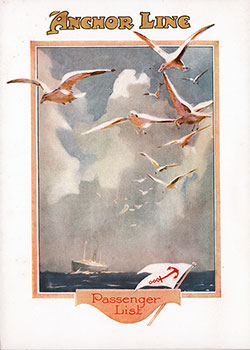 1922-08-26 RMS Assyria Passenger List
Steamship Line: Anchor Steamship Line
Class of Passengers: Cabin
Date of Departure: 26 August 1922
Route: Glasgow to New York via Moville
Commander: Captain C. E. F. Osborne, R.D., R.N.R.
Passenger Lists contained in the GG Archives collection represent the souvenir list provided to the passengers of each cabin class (and other classes). Many of these souvenir passenger lists have disappeared over the years. Our collection contains a sampling of what was originally produced and printed by the steamship lines.
A Brief History of the RMS Assyria
The RMS Assyria, Ex-Ypiranga of the Hamburg-American Line. Anchor Line took control of the ship in 1921 from the White Star Line and renamed it Assyria. The Ship was primarily used in their Bombay-UK routes, but also made some transatlantic voyages. Originally Built in 1908 by Germaniawerft, she measured 448.4 ft by 55.3 ft, and 8,142 gross register tons.
On April 15th, 1912, Ypiranga was one of many ships in contact with the RMS Titanic as the Titanic was sinking.
In 1919, the ship was ceeded to the UK for war reparations.