SS Asturias Passenger Lists 1935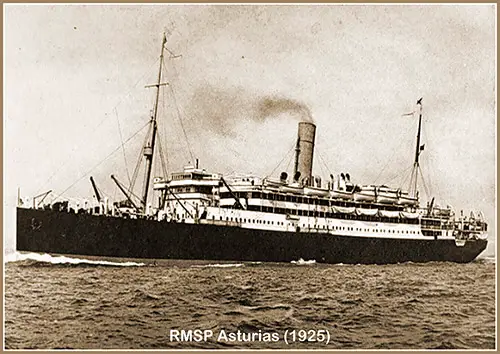 Royal Mail Line MS Asturias (1925). GGA Image ID # 1d235c8c0e
Asturias (1925) Royal Mail Line (British).
Built by Harland & Wolff, Ltd., Belfast, Ireland. Tonnage: 22,071. Dimensions: 630' x 78' (655' o.l.). Twin-screw, 17 1/2 knots. Motorship. Converted to steam turbines in 1934. Two masts and two funnels. Later had only a single mast and one funnel. Note: As altered length was 641' (685' o.l.). After World War II was placed in service to Australia carrying emigrants. Scrapped in Great Britain, 1957. Sister ship: Alcantara.
All Digitized Passenger Lists For the SS Asturias Available at the GG Archives. Listing Includes Date Voyage Began, Steamship Line, Vessel, Passenger Class and Route.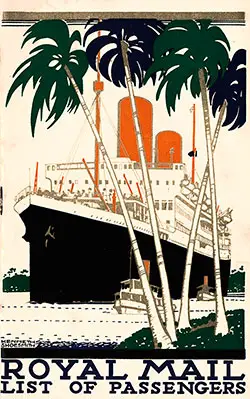 1935-06-01 SS Asturias Passenger List
Steamship Line: Royal Mail Lines
Class of Passengers: First and Second Saloon
Date of Departure: circa 1 June 1935 (Note 1)
Route: Southampton to Buenos Aires via London (Tilbury), Cherbourg, Boulogne-sur-Mer, Spain (Coruña Galicia [A Coruña], Las Palmas, Vigo), Portugal (Leixöes, Lisbon), Madeira, St. Vincent, Cape Verde Island, Brazil (Bahia, Pernambuco [Recife], Rio de Janeiro, Santos, São Paulo), Montevideo, Uruguay
Commander: Captain A. Purvis
Note 1: Passenger List did not provide departure date from Southampton - Only the Arrival date (18 June 1935) for Buenos Aires Argentina
Passenger Lists contained in the GG Archives collection represent the souvenir list provided to the passengers of each cabin class (and other classes). Many of these souvenir passenger lists have disappeared over the years. Our collection contains a sampling of what was originally produced and printed by the steamship lines.
The Motor Passenger Liner Asturias
On the 7th inst., the motor ship Asturias was launched from Messrs. Harland and Wolff's East Yard at Belfast by Her Excellency the Duchess of Abercorn in the presence of Lord Kylsant, the Chairman of the Royal Mail Steam Packet Company and a distinguished company.
The Asturias is of 22,000 tons gross register. The leading dimensions of the Asturias are: Length, 655 ft. 8 in.; breadth, 78 ft.; and depth, 45 ft.; and she is driven by a pair of Harland, Burmeister, and Wain, 8-cylinder four-cycle, double-acting Diesel engines, running at 115 r.p.m.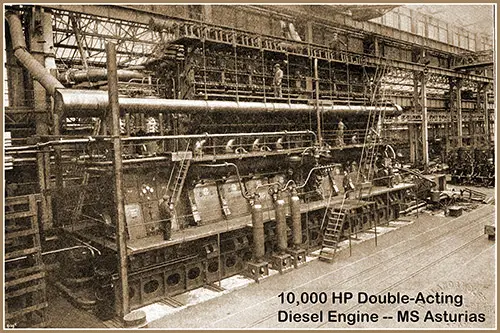 10,000 HP Double-Acting Diesel Engine for the MS Asturias of the Royal Mail Line. Engineering Magazine, 10 July 1925, p. 45. GGA Image ID # 1d2368c126
The engines develop 10,000 i.h.p. each and deliver their 20,000 h.p. on two shafts, thus maintaining the standard twin-screw practice. The above image shows the engines and, as will be seen, follow the lines of previous four-cycle double-acting engines by the same makers.
Two three-stage air compressors arranged in tandem are mounted at the forward end of each engine and driven off an extension of the crankshaft, providing compressed air for fuel injection.
Each of these compressors' output is nearly enough to serve the engine at full output. The fuel pumps are also driven off the main engine.
The engines have forced lubrication throughout, oil serving also for cooling the piston, and freshwater being used in the cylinder jackets for cooling.
Manœuvring air is provided by three two-stage air compressors, charging six steel reservoirs at 25 atmospheres. Like the other engine room auxiliaries, the compressors are electrically driven by independent motors.
Considerable use is made of electricity throughout the vessel, some of the applications being much in advance of what is usual on land. Two oil-fired vertical boilers supply steam for cooking purposes. A small emergency steam-driven compressor is also provided.
The lighting takes some 4,000 lamps in all, in addition to the standard navigation lights with Morse lantern and the high- ranjïle power lamps and lanterns required by the latest B.O.T. regulations for working cargo.
Ventilation, which in warm climates is much more than a luxury, provides unusual liberality. Over 500 cabin and ceiling fans are fitted in staterooms and public rooms, in addition to 60 large fans for delivering cold air to the accommodation.
The heating likewise is exclusively electric, some 500 electric heaters distributed throughout the public rooms and accommodation.
Electric cooking ranges are provided for the service of passengers and crew, salamanders, grills, toasters, griddle plates, and fish fryers. Electrically-heated hot plates are distributed at intervals over the dining room. There are also two large electrically-heated bakers' ovens.
The Royal Mail Motor Passenger Liner Asturias. Engineering Magazine, 4 December 1925, p. 713. GGA Image ID # 1d23f01170
Large sterilizers will be installed in the hospitals and barbers' shops, the latter having electrically-heated hair dryers and Vibro massage machines. Special devices are provided in the kitchen for mincing, grinding, slicing, washing plates, peeling potatoes, mixing dough, and other purposes.
A printing machine, laundry motor, gymnastic motor, and photographic pr printing machine for the dark room are among the miscellaneous applications that have become convenient because of the electric drive.
There is, of course, a complete system of bells and telephones throughout the ship and excellent equipment for wireless telegraphy, both on the vessel itself and the motor lifeboats.
The design and decorations of the vessel embody a considerable amount of luxury. There is a swimming bath, 29 ft. long by 17 ft. broad by 8 ft. deep, on the orlop deck, with marble and tile floors and an upper tier of dressing boxes around a gallery.
The public rooms include a dining room, social hall (corresponding to a drawing-room, but with a stage and a dance floor), lounge, reading and writing room, smoke room, and, on the top deck, a winter garden, and a children's playroom, all for the accommodation of first-class passengers, with some cabins deluxe, including a bedroom 20 ft. by 10 ft., as well. The forward staircase passes through six decks, and there is also the main staircase aft. The height from the level of this deck to the top of the skylight over the staircase is about 60 ft.
The decorations of these several rooms are in the most various styles and carried out to the highest point of richness, models being sought in the styles of the French Empire, the Georgian epoch, and some country scats on which the brothers Adam, Grinling Gibbons, and others have done notable work.
The winter garden is in the Moorish style, and the children's playroom is a cottage and gardens of a Kate Greenaway type. The choice of marbles, timbers, floorcloths, tiles, and other elements of decorative construction, shows a wide variety and careful thought.
"The Motor Passenger Liner Asturias," in Engineering: An Illustrated Weekly Journal, London, Vol. CXX, 10 July 1925, pp. 45-46.