SS Cleveland Passenger Lists 1923-1930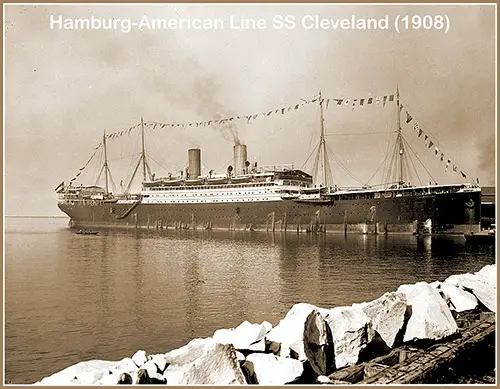 SS Cleveland (1908) of the Hamburg-American Line. GGA Image ID # 1d32acef97
Cleveland (1908) Hamburg-American Line
Built by Blohm & Voss, Hamburg, Germany. Tonnage: 16,971. Dimensions: 588' x 65'. Twin-screw, 16 knots. Quadruple expansion engines. Four masts and two funnels. Passengers: 239 first, 224 second, 2,391 third. Maiden voyage: Hamburg-Southampton-Cherbourg-New York, March 27, 1909. Note: Inaugurated a new service to Boston, along with the Cincinnati in May 1913. Renamed (a) Mobile (1917), (b) King Alexander (1920), (c) Cleveland (1923). Scrapped in Germany, 1933. Sister ship: Cincinnati.
Sister ship to the Cincinnati, a fine pair of intermediate steamers with big emigrant accommodation and large cargo capacity.
1913. May. With her sister ship, the Cincinnati, inaugurated new service from Hamburg to Boston.
1914. At commencement of war she was at Hamburg.
1919. Ceded to U.S. Government under Versailles Peace Treaty, and run as troopship under the name of Mobile.
1920. Sold to Byron S.S. Co. and renamed King Alexander, registered as British, Port of London. Used on emigration from Greece to U.S.A. Sold to United American Line.
1921. Sold to the Hamburg-American Line, renamed her original name, and went in service under her original flag.
Ï933, February. Sold to German shipbreakers.
All Digitized Passenger Lists For the SS Cleveland Available at the GG Archives. Listing Includes Date Voyage Began, Steamship Line, Vessel, Passenger Class and Route.
Passenger Lists contained in the GG Archives collection represent the souvenir list provided to the passengers of each cabin class (and other classes). Many of these souvenir passenger lists have disappeared over the years. Our collection contains a sampling of what was originally produced and printed by the steamship lines.