RMS Canopic Passenger Lists 1911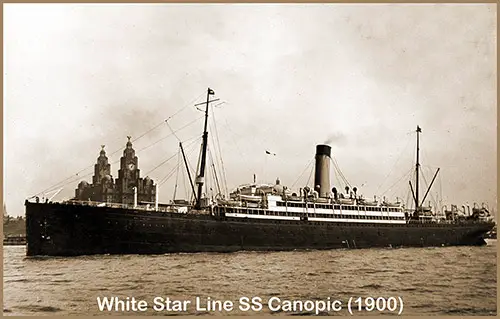 SS Canopic (1900) of the White Star Line. GGA Image ID # 1d39396e3b
Canopic (1900) White Star Line.
Built by Harland & Wolff, Ltd., Belfast, Ireland. Tonnage: 12,268.
Dimensions: 578' x 59' (594' o.l.). Twin-screw, 16 knots. Triple expansion engines. Two masts and one funnel. First voyage: Liverpool-Boston, January 14, 1904. Transferred to Mediterranean-New York service. Later in Canadian trade. Scrapped in 1925. Ex-Commonwealth (1903 Dominion Line).
All Digitized Passenger Lists For the RMS Canopic Available at the GG Archives. Listing Includes Date Voyage Began, Steamship Line, Vessel, Passenger Class and Route.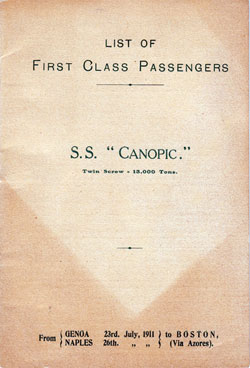 1911-07-23 SS Canopic Passenger List
Steamship Line: White Star Line
Class of Passengers: First Class
Date of Departure: 23 July 1911
Route: Genoa to Boston via Naples and Azores
Commander: Captain J. O. Carter
Passenger Lists contained in the GG Archives collection represent the souvenir list provided to the passengers of each cabin class (and other classes). Many of these souvenir passenger lists have disappeared over the years. Our collection contains a sampling of what was originally produced and printed by the steamship lines.
STEAMSHIP CANOPIC
So similar in plan to the steamship Republic is the Canopic —another recent product of Harland & Wolff—that she might be called her sister vessel, although her dimensions are slightly different, being: Length, 594 feet; beam, 59 feet; molded depth, 35 feet, 8 inches; tonnage, 12,097. The Canopic's triple expansion engines develop a splendid speed.
The regularity of her voyages is a matter of pride with her engineering force. Her popularity as a steady, roomy, and clean ship has advertised her good qualities among a steadily growing multitude of friends.
Steel construction was employed throughout, and her lines and plan are entirely modern in every respect. Passenger accommodations of the most comfortable type are located on three decks — the main, upper, and saloon—and the promenade deck contain special cabins, centrally located and furnished with all the accessories to a luxurious voyage.
This type of twin-screw steamer seems admirably adapted for a most comfortable and pleasant ocean passage—despite wind and wave—as the ship's bilge keels and massive displacement make her steady in any sea-way.