RMS Berengaria Passenger Lists 1923-1935

The RMS Berengaria of the Cunard Line circa 1920
Berengaria (1912) Cunard Line
Built by A. G. "Vulkan", Hamburg, Germany. Tonnage: 52,226. Dimensions: 883' x 98' (919' o.l.). Quadruple-screw, 23 1/2 knots. Steam turbines. Two masts and three funnels. The aft funnel was a dummy. Passengers: 970 first, 830 second, 1,000 third. First voyage for Cunard Line, Liverpool- New York, February 21, 1920. Last voyage New York- Cherbourg-Southampton in March 1938. Fate: Sold to British shipbreakers in November 1938. Partly dismantled for scrap prior to World War II. The remains towed to the Firth of Forth in 1946 and completely scrapped. Ex-Imperator (1921). Similar ships: Vaterland and Bismarck. Note: The Bismarck was never in service of Hamburg-American Line, as when completed she became the White Star Line Majestic.
All Digitized Passenger Lists For the RMS Berengaria Available at the GG Archives. Listing Includes Date Voyage Began, Steamship Line, Vessel, Passenger Class and Route.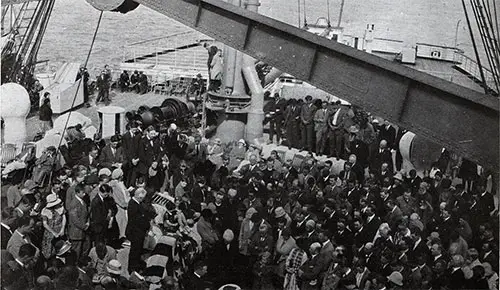 A Moment of Silent Prayer on the Berengaria. The Cunarder Magazine, September 1923.
Passenger Lists contained in the GG Archives collection represent the souvenir list provided to the passengers of each cabin class (and other classes). Many of these souvenir passenger lists have disappeared over the years. Our collection contains a sampling of what was originally produced and printed by the steamship lines.