RMS Cedric Passenger Lists 1927-1929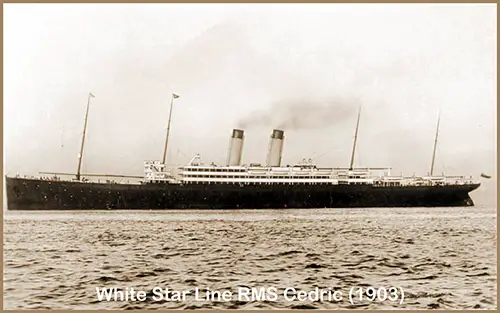 The RMS Cedric (1903) of the White Star Line. GGA Image ID # 1d2e12138a
Cedric (1903) White Star Line
Built by Harland & Wolff, Ltd., Belfast, Ireland. Tonnage: 21,227. Dimensions: 680' x (697' o.l.). Twin-screw, 17 knots. Quadruple expansion engines. Four masts and two funnels. Launched, August 21, 1902. Passengers: 365 first, 160 second, 2,350 third. Maiden voyage: Liverpool-New York, February 11, 1903. WW1 Service: Served as a troopship in World War I. Scrapped at Inverkeithing in 1932. Sister ship: Celtic. Similar to: Adriatic and Baltic. Note: Known as "The Big Four".
The SS Cedric and SS Celtic can easily be described together as they are sister ships and alike in a few minor details. Each has accommodations for nearly 3,000 passengers, besides quarters for a crew of 350. Both ships have become popular with regular trans-Atlantic travelers because of their exceptional steadiness and general roominess, features attributable to their enormous size. When they were launched at the shipyards of Harland & Wolff, Limited, they were, by displacement, the largest steamships in the world, among which they still maintain high rank.
All Digitized Passenger Lists For the RMS Cedric Available at the GG Archives. Listing Includes Date Voyage Began, Steamship Line, Vessel, Passenger Class and Route.
Passenger Lists contained in the GG Archives collection represent the souvenir list provided to the passengers of each cabin class (and other classes). Many of these souvenir passenger lists have disappeared over the years. Our collection contains a sampling of what was originally produced and printed by the steamship lines.