SS Alaunia Passenger lists 1925-1938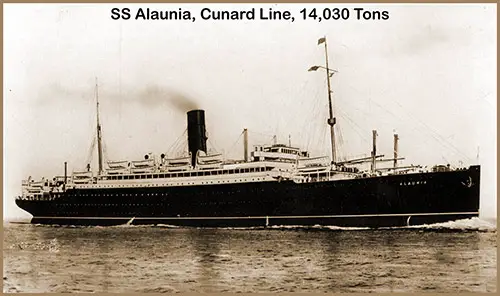 The SS Alaunia of the Cunard Line, 14,030 Tons. GGA Image ID # 1d2104c996
Alaunia (1925) Cunard Line
Built by John Brown & Co., Clydebank, Glasgow, Scotland. Tonnage: 14,030. Dimensions: 519' x 65' (540' o.l.). Twin- screw, 15 knots. Steam turbines. Two masts and one funnel. Passengers: 500 cabin, 1,200 third. Maiden voyage: Liverpool-Quebec-Montreal, July 24, 1925. Notes: Converted to British armed merchant cruiser in late 1939. Sold to British Royal Navy in December 1944; served as repair ship. Sister ships: Ascania and Aurania. Similar to Andania class. All were designed for the Canadian service.
Cunard Line Alaunia (1925) Passenger Lists Available at the GG Archives:
Passenger Lists contained in the GG Archives collection represent the souvenir list provided to the passengers of each cabin class (and other classes). Many of these souvenir passenger lists have disappeared over the years. Our collection contains a sampling of what was originally produced and printed by the steamship lines.
The New Vessel from Cunard -- SS Alaunia
The most notable of the new vessels of the past month was the Cunard liner Alaunia, already mentioned. The Alaunia is a twin-screw double-reduction geared-turbine steamship of 14,000 tons gross, 11,300 S H.P. at 90 revolutions per minute, and 15 knots' speed, with accommodation for 520 first-class and 1,040 third-class passengers and a crew of 319—a total of 1,879.
She was laid down about the middle of 1920. Due to high costs and the poor trade outlook, Cunard suspended work on her six months later. When she is completed, she will have been under construction for about five years, which, as Lord Aberconway remarked at the launch, will constitute a record for Clydebank, where, as a rule, vessels are built very rapidly.
It is also worthy of notice that the three last ships built at Clydebank for the Cunard Company, the Aquitania, the Franconia, and now the Alaunia—represent a steady decrease in size.
Mr. A. C. P. Henderson drew attention to this and said that if the process continued, their next Clydebank ship would be a tug! He hoped, however, that when the time came to place another order, Cunard would make progress in the direction of the Aquitania rather than downwards from the Alaunia.
Primary Categories