SS Berlin Passenger Lists 1937
All Digitized Passenger Lists For the SS Berlin Available at the GG Archives. Listing Includes Date Voyage Began, Steamship Line, Vessel, Passenger Class and Route.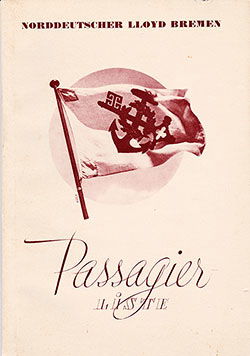 1937-08-31 SS Berlin Passenger List
Steamship Line: North German Lloyd (Norddeutscher Lloyd)
Class of Passengers: Cabin, Tourist, and Third Class
Date of Departure: 31 August 1937
Route: Bremen to New York via Southampton and Galway and Halifax
Commander: Captain F. Krone
Passenger Lists contained in the GG Archives collection represent the souvenir list provided to the passengers of each cabin class (and other classes). Many of these souvenir passenger lists have disappeared over the years. Our collection contains a sampling of what was originally produced and printed by the steamship lines.
THE S. S. "BERLIN" (1925)
The North German Lloyd has recently added another new ocean liner to its fleet — the S. S. "Berlin".
A number of the characteristic features introduced in the construction of the S. S. "Columbus" and other new liners of the North German Lloyd are found in the S. S. "Berlin".
For instance, the comparative luxurious equipment of the second cabin quarters, and even those of the third class. The public rooms of the "Berlin" are arranged so that the dining rooms of all three classes are situated on the same deck. This was done with a view of securing a quick service and simplifying the operation of the kitchens.
The SS Berlin was built by Bremer Vulkan, Vegesack, in 1925 for North German Lloyd. The ship was 15,286 gross tons, 549.3 feet in length x 69.2 feet wide, with two funnels, two masts, twin screws, and a cruising speed of 16 knots.
Launched on 24 March 1925, she sailed from Bremen to Southampton and New York on 26 September 1925 for her maiden voyage. There was accommodation for 220 First Class, 284 Second Class, and 618 Third class passengers.
In October 1929, she was refitted to carry 257 cabin class, 261 tourist third cabin, and 361 third class passengers. In October 1938, she made her last Bremen - New York voyage and was laid up at Bremen.
In 1939 she made two Nazi "Strength through joy" cruises and, on 17 July 1939, sustained a boiler explosion at Swinemunde with the loss of 17 lives. Repaired at Hamburg, she became a hospital ship and, in 1944, became an accommodation ship.
On 1 February 1945, she was sunk by a mine at Swinemunde. During 1948-49 was refloated by the Russians, renamed the SS Admiral Nakhimov, and rebuilt at Warnemunde to 17,053 tons.
In 1957 she was handed to the USSR State shipping line and mainly used in the Black Sea, but she also made voyages to Cuba. On 1 September 1986, she sank in the Black Sea following a collision with the SS Pyotr Vasev at the loss of 398 lives.