RMS Aquitania Passenger Lists 1914-1939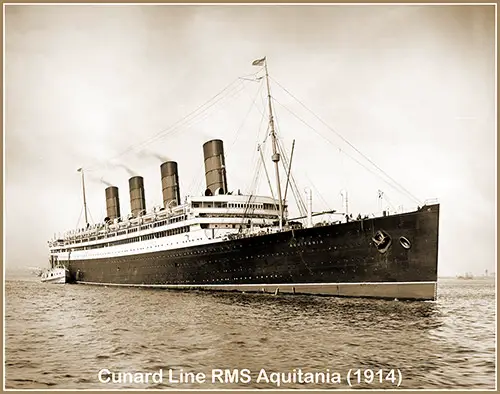 RMS Aquitania (1914) of the Cunard Line. Detroit Publishing Company, 1914. Library of Congress # 2016806680. GGA Image ID # 1d3304e641
Aquitania (1914) Cunard Line
Built by John Brown & Co., Ltd., Clydebank, Glasgow, Scotland. Tonnage: 45,647. Dimensions: 868' x 97' (901' o.l.). Quadruple-screw, 24 knots. Steam turbines. Two masts and four funnels. Fourth funnel was a dummy. From keel to boat deck measured 92 1/2 feet. Passengers: 597 first, 614 second, 2,052 third. Laid down in June 1911. Launched, April 23, 1913. Maiden voyage: Liverpool-New York, May 30, 1914. WW1 Service: Converted to an armed merchant cruiser in August 1914. Served as a hospital ship, 1915-19. She was later put in service as a troopship. Post War Service: Returned to regular passenger service in June 1919, ports being Southampton, Cherbourg and New York. WW2 Service: From 1939 to 1948 was used as a troopship. Post War Service: Returned to Cunard Line service in May 1948. Her final trans-Atlantic voyage was in November 1949. Fate: This outstanding luxury liner was broken up for scrap in the Garlock in 1950. Note: She had crossed the Atlantic approximately 600 times.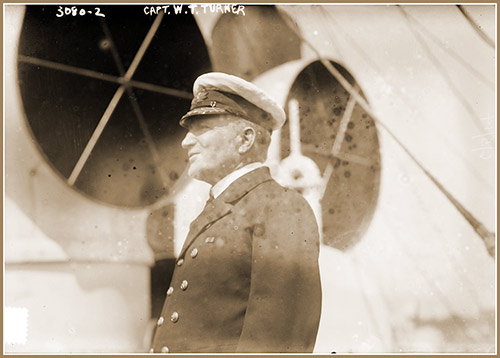 Captain W. T. Turner, Commander of the RMS Aquitania of the Cunard Line, 5 June 1914. Bain News Service, 1914. Library of Congress # 2014696156. GGA Image ID # 1d33886b1a
All Digitized Passenger Lists For the RMS Aquitania Available at the GG Archives. Listing Includes Date Voyage Began, Steamship Line, Vessel, Passenger Class and Route.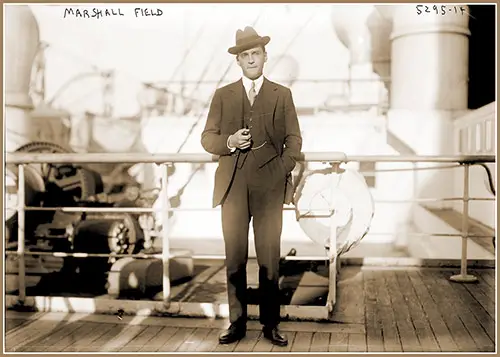 Banker and Publisher Marshall Field III (1893-1956) Arriving in New York City on the Aquitania on September 17, 1920. Bain News Service, 1920. Library of Congress # 2014711400. GGA Image ID # 1d33ad5fc2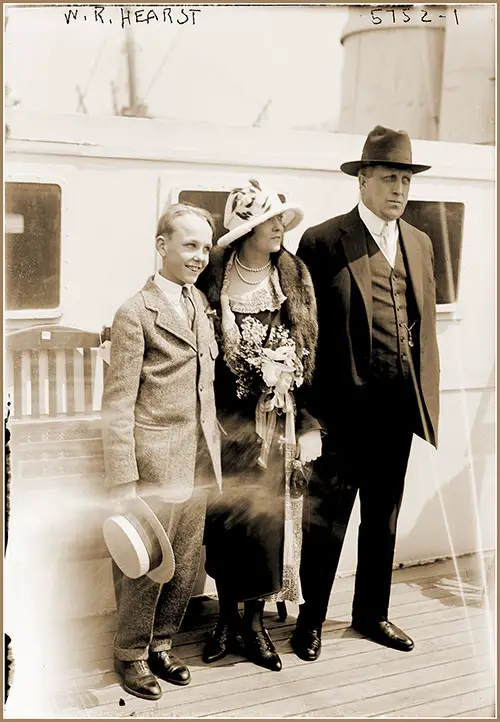 Newspaper Publisher William Randolph Hearst (1863-1951) Sailing for Europe With His Wife and Son on the Aquitania on May 23, 1922. Bain News Service, 1922. Library of Congress # 2014714523. GGA Image ID # 1d33e52d0e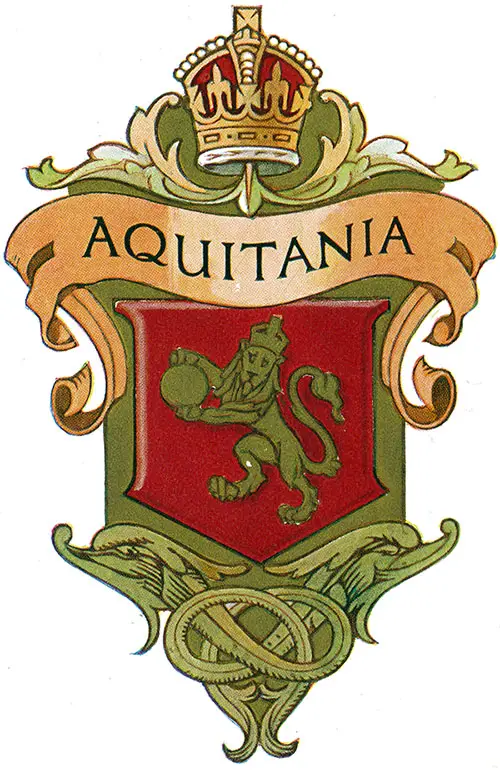 Coat of Arms for the RMS Aquitania (1914) of the Cunard Line. GGA Image ID # 1d34071e2e
Passenger Lists contained in the GG Archives collection represent the souvenir list provided to the passengers of each cabin class (and other classes). Many of these souvenir passenger lists have disappeared over the years. Our collection contains a sampling of what was originally produced and printed by the steamship lines.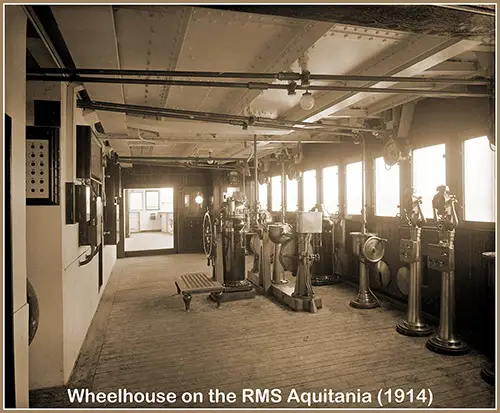 Interior View of the Wheelhouse on the RMS Aquitania (1914) of the Cunard Line. GGA Image ID # 1d33fd616f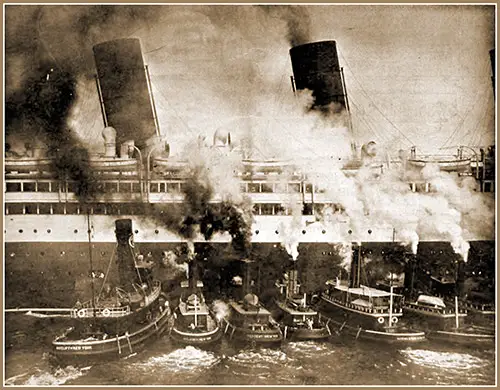 Tugs in Action in Docking the Aquitania in 1914. Liverpool Again Possesses the Largest Graving Dock, and the Only One Capable of Taking the Aquitania. It Is Designed To Serve Both as an Ordinary Wet Dock and as a Graving Dock, and Has a Length of 1,050 Ft. From Face of Caisson to Dock Head, a Width of Entrance of 12 Cubic Ft., a Depth on the Sill of 15 Ft. At L.W., and of 46 Ft. At H.W. GGA Image ID # 1d343eaaea

Cunard Atlantic Track Chart for the RMS Aquitania (1914). First Class Passenger List for the RMS Aquitania, 18 May 1929. GGA Image ID # 1d34145d94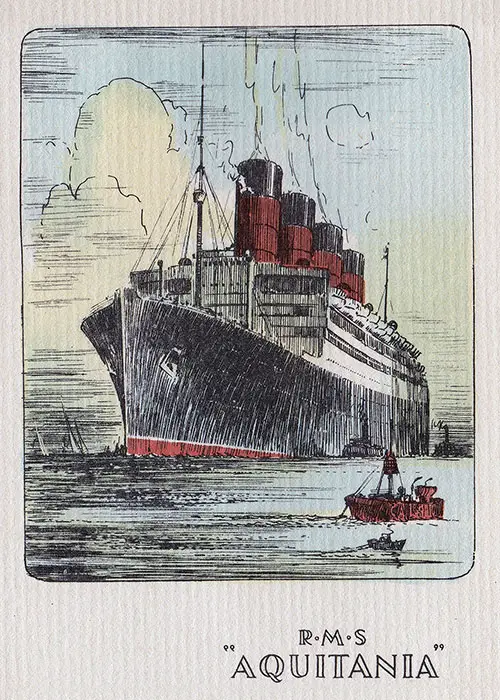 Painting of the RMS Aquitania of the Cunard Line, 1938. GGA Image ID # 1d3435de1f