RMS Aquitania Passenger List - 17 May 1939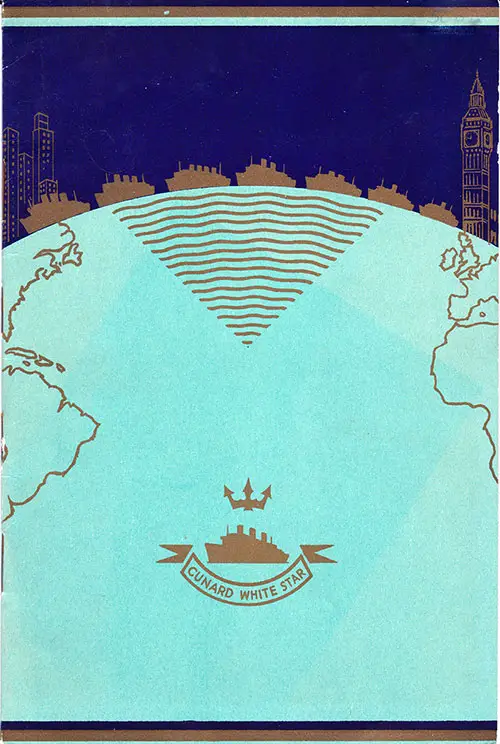 Front Cover of a Cabin Class Passenger List from the RMS Aquitania of the Cunard Line, Departing 17 May 1939 from New York to Southampton via Cherbourg, Commanded by Captain J. C. Townley, RD, RNR. GGA Image ID # 170a5a3856
Senior Officers and Staff
Commander: Captain J. C. Townley, R.D., R.N.R.
Staff-Captain: N. H. Gale, R.D., R.N.R.
Chief Engineer: A. Duncan
Surgeon: J. Hill
Assistant Surgeon: A. Tumarkin
Chief Steward: A. E. Jones
Chief Officer:  A. Fraser
Purser: F. E. Owen
Staff Purser: W. J. Jolliffe
Cabin Class Passengers
Miss A. Amsden
Mr. C. Aschan
Mrs. Aschan
Mr. James Ballard
Mr. Harry K. Barr
Mrs. L. Beauclerk
Mr. Harold E. Bedford
Mr. L. C. F. Bellamy
Mr. T. P. Berington
Mrs. Berington
Master T. M. Berington and Nurse
Mr. John W. Berry
Miss Margaret Berry
Mr. T. K. Bewley
Mrs. G. Bishop
Princess Margaret Boncompagni and Maid
Mr. Roy Bower
Lady Anne Bridgeman
Mr. George A. Burton
Mr. Harry W. Butler
Dr. George A. Buttrick
Mr. E. T. Carver
Mr. J. Casey
Mrs. Casey
Mr. F. 0. Casteleiro
Major F. H. Charlton
Elizabeth, Lady Cheylesmore
Mr. Gerald Cock
Mr. Stanley A. Cole
Miss M. Cox
Mrs. I. Craig
Miss R. O. Dauban
Mr. Walters S. Davis
Mrs. Clare Ogden Davis
Mr. Gilbert Davis
Mr. C. F. Day
Mr. Sidney B. Dean
Miss M. Devereux
Mr. J. Edward Ditson
Mr. J. D. Doig
Mr. J. R. Donald
The Right Reverend Arthur Doubleday (Bishop of Brentwood)
Mr. Thomas Driberg
Miss M. L. Edwards
Mr. George Enesco
Mrs. Enesco
Miss Anna Fleischman
Mrs. Georgia M. G. Forman
Dr. Oscar Frey
Mr. Albert G. Frost
Mr. A. W. Garwood
Mrs. Emma A. Gatti
Mr. F. H. Godwin
Mr. L. H. Goldrei
Mr. J. Gratus
Mrs. Gratus
Mr. A. Griener
Mr. F. C. Guildford
Mr. Sydney Hall
Mrs. Hall
Mr. Johannes Hansen
Mr. L. C. Harrison
Mrs. Harrison
Mr. William Hastie
Mr. Thomas H. Hewlett
Mrs. Hewlett
Mr. Horne
Mrs. Harry Humphreys
Mr. Julian Humphrys
Mrs. Humphrys and Maid
Mr. F.. S. Jackson
Mr. L. D. Johnson
Mr. Wr. C. Jowett
Miss Esther Bell Katz
Mr. Michael Kemble
Mrs. Kemble
Mr. J. King
Mr. Henri Lacorne
Mr. R. S. Lawrence
Mr. Albert C. Leek
Mrs. Leek
Miss Marjorie Leek
Mr. Howard N. Lentz
Mr. Bertram R. Lowenfels
Mrs. Lowenfels
Miss C. S. Lowry
Mr. W. S. Luke
Commander Ettore Luzzato
Mr. James MacGregor
Canon Daniel McCarthy
Mrs. A. L. McColl
Miss K. McCrosson
Mr. A. McEwing
Mr. K. McGregor
Mr. W. N. Mcllwraith
Mr. C. S. Macdonald
Mrs. Macdonald
Miss Gertrude Marston
Miss H. Metcalf
Mr. J. W. Meyer
Mr. F. H. Miller
Professor A. E. Milne
Mr. Earl Minert
Mrs. Minert
Mr. Alfred Miranda
Mrs. I. J. Miranda
Mr. S. J. Mitchell
Mrs. Mitchell
Miss J. Mitchell
Master J. G. Mitchell
Captain The Honourable John Mitford
Mrs. John Moffitt
Colonel H. A. Moore
Colonel A. C. Munro
Mr. Henry Noel
Mrs. E. Mu lock O'Flynn
Mrs. Hugh W. Ogden
Mr. John Ojerholm
Mr. Carlos Parraga
Honourable Daphne Pearson and Maid
Sir Francis Peek
Lady Edwine Peck and Maid
Mrs. K. L. Beecroft Pengelly
Mr. George Pinckard, J.P.
Mrs. Pinckard and Maid
Mr. B. C. Pomeroy
Mrs. Pomeroy
Mrs. B. G. Preston
Miss G. Ai. Preston
Mr. Malte Pripp
Miss Beatrice Remvick
Mr. Howard Robertson
Mrs. Robertson
Mr. G. V. Robertson
Mrs. Robertson
Miss J. Robertson
Mr. C. Robertson
Mr. H. C. Roemer
Mrs. R. Rosenberg
Mr. Alfred Rosenfeld
Mr. R. F. Scott
Mr. W. D. Shaw
Mr. Harry Shawzin
Mr. R. P. Silcock
Miss G. Al. Silcock
Mrs. Samuel Slater
Mr. S. W. Snell
Mr. Rowland Spencer
Mrs. Spencer
Mr. G. N. Sperryn
Mrs. Sperryn
Mr. G. R. N. Sperryn
Miss Al. N. Sperryn
Mr. H. V. Stammers
Surgeon Capt. H. E. R. Stephens, O.B.E., K.R.S.C., M.B., B.S., D.P.U., R.N.
Mrs. Stephens
Mr. Henry C. W. Stockdale
Mr. W. H. Stokes
Sir Arthur Sutherland, BART., K.B.E.
Lady Sutherland
Mr. N. Tarasca
Mr. Andrew Templeton
Mr. W. W. Triggs
Sir Harry Twyford, K.B.E.
Dr. Endre Ungar
Miss I. Webb
Mr. Emanuel Weingreen
Mr. Isac Westerborg
Mr. Herbert Westermark
Mrs. Westermark
 Air-Commodore H. E. Whittingham, C.B.E.
Mr. J. Ward Williams
Mr. H. C. E. Williamson
Mrs. Williamson Canon
M. J. Wilson
Mr. W. Wonnacott
Mr. E. S. Wood .
Mr. W. L. Wood
Mrs. A. Murray Young and Maid
Checking Passengers' Baggage From Southampton to London
Passengers arriving in Southampton may check their luggage for delivery to hotels and residences in London at a flat charge of 1/- per package. This delivery is subject to the usual free allowance of baggage on the railroad, which is First Class 150 pounds, Third Class 100 pounds, with children over three and under fourteen years of age receiving one-half of the allowance, respectively.
Importation of Typewriters and Wireless Sets Into France
Passengers importing typewriters and wireless sets into France for their own use are warned that the entry of these articles is subject to certain restrictions and Customs Duty.
The Customs Authorities at the French ports will not pass Wireless Sets and Typewriters with passengers who are proceeding by the special trains to Paris and the articles must consequently go forward as registered baggage to Paris, at the passengers' expense, i.e.: $2.00 from Cherbourg and $1.50 from Havre.
So far as concern Wireless Sets, after arrival at the French Port, it is necessary to obtain a Certificate of Importation from the American Chamber of Commerce in Paris. It is, therefore to passengers' advantage to pack their typewriters and wireless sets in their registered baggage and to declare same on arrival in Paris.
General Information for Passengers
THE SWIMMING POOL on the Aquitania is located on E Deck and is available to passengers at hours which will be specified on the ship's notice boards.
MEALS will be served as follows:—
BREAKFAST from 8-00 a.m.
LUNCHEON: 1-00 p.m.
DINNER: 7-30 p.m.
BAGGAGE. Questions relating to Baggage should be referred to the Purser or ship's Baggage Master.
BAGGAGE INSURANCE. Passengers are recommended to insure their baggage as the Company's liability is strictly limited in accordance with the terms of the passage contract. Baggage Insurance carrying world-wide cover can be arranged through the Purser's office.
BANKING—FOREIGN MONEY EXCHANGE. A branch of the Midland Bank is available on board the ship where passengers wishing to exchange money, or transact other banking business will receive every attention.
CATERING. Passengers are invited to advise the Restaurant Manager or Head Waiter of their preference in the matter of diet and cooking and they can be assured of every attention to their wishes. Cooks of various nationalities are included in the kitchen personnel. It is suggested that passengers order their meals in advance, and the aforementioned officials will readily assist passengers in making their choice.
CHEQUES. Passengers are advised that the Purser cannot accept private cheques.
CHANGES IN ACCOMMODATION. The Purser alone is authorized to make changes in accommodation and may only do so on payment of any difference in fare which may be required according to the Company's current tariffs.
COMPLAINTS. Passengers entertaining any cause for complaint are requested to communicate particulars to a responsible officer in the ship, so that an opportunity may be afforded to adjust matters.
CUSTOMS EXAMINATION. All articles liable to Customs duty must be declared. Any passenger who is in doubt should see the Purser or Baggage Master who will provide the latest information available.
On arrival baggage will be grouped alphabetically in Customs shed for examination. To help the passing and claiming of baggage passengers should have one of the Company's labels, bearing the initial letter of their surname, affixed to each piece. The bedroom stewards have a supply of these labels and will affix them prior to landing.
It is for passengers themselves to see that all their baggage is passed by the Customs authorities on landing, and they are specially requested to claim their baggage before leaving the Customs shed, otherwise delay and extra charges for carriage will be incurred in forwarding to destination any baggage not accompanying passengers directly from the ship.
DECK CHAIRS. CUSHIONS AND RUGS are available for hire and can be obtained through the Deck Steward at the price of 5/- each article.  (Each rug is contained in a sealed envelope and bears a serial number worked into the material, thus enabling passengers to identify their own rugs.)
DOGS. Passengers are notified that dogs should be handed over to the care of the livestock attendant and that they are not allowed in Public Rooms or on the Passenger Decks.
FIRE PRECAUTIONS. Passengers are specially requested to exercise care in disposing of cigar and cigarette ends and matches and to make use of the receptacles provided for the purpose in the different parts of the ship, in view of the serious consequences which can arise from carelessness in this respect. Throwing lighted cigarettes, etc., overboard should also be avoided.
FIRE AND LIFEBOAT STATIONS. Passengers are earnestly requested to acquaint themselves with the notice in the staterooms regarding lifeboat and fire stations.
The Captain specially appeals to passengers to assist him by promptly mustering at their appointed stations at all times when passenger boat station muster is being held.
Only by immediate attendance at this important muster can passengers obtain the necessary instructions which are so vital to the well-being of all on board. The cooperation of every passenger is earnestly desired.
HAIRDRESSING SALOONS. Situated on "B" Deck are fully equipped with modern appliances for the treatment of the hair.
LANDING ARRANGEMENTS. The Purser will furnish passengers with a small card, detailing the landing arrangements, before arrival.
LANDING CARDS. It is necessary that passengers present their landing cards, together with passports to the immigration Inspector for endorsement before leaving the ship.
LIBRARY. The ship has a fully-equipped library and passengers are invited to borrow the volumes—no charge will be made.
PASSENGERS' MAIL INWARD AND OUTWARD STEAMERS. Passengers expecting urgent letters or telegrams should notify the Purser's Office. For the convenience of passengers, telegrams and postal matter are received aboard and distributed but without any responsibility whatsoever on the part of Cunard White Star Limited for non-delivery, mis-delivery or delay.
It will assist the system of delivery if letters are endorsed prominently in the top left-hand corner. "Passengers' Mail" and addressed care of Cunard White Star at port of departure or arrival and also bear the following particulars:
Name of passenger (in full)         
Class of Travel (Inward or Outward) Passenger per (name of ship)
Date of departure or arrival—                                              
ACCOMMODATION ADDRESSES. When it is desired to use any of the Company's Offices as accommodation addresses, it is essential that the envelopes be endorsed prominently in the top loft-hand corner "Passengers' Mail—to await instructions" and be addressed care of the appropriate Cunard White Star Office or Agency. Cunard White Star Limited allow their offices to be so used and forward letters, telegrams and postal matter for the convenience of passengers only and shall be under no responsibility whatsoever for non-delivery, mis-delivery or delay.
PASSAGE TICKETS. Passengers are requested to hand their passage tickets to their bedroom stewards as soon as possible after embarkation.
PAYMENTS. Passengers should obtain a receipt on the Company's form for any payments made on board for additional passage money, rugs, chairs, excess baggage, etc.
PORTHOLES. As it is dangerous for passengers to handle the ports they are requested to ask the bedroom steward to open and close the ports in the staterooms as may be desired.
PROFESSIONAL GAMBLERS are reported as frequently travelling in Atlantic ships and passengers are warned to take precautions accordingly.
RADIO TELEPHONE SERVICE. Passengers can speak from this ship to practically any part of the World.
Rates per call of Three minutes or less
Great Britain and Northern Ireland: £1. 16. 0.
New York : $9.00
Each extra minute
Great Britain and Northern Ireland: £ 12/-
New York: $3.00
The above rates are increased when the vessel is more than halfway across the Atlantic, the rate to Great Britain being £3. 12. 0. (three minutes)—plus £1. 4. 0. each extra minute in the case of a Westbound ship and $18.00 (three minutes) plus S6.00 each extra minute to New York when the vessel is Eastbound.
RADIO AND CABLE MESSAGES. Information and rates will be supplied by the Radio office.
RADIO RECEIVERS AND ELECTRICAL APPARATUS. Private radio receivers or other electrical apparatus must not be operated or connected to the ship's electrical supply circuits without official approval, application for which should be made to the Purser. Passengers using loud speakers are requested to avoid disturbing their fellow passengers.
RETURN ACCOMMODATION. For the convenience of those passengers who may be returning from Europe to the United States or Canada and who have not yet made the necessary arrangements the Purser will be pleased to radio for any accommodation required. This will enable passengers to complete their arrangements before leaving the ship and will consequently save them time and trouble after landing.
ROTARIANS travelling by this ship are invited to inspect the Rotary Register at the Purser's office and subscribe their names. The Purser will be glad, providing circumstances permit, to arrange an informal meeting during the voyage.
SPECIAL NOTICE FOR ROUND TRIP PASSENGERS. All passengers holding return tickets are requested to communicate with the most convenient Company's office, if possible at least a week in advance of their intended sailing from Europe so that the necessary formalities may be arranged in connection with their passage.
If for any reason the holder of a return ticket should be unable to travel by the sailing shown thereon, immediate advice should be given to the nearest Company's office, so that any accommodation held can be released and new reservation made in sailing selected.
STEWARDS SPEAKING FOREIGN LANGUAGES. Stewards speaking a number of European languages are available for the convenience of Passengers and may be identified by the badge worn on the lapel of their coat bearing the flag of the country the language of which they speak.
THE SURGEON is authorized to make customary charges for his services, subject to the approval of the Captain.
A REGISTERED NURSE is on board, whose services are available as necessary under the direction of the ship's Surgeon.
TRAVEL INFORMATION. The Purser's office is at the disposal of passengers for furnishing detailed information concerning steamer, rail or air connections and arrangements can be made for tickets and reservations to be obtained.
VALUABLES. In their own interests passengers are advised not to leave articles of jewelry and other valuables lying about. Articles not required for frequent wear may be deposited with the Purser and will be placed in an envelope sealed in the presence of the passenger for custody in the ship's safe. A receipt will be given but no liability as to contents can be accepted.
Passengers are advised to protect themselves by insurance, which can be arranged on board on application to the Purser.
VALETING SERVICE. A Clothes Pressing Room, in charge of an expert attendant, is provided and work of this kind will be carried out for passengers at the following charges:—
GENTLEMEN         
Lounge and dress suits: 4s. 0d.
Lounge and dress coats: 2s. 0d.
Trousers and breeches: 2s. 0d.
Overcoats—heavy: 4s. 0d.
Overcoats—light: 3s. 0d.
LADIES       
Suits, Costumes, Coats, frocks or dresses: 4s. 0d.
Dress coats and plain cloaks: 4s. 0d.
Skirts: 2s. 0d.
Special charges for— Garments — Velvet, Silk or pleated Fancy Dress, Blouses and Scarves.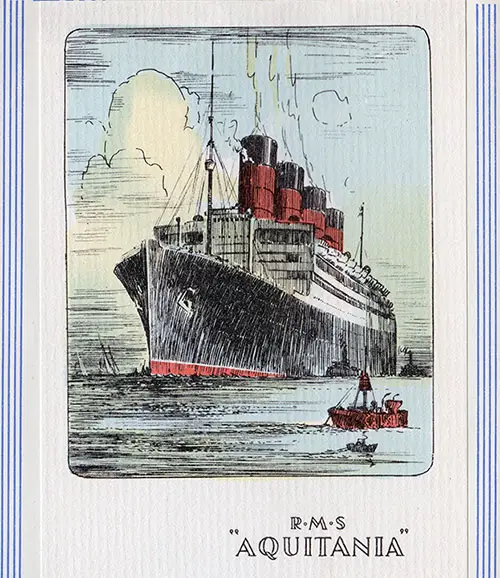 Painting of the RMS Aquitania Included in the Cunard Line RMS Aquitania Cabin Class Passenger List for 17 May 1939. GGA Image ID # 170af193c1